Peers Connect at Newcastle Retreat
On Friday 21 May, a group of 22 adults living with MD and their partners and carers arrived at a very wet Newcastle Rydges Hotel for the Peer Connect Retreat. After checking into to our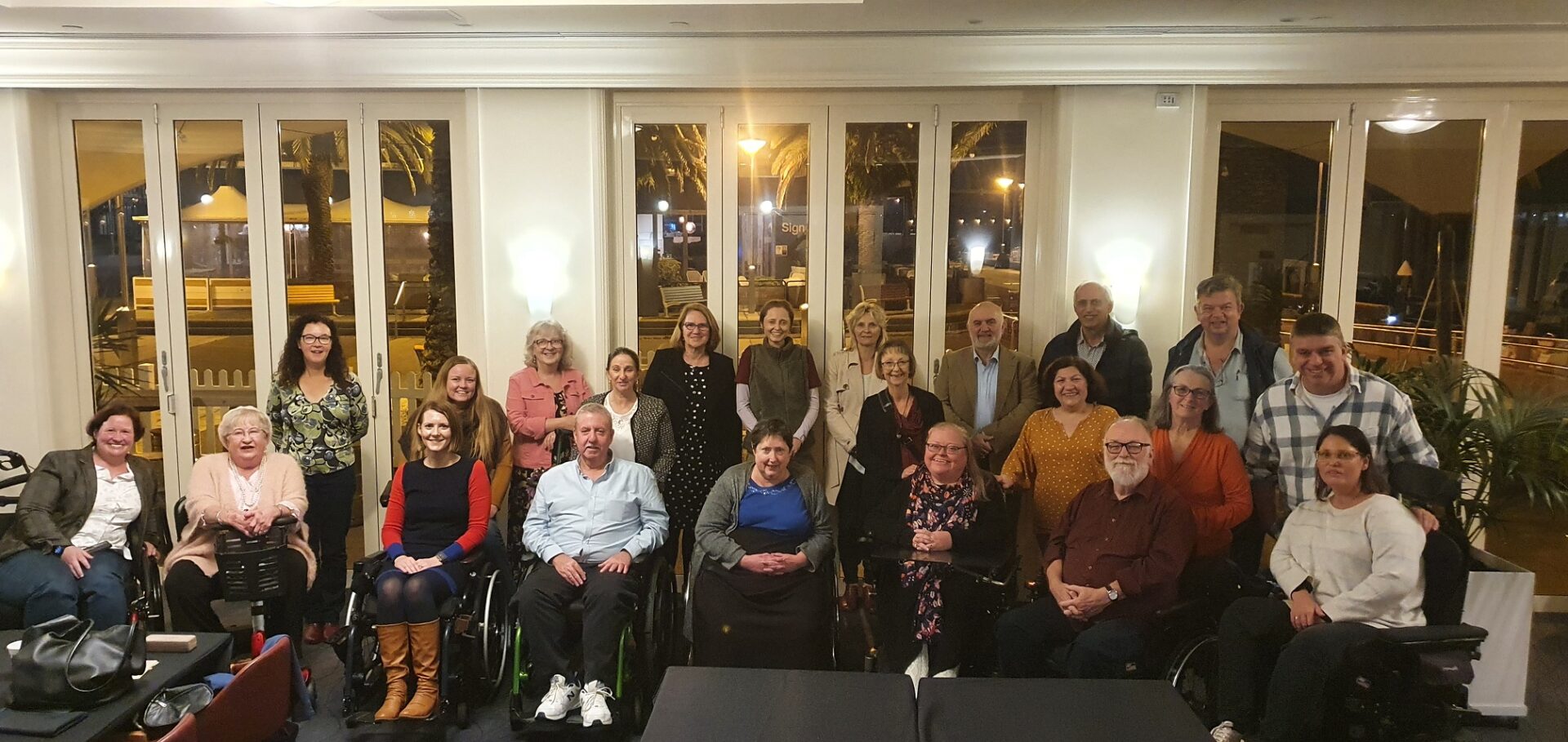 lovely rooms with a view of the harbour, we shared a delicious three course dinner watching the ships and tug boats pass by. We got to know each other playing a fun facts guessing game, a lot of catching up was done, and some new friendships were made. As we gathered for our 'family photo' two people's mobility scooters got hilariously 'hooked up'- a real comedy sketch moment.
Over breakfast, people talked about all sorts of things such as wanting to go to theatre shows and talked about the challenges of booking accessible tickets; safely using accessible buses and trams and planes; and their experiences in hospital and how when they don't fit the box, sadly they don't get good treatment or care! There was so much people had in common, and so much to learn from each other.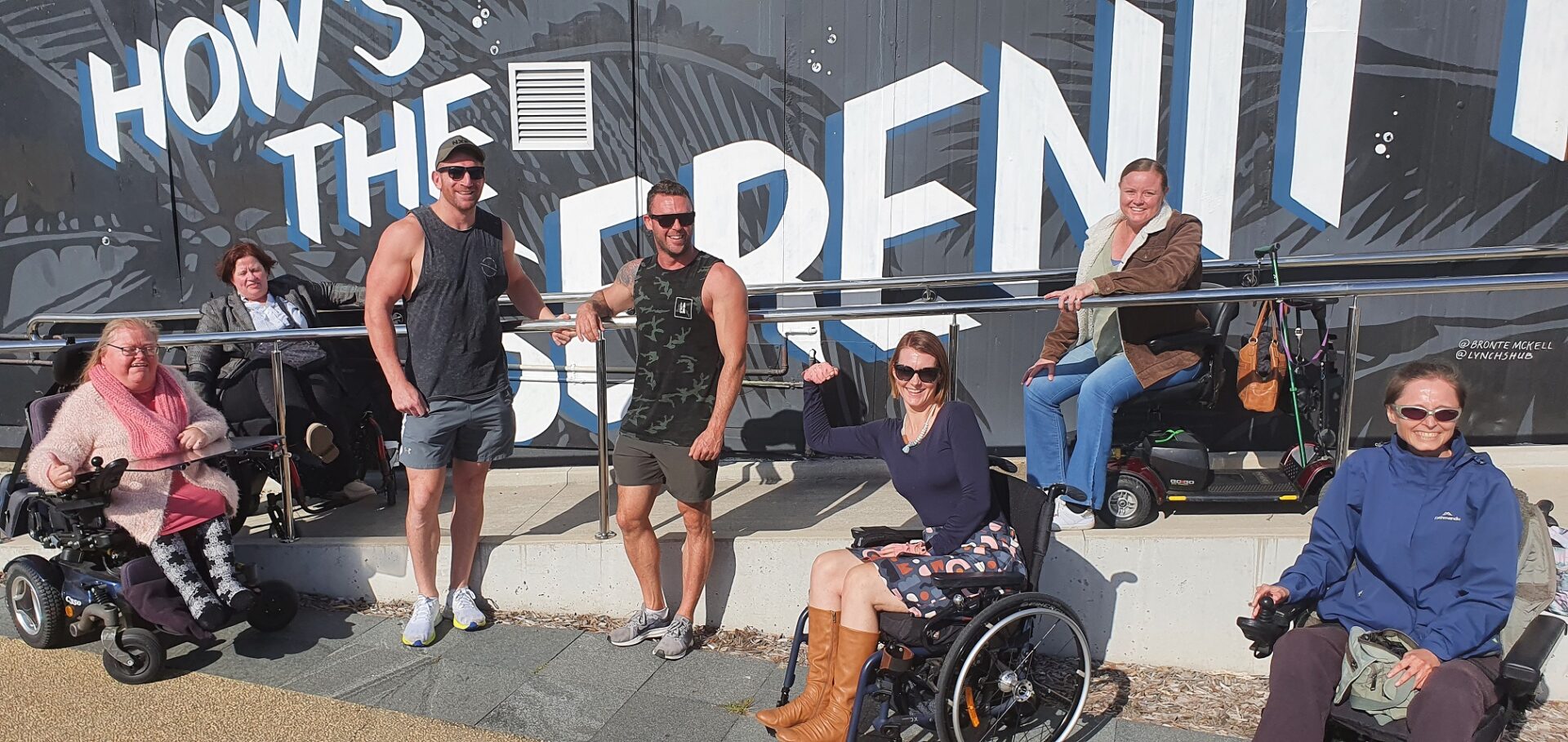 On Saturday, the sun came out and a group of us set out for a long flat drive along the waterfront, stopping and chatting to people and puppies galore! Once we found the 'How's the Serenity?' mural we knew we had to pose for a pic, and somehow roped a couple of guys in muscle tees into our shot. Ah the irony of people without muscle power 'muscling' the body builders into our photoshoot!
One participant tried out his new smart drive for the first time with coaching from two regular users – true peer support in action! For one participant this was her first night away from her Mum in 25 years, and she also hired an electric wheelchair and experienced the independence and freedom it offered – we were all so proud of her getting out of her comfort zone and trying new things!
A group had a lovely time visiting the markets, checking out the sustainable straw stall and everyone bought handcrafted gifts for themselves or others. And then there was all this honking and cheering and what do you know… the Variety Cub car rally was in town beeping and waving at us as they streamed by!
On Saturday night, the group decided they wanted to eat together and although it was tricky to find a booking, a lovely dinner was had by all at The Landing bar, with some people utilising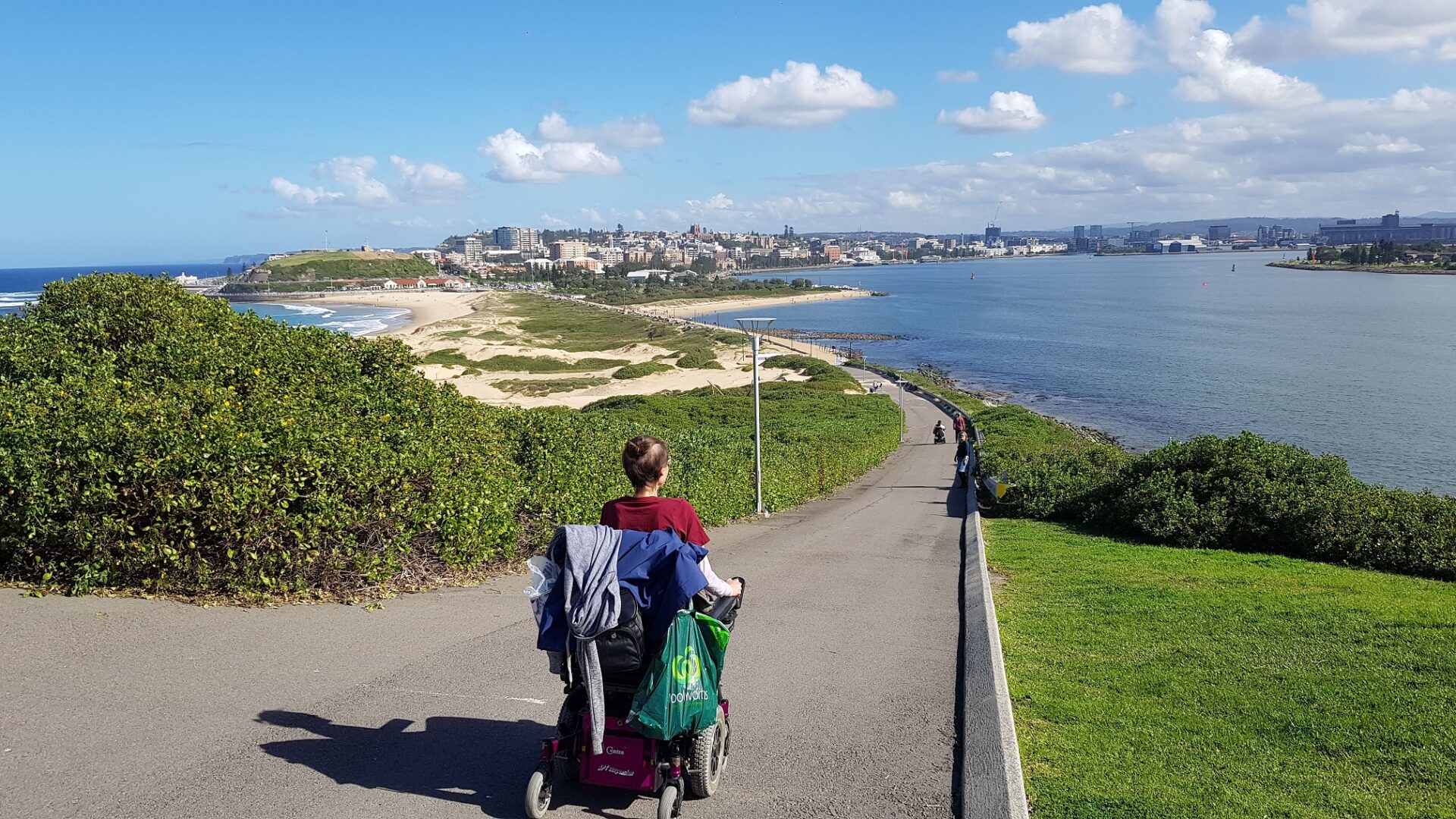 their chairs power elevation function to reach the bar tables. More hilarity was had at the games night, before Sunday morning trivia and everyone sharing their review of the retreat.
Although there were some challenges with ensuring everyone had the exact access features they required the hotel were very accommodating and have even purchased some bed raisers to use when needing to raise guest's beds if required! It was a great location to have the retreat as people got to explore museums, the local scenery and do as much or as little as they liked, and loved the opportunity to deeply connect with others and experience timeout from home and the regular routine.
"Thanks all for a fantastic weekend. It was great getting to meet so many people and be able to chat about all manner of things not only to do with our problems of managing day to day life….. it's been too long since I have been in a group of people – last time would have been March last year. It also felt like we had a weekend away from COVID – it was very much in the background with check in scanning and sanitiser everywhere, but being able to mix as a group without fear and venture out amongst people was like a breath of fresh air.
I don't think I could suggest anything better than what we had for the weekend – that blend of organised and free time. The hotel was great, the room was perfect for us and the location sublime. Being able to just roll out the door and explore so far on the flat was brilliant – and so much to see." – Joanne, Peer Connect Retreat participant
Article written by Carolyn Campbell-McLean