OUR SERVICES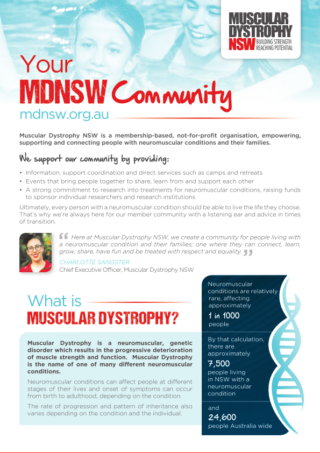 Here at MDNSW, we are here for you at each stage of life, including in times of transition when you might not know what to expect next. We maintain a continuity of support, providing information and advice along the way, throughout all life stages.
What makes us different from other providers is that we provide services exclusively for people living with muscular dystrophy or other neuromuscular conditions, allowing us to focus on your specific needs and anticipate future supports.
Through this unique service, we create a community for people living with a neuromuscular condition and their families. One where they can connect, learn, grow, share, have fun and be treated with respect and equality.
We also provide NDIS funded Support Coordination. Our specialised service understands the often complex support needs of people living with a neuromuscular condition.
We are committed to providing quality services and programs for all our clients and members.
To find out more about the systems and policies we have in place, click here. You can also download our Organisation Overview for further information about who we are and what we do.