My Bali – A Wheelchair Accessible Holiday
When Jaxon Taylor went on holiday to Bali with his family he wrote a blog about the great time he had. Jaxon especially highlights wheelchair accessibility while he was there. This story appeared in Talking Point Winter 2018 issue and on the travel blog, Have Wheelchair Will Travel (linked below)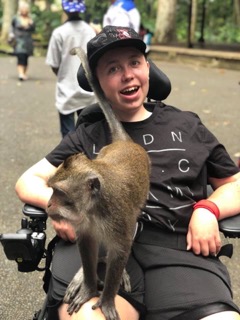 Hi, my name is Jaxon and I'm 11 years old and have Muscular Dystrophy. We flew with Garuda Airlines, it's around a 6 hour flight to Bali from Sydney. I transfer into a manual wheelchair provided by the airport and my electric wheelchair goes into Baggage along with our luggage. We arrived in Bali, and to my shock the Transport Guy my Mum had been given by a friend, didn't have a wheelchair van after all, and wanted to put my 180kg Wheelchair on his van roof with an Ocky strap.
Needless to stay thankfully this didn't happen and 5 Balinese men lifted my chair into a Milk Truck, and we knew from this moment "let's use Bali Access Travel again", that have a converted wheelchair van for the rest of the trip. We arrived at our resort "Legian Beach Resort", I had been here 4 years ago for my cousins wedding, but I forgot how beautiful it was. The whole resort has ramps and I loved buzzing about and checking it all out. We had a disabled room for the whole family, it wasn't huge but enough for me to get around and the bathroom was perfect. We could get a shower/toilet commode from Bali Access Travel too, which helps.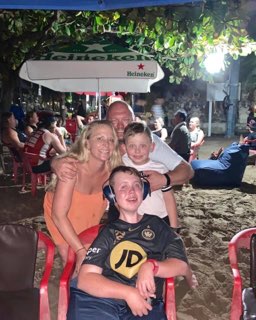 Our week was a whirlwind of great times, from swimming in the resort pool, to hanging at the Beach Bar, to listening to people sing at Restaurants, to experiencing a Balinese Traditional night of Food, fire and dancing, to shopping, and best of all having Breakfast with the Orangutans, it was truly one of the best holidays I've had. We even went to meet the people we were dropping the Beach wheelchair off to at Sanur and they had the best Disabled only Resort (Villa G at Ellora), that I hope we stay at next time now we know where it is. They have a pool hoist, hoists, commodes and you can even get a carer if Mum and Dad want to go out. It would be our very own private place if we hired all three rooms. The owners were so lovely and helpful, I hope we go back there again, Sanur was beautiful. The water was very blue, and from what I saw it looked a little easier to get around the streets with my wheelchair too.
People are having photos with the orangutans one by one, when our number gets called up for the photographs. The photographer set us up in certain positions and got the Orangutan on my wheelchair! May I say that he loved my chair. Climbing all around my chair made the star of the show. Firstly, the orangutan started kissing the headrest of my wheelchair. Then, it started to PEE on my wheelchair. You heard that right, PEE. And that's why I now call orangutans "urinatatans".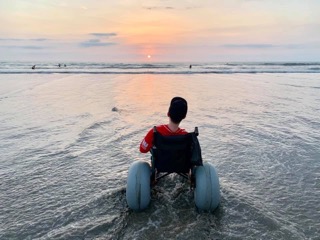 Hope you enjoyed my little story, if you are like me and want to know if you can travel to places only in your electric wheelchair, and not a manual chair it is doable. I struggle being in a manual chair cause I like having control of where I go, and I like just buzzing about in general. The streets of Legian where we were at, wasn't always perfectly accessible but the motorists and shop keepers on the road are always helpful to help you get to your destination, and we always worked it out in the end, with no drama.
From Talking Point Winter 2018 issue.
---