My Journey to wear Green and Gold
Growing up as a kid in Australia, many of us dream of the chance to wear the green and gold and represent our nation on the world stage.
Opportunities are now greater than they have ever been, with women, migrants from all over the world and people with disabilities given the chance to represent Australia. At the same time, it is still an honour few achieve, and sporting opportunities for power wheelchair users are still few and far between.
I was like any other kid, wanting to play sport and run around with my friends. Being born with Duchenne Muscular Dystrophy, this wasn't always easy and by my 9th birthday, I had my first power wheelchair. There's no denying how much freedom my wheelchair has given me, and I didn't know it at the time, but it would open so many doors for me, doors I didn't even know existed.
From an early age, my parents had encouraged my two brothers and I to get involved in sport. They played basketball, soccer, rugby, volleyball, ran on the track and still stay active. My parents got me involved in wheelchair sports as soon as they could, and I know that this improved my confidence and made me realise that, yes, wheelchair or not, I could still play sports. I played everything I could, from rugby league to balloon soccer to hockey. I had so much fun playing these sports when I was a teenager, but what these sports didn't truly give was that next level.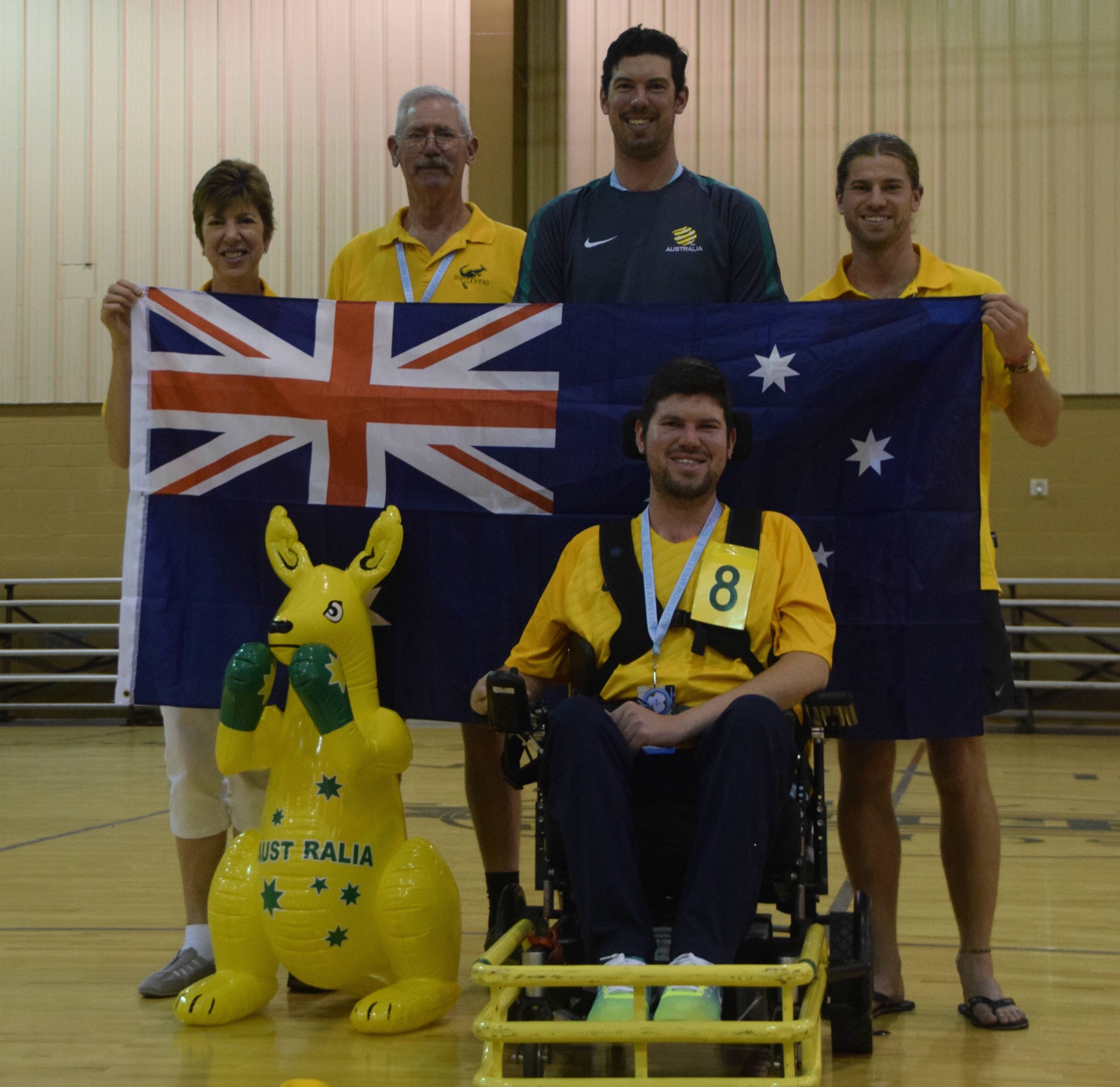 In 2010, we were first introduced to the sport of powerchair football in Australia and it quickly went from strength to strength. A development workshop was held in 2011, with athletes, officials and referees from France, the USA and Japan all coming to Australia to give us a push in the right direction. Following that, the Australian Poweroos travelled to Paris for the second FIPFA World Cup in November 2011 where the team came 7th, and with the lure of wearing the green and gold I knew I couldn't resist any longer. I wanted to be a Poweroo.
With a new sports chair arriving in 2013, I was able to take things to the next level. I was fortunate to be selected for the Poweroos both for the 2013 APO Cup, an Asian zone tournament held in Sydney, and the 2014 Copa Americas tournament, held in Rio de Janeiro, Brazil. These were amazing experiences that cherish forever. I had the honour of captaining the side in Brazil, and this is something I will never forget. Guiding a young team to the silver medal was incredible, and for everyone watching, it was the start of something special. But what we all wanted was to be on the plane to the next world cup. It was soon announced that the third FIPFA World Cup would be held in 2017 in Kissimmee, Florida.  And that's when our journey truly began.
I remember telling myself that if I was to make it to Florida, I needed to step up and train by myself to work on my skills. So, every Thursday I would head down to Macquarie Uni and train with the help of a support worker. I worked on my dribbling, my accuracy and most importantly, those flashy spins that had never been my forte. Each week it became easier, I could hit the ball harder and find my target much easier than I ever had before. This in turn increased my confidence, and by the time the selection trials arrived, I was ready. 12 months of hard work and I knew I was in with a shot. It was a tense day of matches and training, but as the numbers narrowed and I was still there, my confidence grew. Finally, we had our eight players, but the fun was only just beginning.
We held three training camps in 2017 – Sydney in January, Coffs Harbour in March and Gold Coast in May. With some really talented players, it was going to be incredibly difficult to be one of the starting 4, but everyone pushed and pushed each other. If someone was going to beat me, they were going to have to earn it. It was clear who the top players were going to be from early in the training camps, and for some of us, it was our job to push them to be the best they could be. From one camp to the next, our structure and style improved, but it wasn't until we were in the US that everything came together fully. Flying with a team of 8 athletes, all our families and supporters was a mammoth task. 18 wheelchairs complicated things further, but after a gruelling day of travel, we had made it. We were fortunate to have time for a few days of training before the tournament, and this finally had us prepared for battle.
Before the tournament was to begin, we had two final trial matches against the USA and Canada. There were promising signs in both matches as we went down to the US and defeated Canada. But all the hard work paid off as we made it through to the quarter finals, despite losses to France and England, with wins over Ireland and Canada being enough. The quarter final against Japan was a tense affair, as we were forced to fight back from 1-0 down to win the match. We'd reached the final four, and that was unfortunately as far as we would go. Losses in the semis and the third-place match to both France and England again meant we would have to settle for 4th in the world, but what a mighty achievement that was.
While I was on the bench for most of the tournament, it was incredible to be part of an amazing team and to finally realise the dream I had worked so hard for. We learned so much about the game and where we want to be, and I know that when Australia hosts the FIPFA World Cup in 2021 we will be ready. It's been a long road, but it is only just beginning.
---
More information: