Peer Connect
A supportive place for people affected by neuromuscular conditions
MDNSW believes that people with disabilities are experts in their own lives. They become excellent navigators of many systems, innovative problem-solvers and hold the key to accessing information, support and services they need to participate in everyday life.
Life stage transitions are significant for those with NMCs and often include substantial increases in support needs. Peer Connect groups ensure that participants are empowered throughout life stage changes through connecting with others with similar lived experience. Hearing about other people's journeys and experiences can make people feel like they are not alone. If others have had success, they feel more confident and motivated to try new things. Peer connection is powerful!
Contact us if you need more information in a format that suits you.
---
What happens in Peer Connect?
share experiences, information and tips
learn advocacy skills
motivate yourself and others
build confidence and empowerment
participate in and contribute towards your community
fellowship with people who understand
practical and emotional support
laughter and fun!
Our Meet-ups
Connections are important, especially in these times, so MDNSW is running a mix of online and face-to-face groups.
Groups we are currently running:
Power Hour – for powerchair users 18-30 years old
Mums' Wine and Chat – for mums and carers of children with MD
Info Share – for adults with MD and their carers
FSHD Friends – a group for people living with FSHD
SMArties – a group for people living with Spinal Muscular Atrophy (SMA)
Duchenne Families – a group for family members of people with DMD
Limb-Girdle MD – a group for people living with Limb-Girdle MD
MD Life, Love & Loss – for people who have lost a loved one with MD
Myotonic MD Meet-up – a group for people living with Myotonic MD
Peers in Action – a chance for people with MD and their families to get together for an activity, connect and have a bit of fun!
Peer Connect retreat – Get away for the weekend with your peers and enjoy a relaxing, fun time making new friends and catching up with old ones! Click here for more info.
Peer Connect Calendar – What's on and when?
You can view our Peer Connect Calendar giving you a complete overview of our meetings planned for the next three months!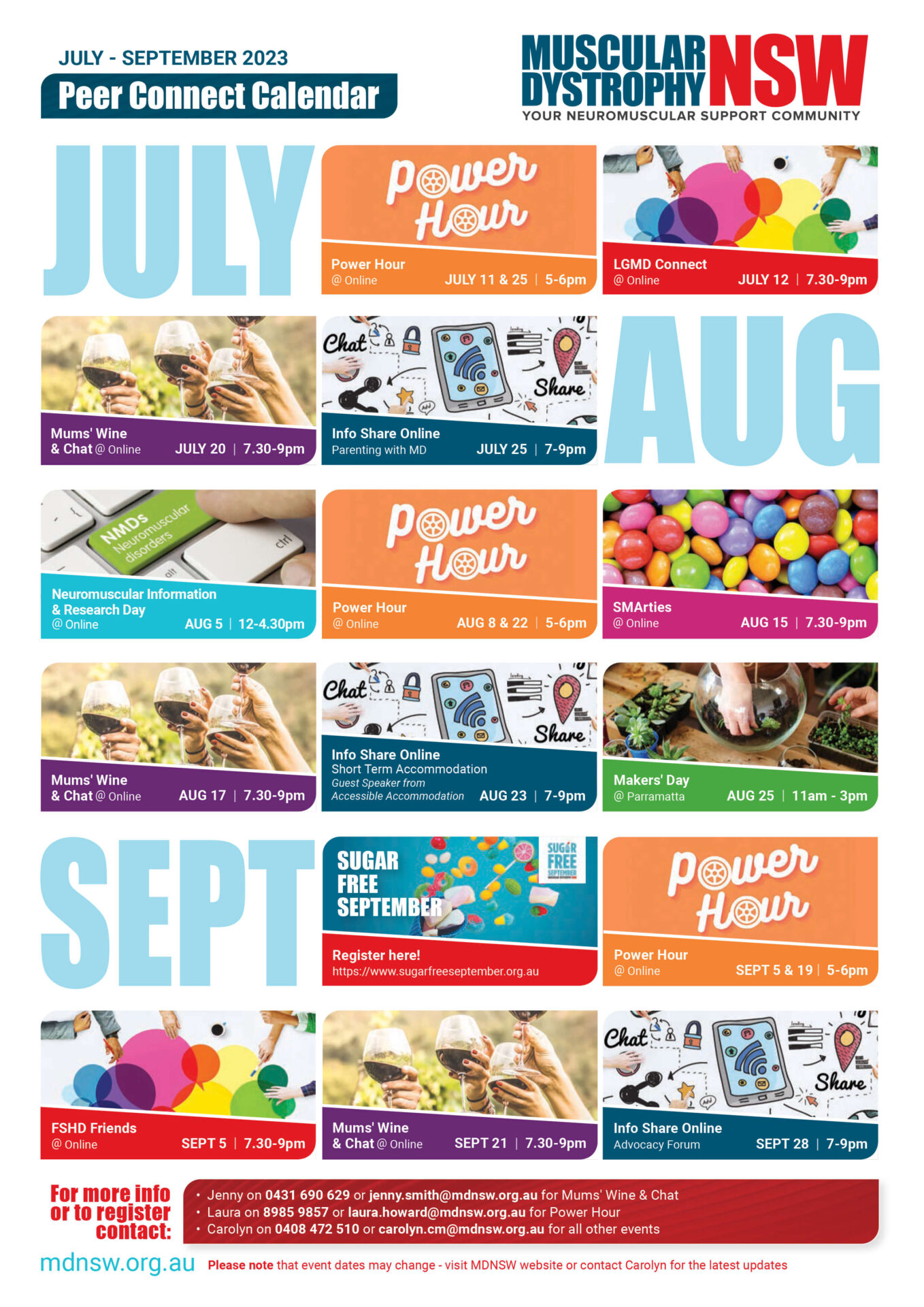 You can find out what's on for the upcoming few weeks on our Events page.
In order to keep our groups safe we are using best practice guidelines and we also have Expected standards of behaviour for online groups