Connection, Community and Celebration at the Peer Connect Retreat
Written by Carolyn Campbell-McLean
This years Peer Connect Retreat was held at the Rydges Hotel on the Newcastle Waterfront from May 20 – 22. The weekend kicked off with meet and greet drinks in the hotel bar 'Wharf 350'. In addition to the six couples who stayed the weekend, our Welcome Dinner was also attended by eight Hunter locals. This was a wonderful opportunity to reconnect with old friends and meet some new folks. One couple came on their first MDNSW event all the way from Dubbo and took the opportunity to leave their teenage kids at home!
The three course meal was divine, and the conversation and wine flowed freely. During the evening we played a game of 'Find Someone Who…' which was a nice to way to get to know each other and tell a few stories. At the end of the evening, we formed a sharing circle where each person shared gratitudes and their plans for the weekend. There was an overwhelming sense of appreciation of being together again.
| | | |
| --- | --- | --- |
| | | |
| Welcome Dinner at Rydges Newcastle Wharf 350 | | Storm Chasers Lisa, Jenny, Leah and Carolyn |
After a delicious Saturday big breakfast and lots of chatting, the group visited the Newcastle Museum and had some whimsical fun at the 'Alice in Wonderland' interactive exhibit, the BHP show and photography exhibitions. As soon as we left the museum, a parade of Variety Club Big Bash cars beeped and honked their way past. A few of the group took their chances with a break in the weather to roll on down along the waterfront, but it wasn't long before the rain was falling again, and we were ducking under cover and donning our ponchos.
A lunch stop at Harrys Café de Wheels and a drink at the Queens Wharf Hotel was a great adventure. A few couples explored further afield, and some took the chance for a relaxing afternoon nap, before the group reconvened for a fun games and 'craft'ernoon activities.
Saturday evening was an informal group dinner at 'The Landing Bar and Restaurant'. After an in-depth discussion about the functionality and availability of straws these days, the group retired to the lounge to enjoy solo guitarist entertainer Andy, who had an excellent repertoire of pop rock hits. It wasn't long before Lisa, Leah and Carolyn were tearing up the dancefloor! We had all forgotten there was an election result in the balance. On the way back to the hotel a small group rendezvoused on the waterfront for an NDIS debrief, sharing their challenges, frustrations and successes. As it happened two of the participants work for the NDIS!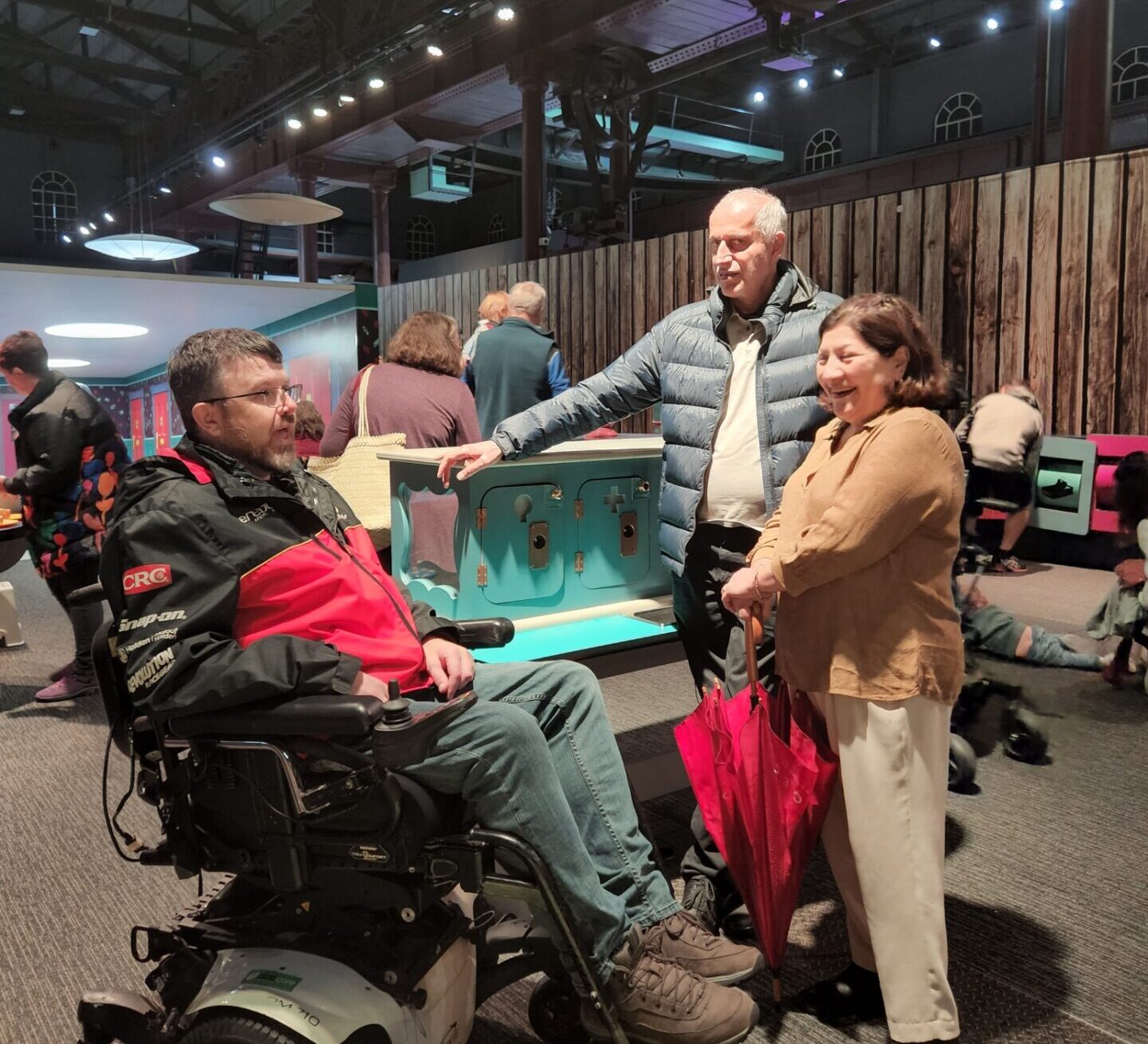 Graham, Assad and Farah in Wonderland
After another chatty brekkie and delicious corn and zucchini fritters, yoghurt and fresh fruit, the group played trivia over coffee and gave feedback on the weekend Retreat. One couple kindly shared their Persian sweets and the first comment was ''When's the next one?!"
Here's what Margaret had to say, who attended the retreat with her husband, Brendan:
"Thank you to MDNSW for hosting the Peer Connect Retreat. Brendon and I always look forward to this event to meet up with other 'mature aged' fellow MD warriors. I only wish there were more events like this over the year. I would put my hand up for more for sure. Thanking you again. Great networking, great venue and gracious hosts. Perfecto!" – Margaret Young