Food for the Soul
What NDIS Funding Has Meant for Me
My name is Sarah. I was diagnosed with a neuromuscular condition at the age of 30 after a pretty normal start to life growing up in Perth, Western Australia. I was actually a good athlete, especially in primary school where I was my year champion in swimming and tennis. I went on to play competitive squash where I was winning hard-slog matches up until my diagnosis. I scuba dived, skydived, water skied, snow skied, played hockey, and competitively sailed back in the day. I was pretty active.
After a preliminary diagnosis of Spinal Muscular Atrophy, I continued along with a slowly progressive weakness. I married, had two beautiful daughters and lived a busy life. With time and research eliminating this and finding that, I was re-diagnosed with a form of muscular dystrophy relating to a fault in the Fukutin related protein gene (FKRP), Limb Girdle Muscular Dystrophy Type 2i. Fast forward 27 years since my original diagnosis and I am now full time in a wheelchair, unable to walk and with ubiquitous muscle weakness which requires high levels of help. I think I prefer the term 'help' rather than 'care' as helping in my life means 'assisting to achieve'. I have helpers, not carers.
I had always loved art and craft. I think this was partly due to one of my sisters, who was considerably older than me, being an artist and was a source of inspiration. After being awarded the art prize at my school graduation, I went on to study architecture at the University of Western Australia. Although I didn't complete my degree, I have continued to have a love for art and design. I encouraged my two daughters to be creative as children through loads of painting and craft at a young age, and now my eldest is well on her way to being an architect after commencing her Masters in Architecture at Melbourne University.
Over the years as I gradually became weaker with my condition, I found it more difficult to paint. I had been busy with motherhood but when I wanted to, painting at an easel was simply exhausting. I had to use a table top instead which, of course, is not ideal. Gradually, as my condition worsened, I simply stopped.
One of the long term goals I noted for my NDIS funding was to be able to do art classes and to start painting again. After receiving my first funding package, I enrolled in an art class at the Waverley Woollahra Art School, and along with my helper, I started to paint again. I loved having that paintbrush in my hand and although my painting style is rather unorthodox, the feeling of being creative again is truly amazing. I have just completed another term of classes, and along with working hard at home with assistance, I have completed four more pieces.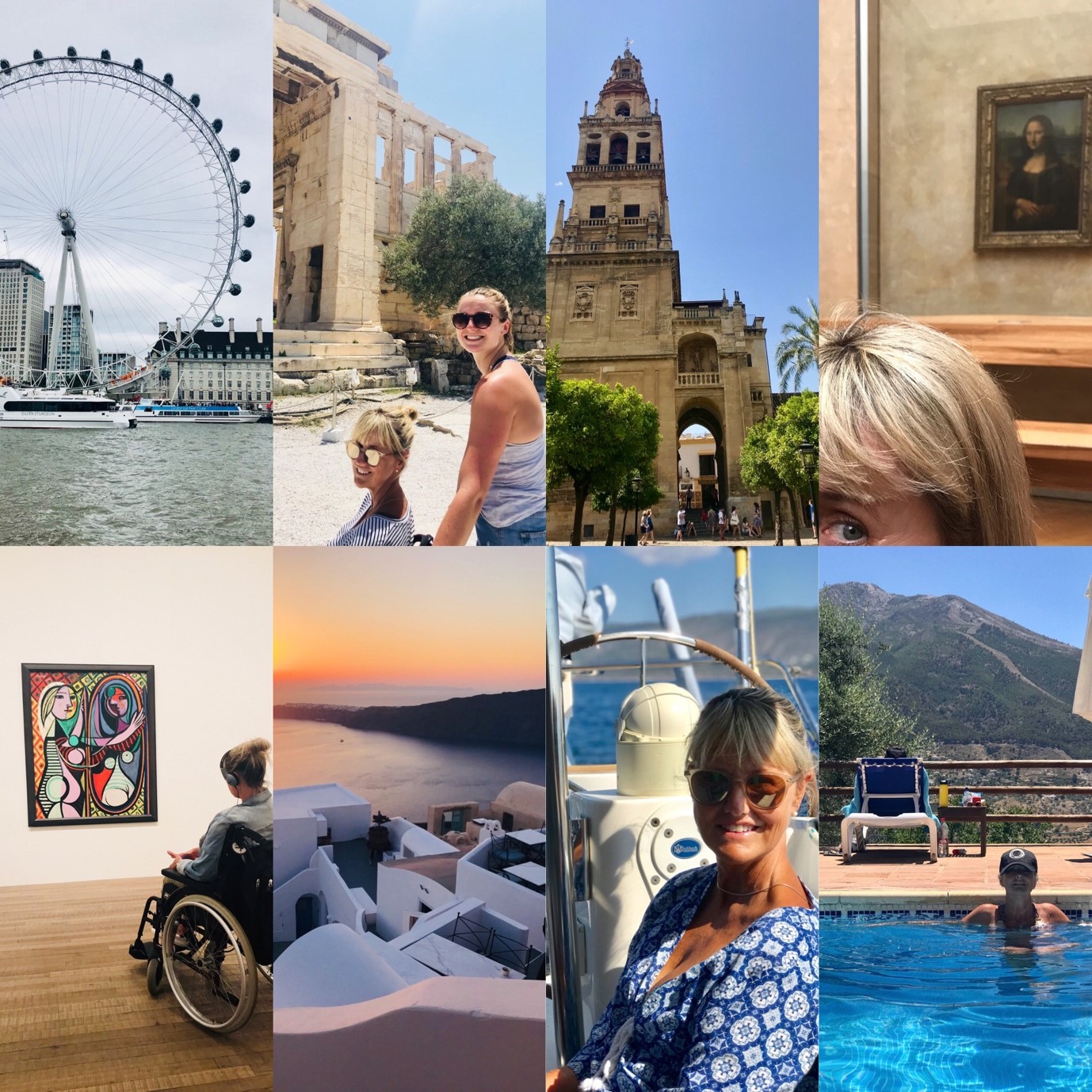 Another great passion and long term goal of mine is travel. I have been to some amazing places over the years and lived overseas for a time. My old adage is that travel is 'food for the soul'. Although it has been challenging and takes an immensely huge time to organise, it is now possible for me to still get out and see the world. I am very fortunate to have a very fit and enthusiastic helper for now so I'm making the most of following my travel dreams. This has so far included sailing in Greece, exploring by car in Spain, rolling around London, Paris in a day (we moved very fast!) as well as visiting my daughters in Melbourne and Townsville and family and friends in Perth.
I'm also very fortunate and happy to be back swimming, albeit with a noodle, to continue to maintain a level of fitness and health, both physically and mentally. I'm getting in the pool almost daily which is keeping me reasonably flexible and a perfect way to spend time out of my chair. I've even managed to snorkel on the Great Barrier Reef, another great passion of mine, especially as my second daughter is now studying marine biology in Queensland.
My funding has allowed me to follow my passions and live my dreams and has given me a great feeling of accomplishment against what is, in reality, a huge struggle. It has given me confidence and a feeling of self-worth and it's enabled me to continue to feel fulfilled. It helps to normalise my life, to enjoy every aspect, to be included and to help me feel that I am not missing out.