GAMING!
My name is Christopher Hastas, I'm 28 and I have recently begun a Master of Research. I work as a junior administrator at MDNSW. I live with Ullrich congenital muscular dystrophy and my interests include gaming, sport, music, learning and socialising. I live in Sydney, Australia. In this story I share my journey with gaming throughout my life, and how it's helped me in various ways.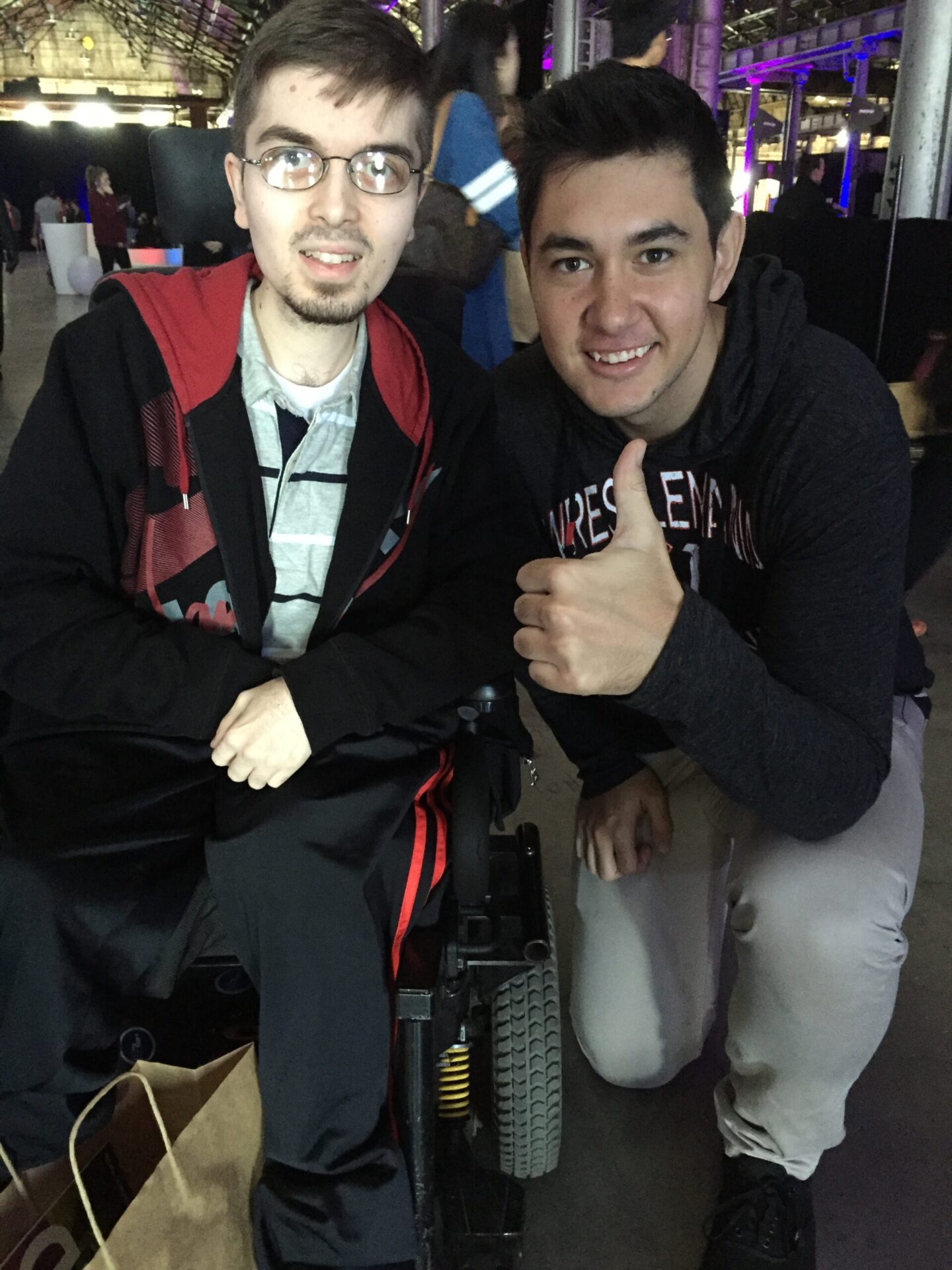 From a young age I have had a strong interest in gaming. Some of my oldest memories involve watching my older brother and Dad play video games. As I grew older, I started to play a wide variety myself; ranging from Mario to Call of Duty. There are many positives that come with gaming. I love the way that games have the ability to bring people together. Games are able to create limitless worlds that people can immerse themselves in. I often find myself so focused in a game that I begin to forget any worries I had that day. I have also made friends simply through playing and interacting with people in a video game.
My set up involves a gaming laptop and a PlayStation 4. I am heavily invested in the FIFA franchise which is a football (soccer) simulator as well as the Call of Duty franchise. There are positives and negatives of the overall gaming community. Certain games have the ability to chat to other people freely, whereas some games have a limited chat function. I was able to make quite a few friends on Call of Duty back in the day because there was an open mic function. If I played with someone who seemed nice I would add them and we could continue to play whenever.
I eventually became aware of the competitive Call of Duty scene back in 2013. The friends I had made were also interested in competing so I signed our team up to play. I then became apart of the PS4 Cybergamer community. Cybergamer was the website which hosted these Call of Duty tournaments. Gaming provided me with an avenue for competition, a way of building an online identity, the ability to be part of a team and community as well as general entertainment.
Since I have limited mobility I cannot always participate in outdoor activities. Gaming has provided me with an avenue to take part in a variety of games that give me new experiences. Gaming is good for people with limited mobility because there is such a wide variety of games available. The incredible amount of games means there is likely a game for everyone, regardless of physical ability.
Gaming is a great way to meet new people, where face to face interaction is not required. I find that I am able to express myself more confidently while online gaming. I have more confidence online as I can show my personality with less fear of being judged on my physical appearance or disability. The way people responded to me was genuine, since they did not know about my disability. I felt free and truly understand what it means to be treated equally. I knew that whatever respect I earned online was down to who I was as a person, rather than what disability I have. I wish there was no negativity in the outside world and that people wouldn't need to play a game to experience a level of equality.
Another important part of gaming for people with limited mobility is that in a game I can do far more activities than I can in day to day life. I can run, jump and do an unlimited number of things in a game, but in real life I am heavily physically restricted. There is a freedom and empowerment that can be accessed through video games.
While gaming has many positives, there are certain factors to be aware of. Never give away personal information to people you randomly meet in games. I would need to play with someone for a while before I could know they are somewhat trustworthy. Competitive games can bring out bad qualities in people so disclosing something like a disability to people can potentially be used against you. I have had one or two bad experiences where people have used my disability as a way of mocking me, so I do think it is vital to be careful with who you give information to.
I have a SCUF gaming controller which allows me to have extra buttons on the back of the controller and more freedom with remapping buttons (Scuf is a company that produces custom PS4 and Xbox controllers). I also have a wireless headset which makes it easier to manage communicating with other gamers. I know there are a variety of after market products which can help with accessibility issues. Each individual person has their own physical challenges and preferences so everyone has to find out what is most comfortable for themselves.
I have found that gaming provides a way of being more independent for people with a disability. People with a disability might not always have the ability to make independent decisions, whereas gaming provides endless opportunities within each gaming world. Research also has shown that gaming provides other benefits such as friendship, inclusion and belonging, all which are hugely beneficial for people with and without disability.
I'm thankful that I achieved a lot within my time competing in video games. I achieved many exciting things such as winning a Call of Duty tournament with a small amount of prize money. Outside of gaming, my dream is to build my definition of a successful career and to live a healthy long life.
---
Gaming for people with disabilities
Believe it or not, electronic and video games first became available to the public in the late 70s. The earliest electronic games were little electronic handheld single-game devices, like Tetris, or arcade games like Space Invaders and Galactica.
It's taken 40 years but finally the gaming industry is starting to make more inclusive games for people with disability. Gaming console designers are mass-producing the first adaptive controllers.
There are many online communities for gamers with disabilities. Like many online communities they are supportive and informative.
Adaptive Controllers
Gaming communities
Videos on gaming