More Scooter Adventures on the South China Sea
Jamie, his family and his trusty Luggie Super motor scooter travelled to South East Asia for 2 weeks over summer. They cruised on the Norwegian Jade, taking in Singapore, Thailand, Cambodia, various stops through Vietnam including the fabulous Ha Long Bay, and Hong Kong. The trip was a study in colour and contrast.
Jamie's Mum Bridget, shares their story:
Somewhere in the middle of a cold Canberra winter, we decided that a cruise to South East Asia would be a perfect way to defrost and unwind at the end of an exhausting work and school year. After being cruise skeptics for many years, we put aside our prejudices and with 5 cruises now under our belt, find that they offer a great way for our family to get around, remove some "A to B" logistic complexities, provide a real opportunity to relax and for Jamie, an accessible way of travelling. After a summer of drought, heat, bushfires and toxic smoke, we were more than ready to experience some water and greener pastures.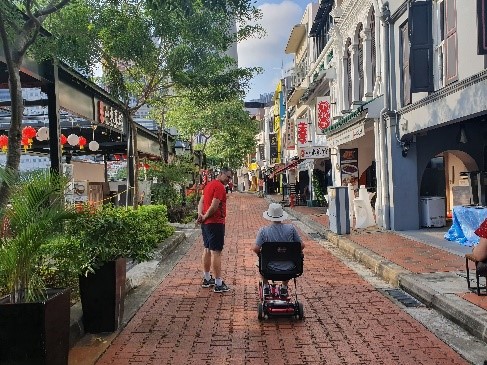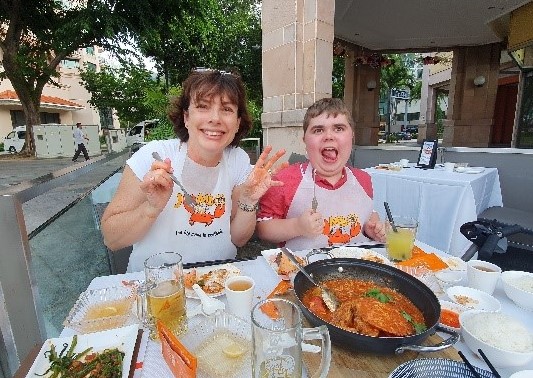 First stop was Singapore, a firm family favourite. With only a few days, we visited the fabulous futuristic Changi Jewel, explored the Clarke Quay area, wrangling a traditional chilli mud crab dish then spent a full day at Universal Studios, a special request from closet speed fiend, Jamie. While Singapore is generally quite accessible, with well-marked ramps and lifts, a modern MRT and few language barriers, some of the traditional areas around the quays have not been adapted, so be prepared to "take the scenic route" or do the odd shuffle. See Visit Singapore's accessibility guide for details.
Contrast with Hong Kong, where the MTR was less accessible, with some barriers not open and entrances hidden deep within shopping centres or closed for construction (see Hong Kong MTR accessibility info).
We arrived at Universal Studios early and invested in a fast pass so as to maximise our time there, particularly in the busy period in the lead up to Chinese New Year. Jamie steadily worked his way through almost every ride, show and area throughout the day, highlights being the canopy flyer and Transformers 4D. Universal provides a very comprehensive guide to accessibility (Plan your visit to Universal Studios, Singapore), signage and some assistance to enable access and reduce standing time. A warning, adults may not feel the same joyful experience as their children after certain rides.
The next morning, we boarded the Norwegian Jade for the start of a 11 day cruise through to Hong Kong. The ship is well kept, provides a multitude of activities, shows and dining options, a relaxing home away from home as we experience each country and port. With lifts, friendly staff, priority access at ports and seating allocated for shows etc, it is largely accessible. We did not book an accessible room (although they are available) so contended with a small step into the bathroom and balcony, but the room was spacious and had useful grab rails. Pools necessarily have a large edge to prevent sloshing in high seas, but nothing that a "1,2,3 and lift from dad" couldn't overcome. "Salties" will love being able to visit the bridge viewing room, a feature not available on all ships. Suffice to say that we were spoilt, entertained, overindulged, finally relaxed and are now on a strict "lose the cruise" diet.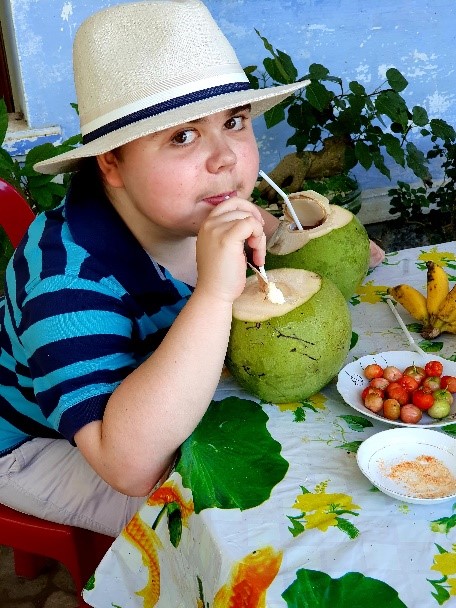 Unsurprisingly, the ports of call provided a sharp contrast to the luxury and accessibility of the ship. A word on boat transfers – they're tricky. During our trip, Jamie took a tender to Nha Trang, a long boat up the Chao Phraya in Bangkok, a junk in Ha Long Bay, the Star Ferry and a junk tour of Aberdeen in Hong Kong. The scooter almost ended up at the bottom of the Chao Phraya … watched on by a crowd of curious locals. The smaller the boat and choppier the water, the greater the logistical challenge requiring nerves of steel, patience, cooperation and a strong husband (and a good dose of stubbornness). All good, just. Fortunately, we docked at all but one port, so the challenge really started on disembarkation.
We found the best option was to arrange a car and guide (arrange beforehand or try your luck and negotiate on arrival at the port). Try Trip Advisor for guides. This gave us flexibility, respite from the cruise crowd (and shore excursion costs) and we met some lovely people. Jamie took a shine to both Mr George and Mr Lam, who gently guided us through Bangkok and Nha Trang, respectively. They found the ramped gutters, closer parks, paths through narrow crowded markets and even negotiated "alternate routes" with the seriously intense looking Thai royal guard.
On other days, we contended with huge stairs on larger shuttle buses (divide and conquer – Dad lifted Jamie, Mum lifted the scooter) that ran from port to the local town then explored "freeform". We quickly realised that we take pavements at home for granted. South East Asia offers a variety of "pavement styles" to challenge even the best of motor scooter riders. Most are very high due to monsoonal rains, some adjacent to huge deep gutters. Many are cracked or pitted due to the weather, providing a bumpy ride. Others are covered with motorbikes, providing an obstacle course. Some have no clear "on/off" points, so we found ourselves trying to spot where the motorbikes went or taking our chances on the road (eek) – a small portable ramp would have been very useful. Sihanoukville in Cambodia didn't have pavements at all, thanks to insensitive foreign investment, but that's another story altogether. Jamie sensibly stayed on the ship that day.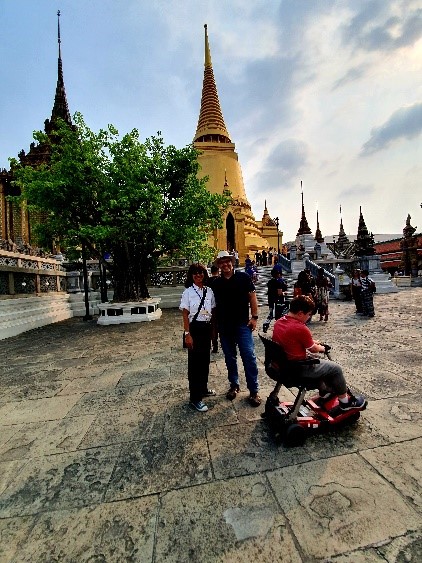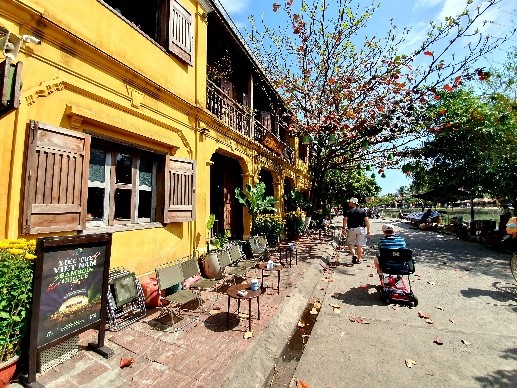 Most memorable was the colour. In the lead up to Tet, the markets, houses, shops and roundabouts in Vietnam, everywhere really, was filled with pots of yellow chrysanthemums, coloured latterns, red envelopes and "cute" representations of the rat (this being Year of the Rat). The streets in tourist spots like Hoi An were beautiful, but so too were so many doorways in lesser known local towns. There was a tangible sense of joy, anticipation and excitement in the air. A very close second was the unexpected moments … Mr Lam's wisdom that struck a chord with Jamie, being served lunch by a lady boy at the Thai Navy Wives Association Club, pho at a local truck stop in Nha Trang, the serenity and simple happiness at a tiny dragonfruit farm. Worthy mentions must also go to those "hoped for" moments, like sailing into Ha Long Bay at dawn and "known" moments, like the joy of wi fi after many days of digital detox and of course, arriving home (without incident, mishap or Coronavirus).
---
Bio
Jamie Larsen is 15 years old and lives with big brother Kristian (18), Bridget (mum), Carsten (dad) and Colonel (an affectionate Golden Retriever). When not occupied with work, school, power chair soccer, basketball and running an accessible AirBNB, the Larsens enjoy flying drones, eating spicy food, tinkering with technology and travelling. Their travels have taken them through Scandinavia, Europe, Japan and throughout South East Asia. Jamie has DMD, the rest of the family have genetically indicated stubbornness. The Larsens enjoy living in Canberra surrounded by bush and roos.