Podcasts of interest
Check out some international podcasts by people living with neuromuscular conditions.
Muscle Owl
Muscle Owl are a media and campaigns channel dedicated to raising awareness for muscular dystrophy and changing attitudes towards disability. They support campaigners, charities, scientific researchers, and discuss key issues across the community. Check out more Muscle Owl videos and podcasts here.
Muscle Owl are moving to more video content now, including this one on misdiagnosed and undiagnosed neuromuscular conditions.
---
Two Disabled Dudes
Sean and Kyle are both affected by a rare disease called Friedreich's ataxia (FA). FA affects their balance and coordination, significantly limiting their physical abilities. However both dudes have completed several long distance bike rides including "The World's Toughest Bike Race" – Race Across America (RAAM). Hear more from Two Disabled Dudes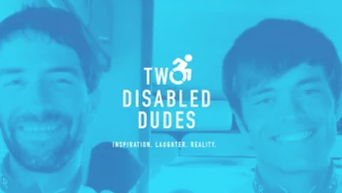 ---
Man vs Wheelchair
Two guys with Muscular Dystrophy talking about owning disability. These two friends met at a Camp for kids with muscular dystrophy, in America. More podcasts here: Man vs Wheelchair
---
The Obvious Question
Get ready to throw your assumptions about disability out the window! In "The Obvious Question," Madi Lawson, a 21-year-old journalism student who has two rare forms of muscular dystrophy, takes on the assumptions, misconceptions and just plain ignorance others have about people with disabilities. But this isn't your typical conversation about disability. In this podcast Madi talks with co-host Becky Smith and others about fashion, friendship, dating and more – challenging all the things you thought you knew about disability, but haven't had the chance to ask about before. You'll explore the glam and not-so-glam life of the real-life Wheelchair Barbie. So, buckle up – it's gonna be a bumpy ride. Listen here: The Obvious Question
---
Disability Visibility Project
The Disability Visibility Project is an online community dedicated to creating, sharing, and amplifying disability media and culture. The DVP is also a community partnership with StoryCorps, a national oral history organization. Our aim is to create disabled media that is intersectional, multi-modal, and accessible. This site features a combination of blogs and podcasts.
---
Interested in making your own podcast?
These links have everything you need to know about podcasting: