Scooter Adventures in the Land of the Rising Sun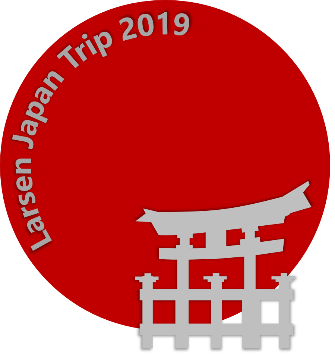 Jamie, his family and his trusty Luggie Super motor scooter travelled to Japan for 3 weeks over Christmas. An ambitious itinerary was set by Jamie, taking in Hiroshima, Kyoto, Nara, Osaka, the Japanese Alps, Hakone and Tokyo. It was action packed, exhilarating and exhausting!
---
Jamie's Mum Bridget, shares her tips:
Plan well ahead
Allow time to get clearance documents from the hospital, for dangerous goods (lithium ion batteries), tickets to Studio Ghibli, accommodation. Like Santa, check it twice (or more).
Wish lists
Remind travellers that wish lists are just that; there will be additions and deletions. Delete multiple book and stationery shops. Go with the flow. Tricky with boys that have OCD tendencies.
Eat local
Japanese food is justifiably world renowned. Try the takoyaki (octopus balls), the okonomiyaki, yakitori, the Shabu Shabu, the sushi bars, exquisitely fresh sashimi at the Tsujiki markets, tiny ramen nooks, baby octopus stuffed with quail egg 'brains', mochi and black eggs cooked in the volcanic gases of Oyakudani, near Mt Fuji.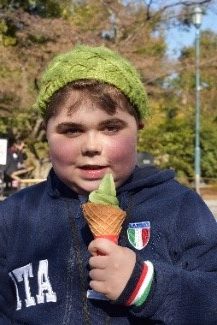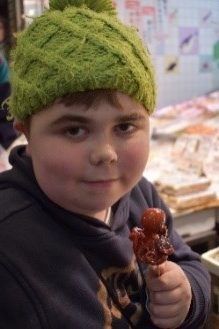 Accommodation
While ryokans are undoubtedly a lovely experience, hotels are a better choice for those who need elevators and don't find tatami mats comfortable for sleeping or eating. Look for locations close to stations for convenience. Always check room size. We hadn't planned to stay in a capsule hotel or a caravan but our room near Ginza was minute.
Try the language
Trip to Japan: expensive. Pocari Sweat at the train station stall: 150 yen (<$2). Joy on the old woman's face when Jamie tried out some Japanese: priceless. Google Translate helps and the station staff have some very good little babel fish.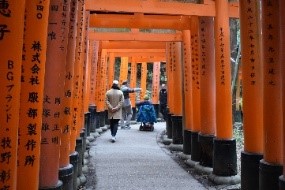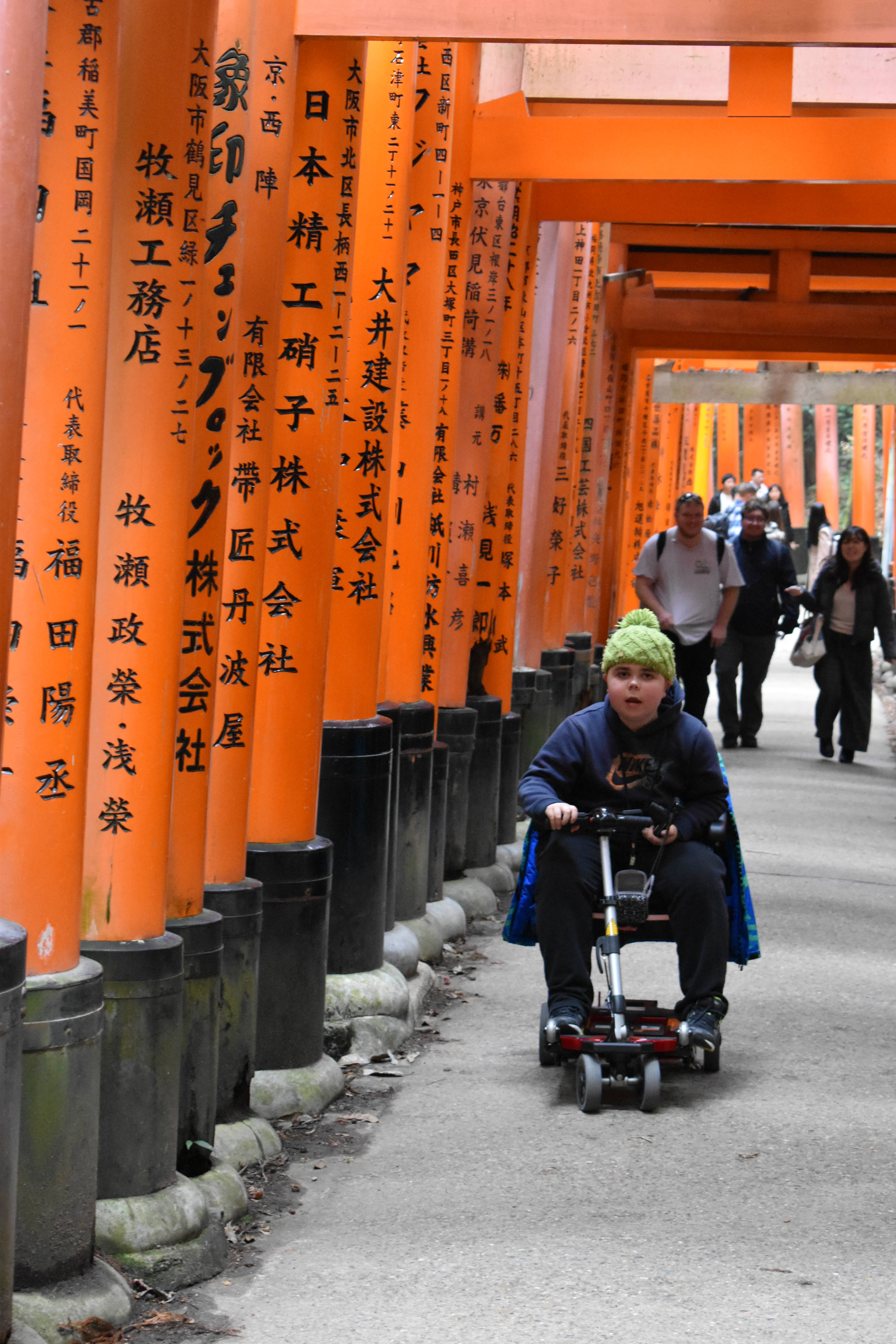 Chargers
Always know where your mobility device charger is (unless you need the adrenalin of a Disney extreme ride). Take it with you on day outings. Sometimes, it's possible to recharge at lunch, at a temple or while on Disney rides.
Losing things
Odds are that you'll lose something. It won't be weight (see Food tip), it can't be your charger or JR pass, it might be each other or your sanity (see Geotag and Zen tips).
Luggage
Pack light but warm. Small wheelie bags are best for getting around. The shopping is amazing, keep some room spare. The Japanese are almost invariably beautifully dressed in jackets and hats. So are their children – and their dogs. Accept that you may not be and move on.
Take lots of photos
Japan is a stunning country of colour and contrast. However, if you insist on walking across Shibuya scramble crossing (the busiest in the world), don't stop to take photos. Jamie, you stopped traffic.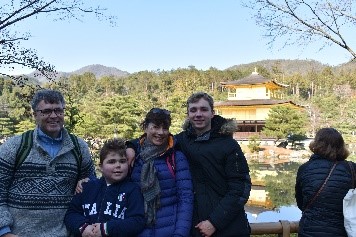 Divide and conquer
Teenagers, enough said. See Accessibility, Sanity, Geotag and Eat Local.
Expect the unexpected
Some will be unexpectedly great: Tokyo National Museum was closed so we went to another and found a fabulous exhibition on modern calligraphy as art. We visited Mt Fuji on a clear day. Kyoto is packed with amazing sights. Some will be not so great: See Accommodation. 3 hour queues for "big" rides at Tokyo Disney Sea. Cyclones threatening connecting flights. Some will fall in the uniquely Japanese category of quirky or WTF. Hedgehog and owl cafes are not a must do.
Toilets
In Japan, they deserve their own category. Even demountables on mountain paths to the snow monkeys have heated seats. Hotels in Australia could take inspiration from the luxury and pristine state of facilities in major railway stations. On board accessible facilities are great. Try all the buttons. I think we'll be renovating.
Geotag the kids
It's a busy place. You can be swept away in the swarm of a station or market so easily. Thankfully, our older one is taller than the average local and Jamie loves to wear a distinctive green beanie, and is not averse to using his scooter horn.
Check maps carefully
Distances are not always to scale or what they appear. See Charger tip.
Find your Zen
You might find it in fresh snow falling on Christmas Eve, soaring bamboo groves or a sublimely fresh sashimi. You'll need to recall that Zen while navigating train stations, waiting in queues (a refined national pastime) or squishing another person in the lift.
Plan a rest day before your body demands one
Ride the ultra-comfortable Shinkansen for a day. Or spend the day watching wacky Japanese TV on New Year's Day when everything is closed.
Accessibility
A pleasant surprise. Most train stations have elevators, they're well marked, bus staff in Kyoto are very happy to help with a 'slope' and many major attractions, including temples, have an alternate accessible route. Check the excellent websites available to help you plan.
Try local customs
Learn the protocol, then ring the temple bells, douse yourself in incense smoke, buy a charm or shake out your fortune. Exception: don't get in the onsen unless you can get out whilst keeping your facecloth sized towel in place for a little modesty.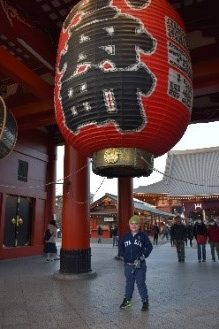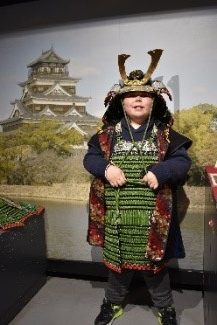 Be patient
OK, so not a strong family trait. In Japan, you'll need to be the water that flows around the bureaucratic rocks. Powered mobility seems rare so be prepared to explain as you come up against unexpected obstacles. Some did not recognise that the scooter was a necessity (not a toy), so required that it be folded up, with Jamie transferred to a wheelchair and ushered onto the train by a station guard. Many shops in Tokyo are vertical, 7 floors of fabulousness, with only one tiny elevator.
Appreciate home
The space, the fresh fruit and veg, your dog (who does not dress up or travel by pram) and the warmth, amongst many things. And if you have taken nearly 1000 photos (Jamie), enjoy editing them, be inspired and be grateful that you experienced so much, not sad that it's over.
Bio
Jamie Larsen is 14 years old and lives with big brother Kristian (17), Bridget (mum), Carsten (dad) and Colonel (an affectionate Golden Retriever). When not occupied with work, school, power chair soccer, basketball and running an accessible AirBNB, the Larsens enjoy flying drones, eating spicy food, tinkering with technology and travelling. Their travels have taken them through Scandinavia, Europe and South East Asia and most recently, at Jamie's behest, Japan. Jamie has DMD, the rest of the family have genetically indicated stubbornness. The Larsens enjoy living in Canberra surrounded by bush and roos.