Surfin' Safari
"In March I went disabled surfing for people with disabilities. It was not competitive. The best thing was the fun going in the water and catching the wave back in. They gave awards to the surfers and I had a yummy sausage sandwich after."

– Joshua, 7 years
We had seen disabled surfing advertised previously, and when a family member brought it to our attention that it was on near where they live, we decided that we would go. Joshua is always keen to give everything a go and really does not allow his disability to stop him, with a willingness to try absolutely everything that he might be able to do!
We made a family day of it, with a few of his cousins coming along for the day. The weather was a bit colder that we would have liked, but we still went otherwise there would have been tears!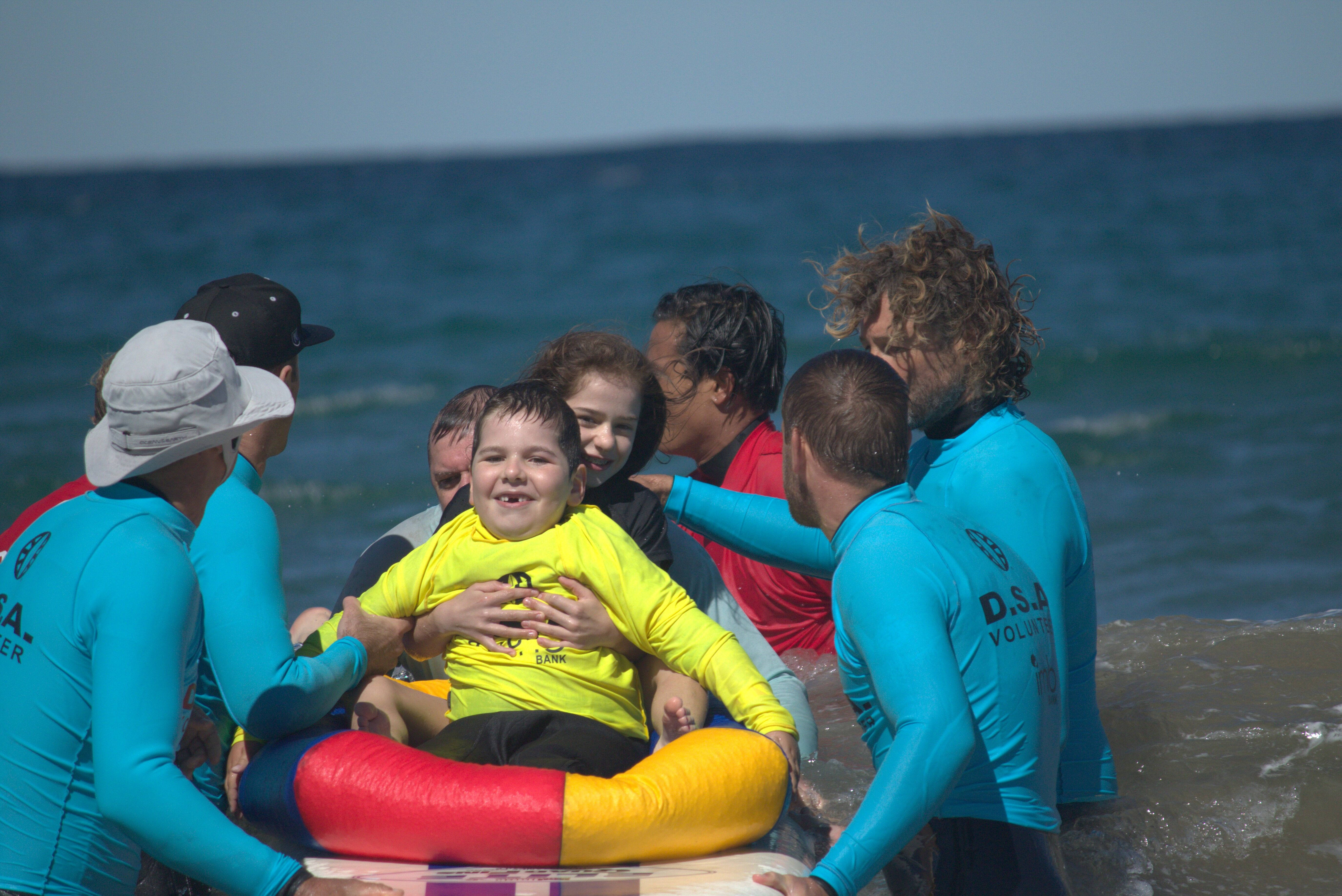 Joshua sums up his experience very well. The old saying 'a picture says a thousand words' is so true, the joy on his face and the excitement was very obvious. His only request was to 'catch a big wave' and the fabulous volunteers were more than happy to oblige. It was a great family day out with his cousins cheering him on and his sister even managing to catch a wave with her brother.
Following the surfing everyone gathered in the local park for a sausage sizzle and awards ceremony, and all participants went home with a bag of goodies. We will certainly do it again, hopefully with warmer weather! Joshua's cousin has already said that next time he is going to volunteer as a helper.
Where was it located?
We went surfing with the Disabled Surfers Association – South Coast Branch. The day was held in Gerroa, approximately 2 hours south of Sydney. If travelling from Sydney I would suggest staying on the South coast nearby the night before, otherwise it would be a really early start.
The Disabled Surfers Association holds events in a variety of locations over the warmer months, details are available on their website and Facebook page.
What did it involve?
We did not have to register prior, we just turned up in the morning at the designated location to register. At registration they will ask a few questions to help determine the level of support and the most appropriate group to allocate the participant to. There was a small fee for the participant to register ($10), volunteer helpers are free. You can choose to assist if you want to, but it is not essential.
What do I need to provide?
You really just need to come ready to get wet and have fun. All the equipment required to participate was provided. Participants were all provided with a yellow rashie shirt that made them easily identifiable on the beach, with different colours for carers and volunteers. They even assisted to fit a wetsuit for Joshua, which was certainly appreciated in the chilly weather.
There are beach wheelchairs available to assist with transfer to the beach if required, along with surf boards and the necessary devices to support individuals on the board. They mentioned that they have assisted people who use ventilators to surf!
I am sure if you had any questions you could contact the branch organising the event you choose to attend.  For more information you can find event details, and branch contact details, on the Disabled Surfers Association website.