The Big Apple of My Eye – NYC – Part 1
Day 1
After a fairly pleasant 5 hour flight we experienced disorganised chaos at Newark Airport New Jersey….. took 2 hrs to get my chair out at baggage! I was worried my chair had been broken or left in San Francisco…..but thankfully it was just slow to come out. Then we were told it would be a 3 hour wait for accessible taxis so we hopped on a public bus which had a hoist so we could load the scooter, powerchair and all our luggage!!!
The view of the NYC lights from the freeway was magical. I felt like Dorothy entering the Emerald City. Annette the bus driver was super helpful and although she could only drop us on the corner of 42nd and 8th Streets, she hailed us wheelchair accessible taxis to make sure we were safe and could get to our hotel. Midnight pizza while Tony from Brooklyn sorted out the base of my bed as it was a metal bed frame no hoist access!!!! Even though specifics had been emailed and confirmed! I guess that's the advantage of staying at a hotel with 24 hr reception and an Engineering Department!
Day 2
We have arrived in the Big Apple and it is organised chaos but truly incredible!!! Today we spent the afternoon meandering through the classy streets of the Upper West Side and our first visit to the iconic Central Park, just taking it all in. What we noticed: squirrels are so cute; unusual birds; filming and photo shoots; frisbee game on steroids; delightful pond and row boats; street entertainment with lots of audience participation.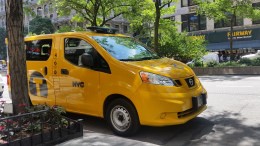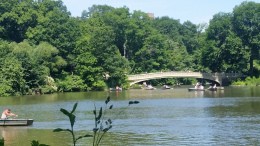 Met people from Latvia, Italy, Brazil, Australia and the US. A lone lady standing amongst the trees playing the saxophone. It is so green and although there are people everywhere somehow it feels serene. Ate tiny hotdogs and a refreshing icecream. On the way back to the hotel we talked to chatty NYFD officers. Dinner at Gold White Butchers for a delicious Rib Eye and free drinks!! Concrete jungle where dreams are made NYC we can't wait to see more of you. Despite their reputation we found that New Yorkers are so friendly!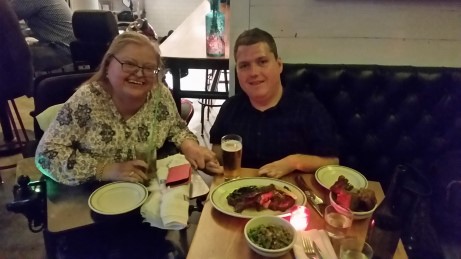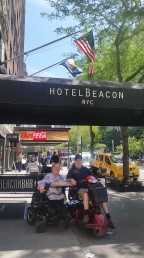 Day 3
We dashed through Central Park to 5th Ave, ducking under the awnings of the apartments and hotels on our first showery day. So many poodles and labradoodles! NYPD Officer Walsh helped me put on my poncho as the showers got heavier. Local guy Jeff kindly gave us directions to The Metropolitan Museum of Art, affectionately known as the MET.  A friend had lent us her members pass so we saved 50 dollars and went straight in. So many galleries of art and artifacts it was like the history of the world in one monumental building!! Galleries we viewed included Samurai armour, Heavenly Bodies, Ancient East Persia and Roman sculptures. Felt smarter as went left the MET, but needed a few more days to view the collection entirely. Very good access and helpful staff. Dinner at Bellini's Italian pizza and the tattletale lamb ragout was delicious!
Day 4
Today we wheeled along the Hudson River bikeway for another perspective of this awesome city. Ventured downtown to see the Lincoln Centre, Time Warner Centre, Broadway, Radio City Music Hall and the impressive Rockefeller Centre. The 'Top of the Rock' is the perfect place to see just how incredibly huge this place is!!! 5th Avenue and Central Park led us back to our Upper West Side base. Locals, vendors and tourists alike have been extraordinarily friendly and helpful. Crazy awesome, organised chaos – Manhattan you Rock!! Arrived at our hotel with only 2 battery bars left – the sign of a wonderful day with my beautiful man. Dinner 'to-go' from the Beacon Bar right next door to our hotel.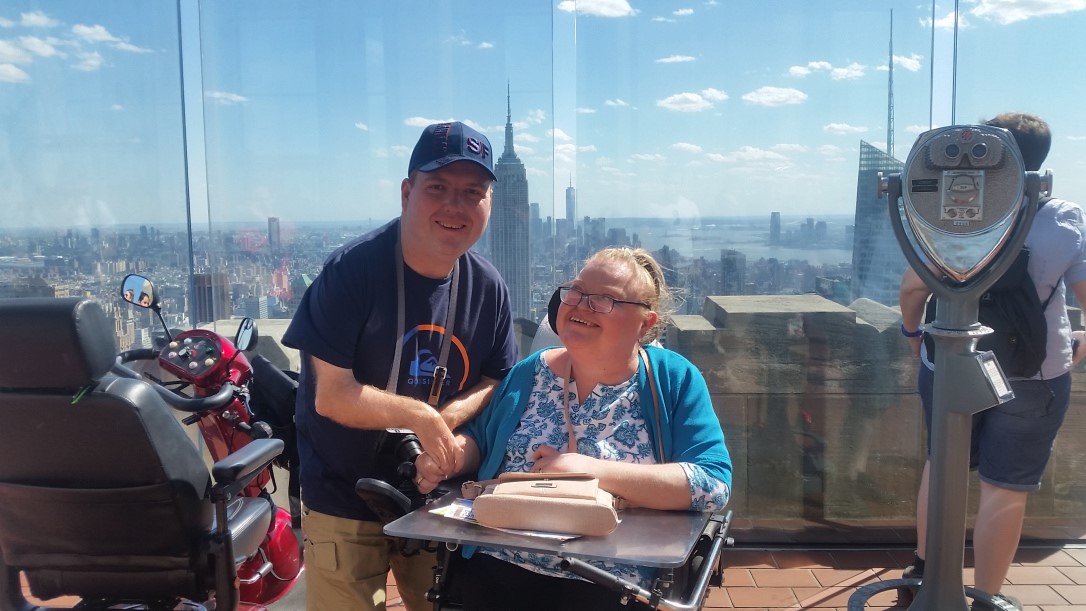 Day 5
Another day in this electric city and we visited The American Museum of Natural History, seriously, what a place! You could spend days exploring all collections in the many halls; we enjoyed an Amazon film about the evolution of species based on butterflies; huge dinosaur collections and bought my nephew a dino; Margaret Mead famous anthropologist I studied at university; found Dum Dum (for those of you who have seen Robin Williams and Ben Stiller in Night at the Museum); loved taking photos of all the old mammals and birds; found the Tigers (so special); and the main entrance foyer was epic!! Quick bite to eat and terrible coffee before heading home to get dolled up for the American Ballet!!!
Note: Wheelchair access is via the side entrance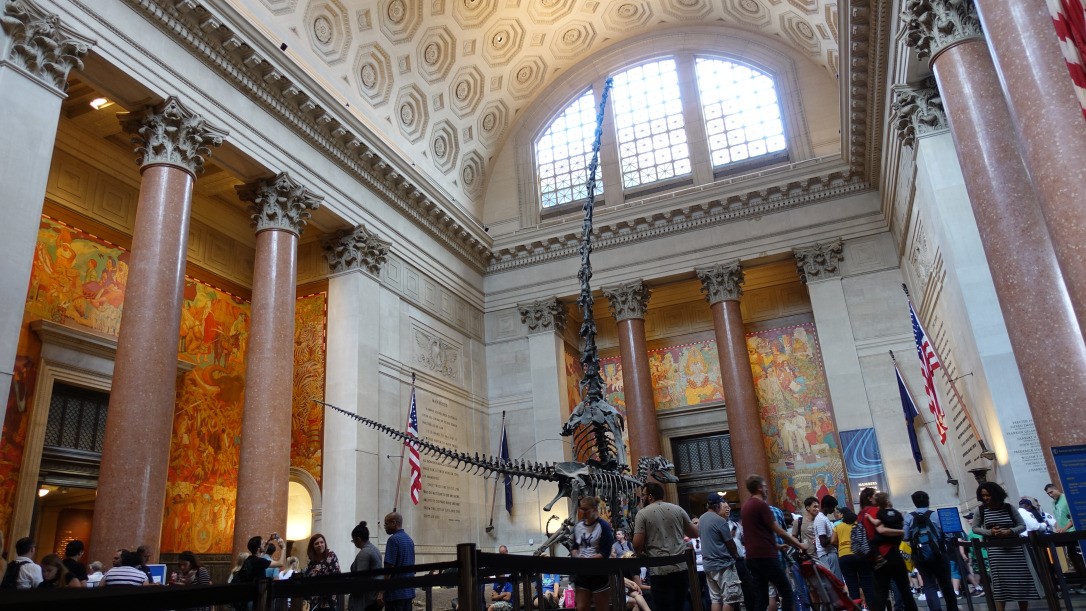 Dinner with a friend at a French restaurant and we made it to the Lincoln Centre on time to see the American Ballet Theatre performance of Romeo and Juliet – stunning!! I'd booked a wheelchair accessible spot ticket a few days earlier over the phone, however they hadn't removed the chair in my spot, but let me sit in aisle until first intermission when they removed the chair. Great view and a night to remember.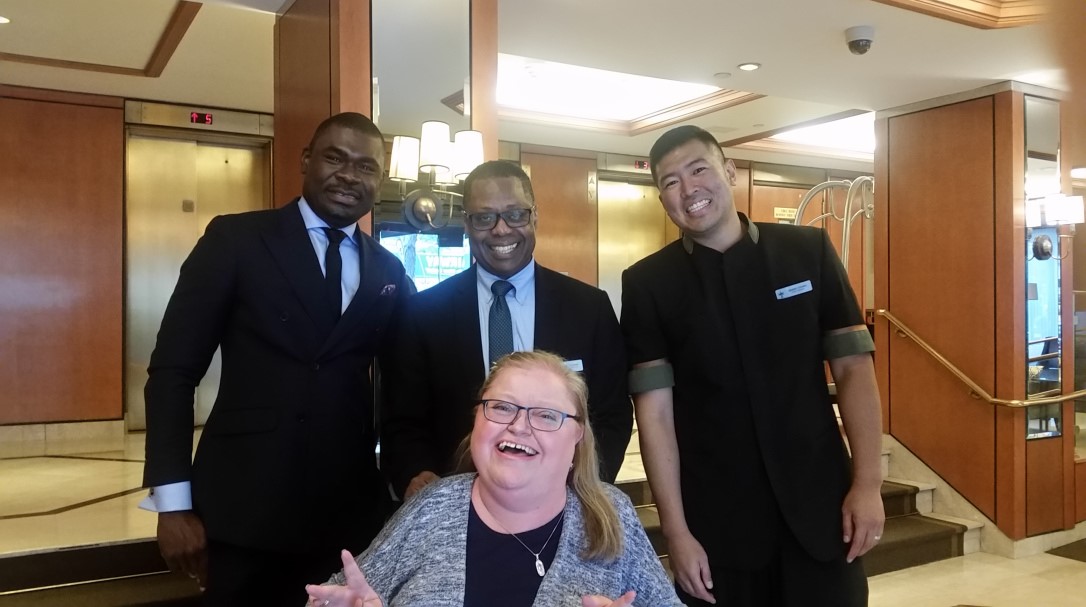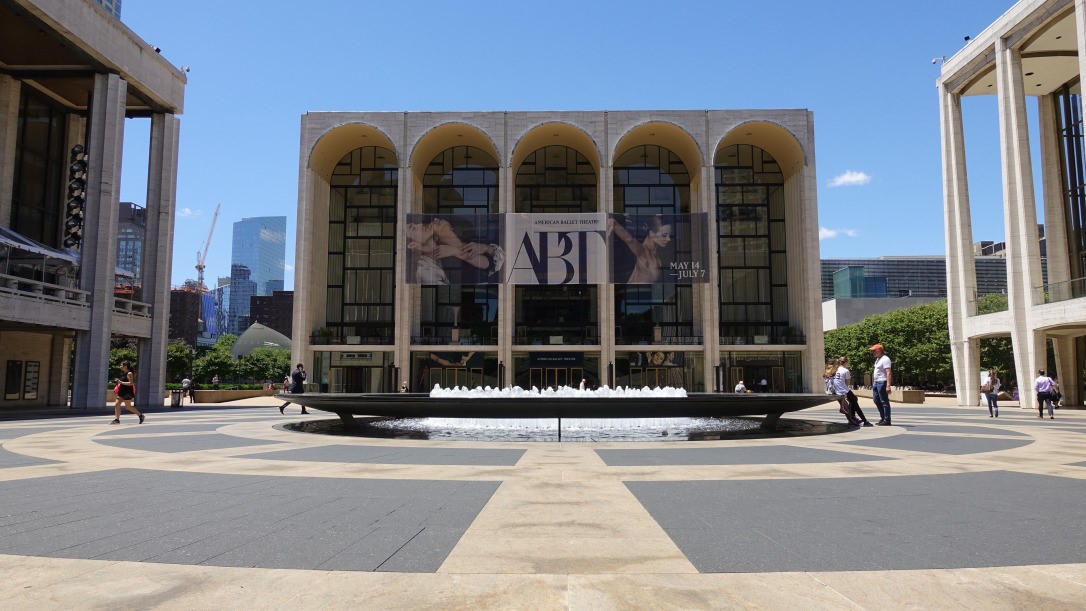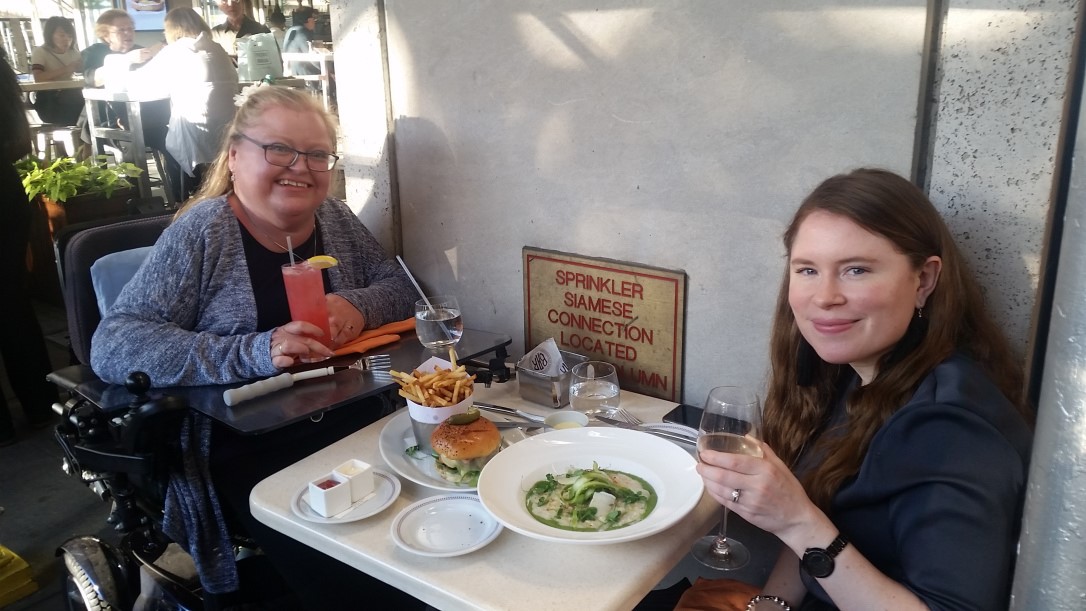 Day 6
Take me out to the ball game!! New York Yankees V Tampa Bay Rays at the historic Yankee Stadium. I booked accessible spots via email in advance as the games all sell-out (see details at the end of this post). We needed two cabs and Steve didn't fit his scooter in one so had to wait for a third! The Hotel bellhops are great at hailing accessible cabs for you! Party atmosphere, great game, yummy chicken – the Yankee fans are so passionate! I wanted to buy a balloon from a young boy who I thought was selling them. Turns out he wasn't, but he insisted I take some of his balloons!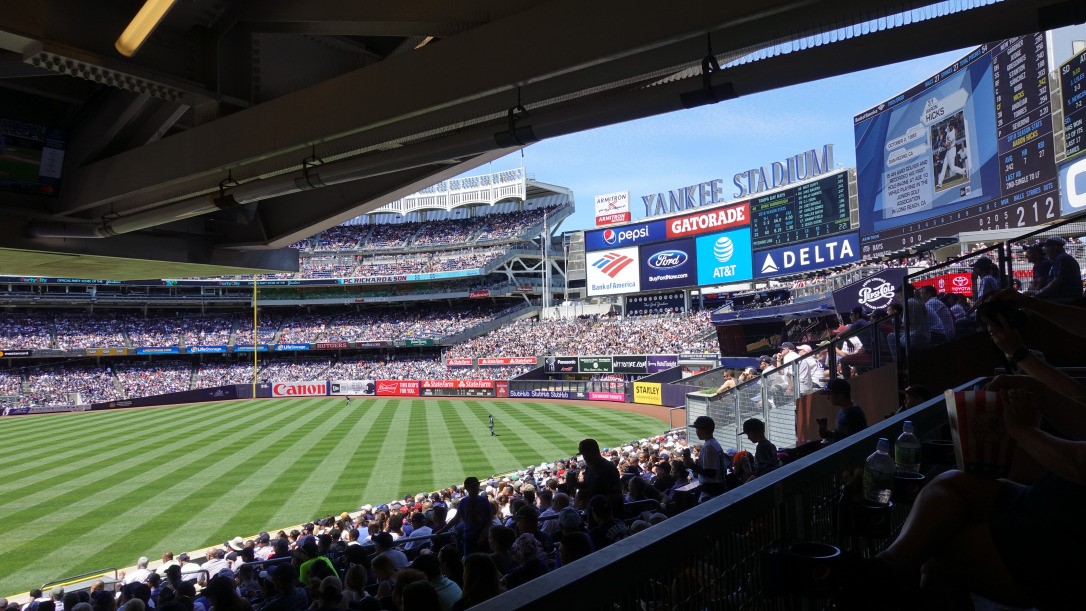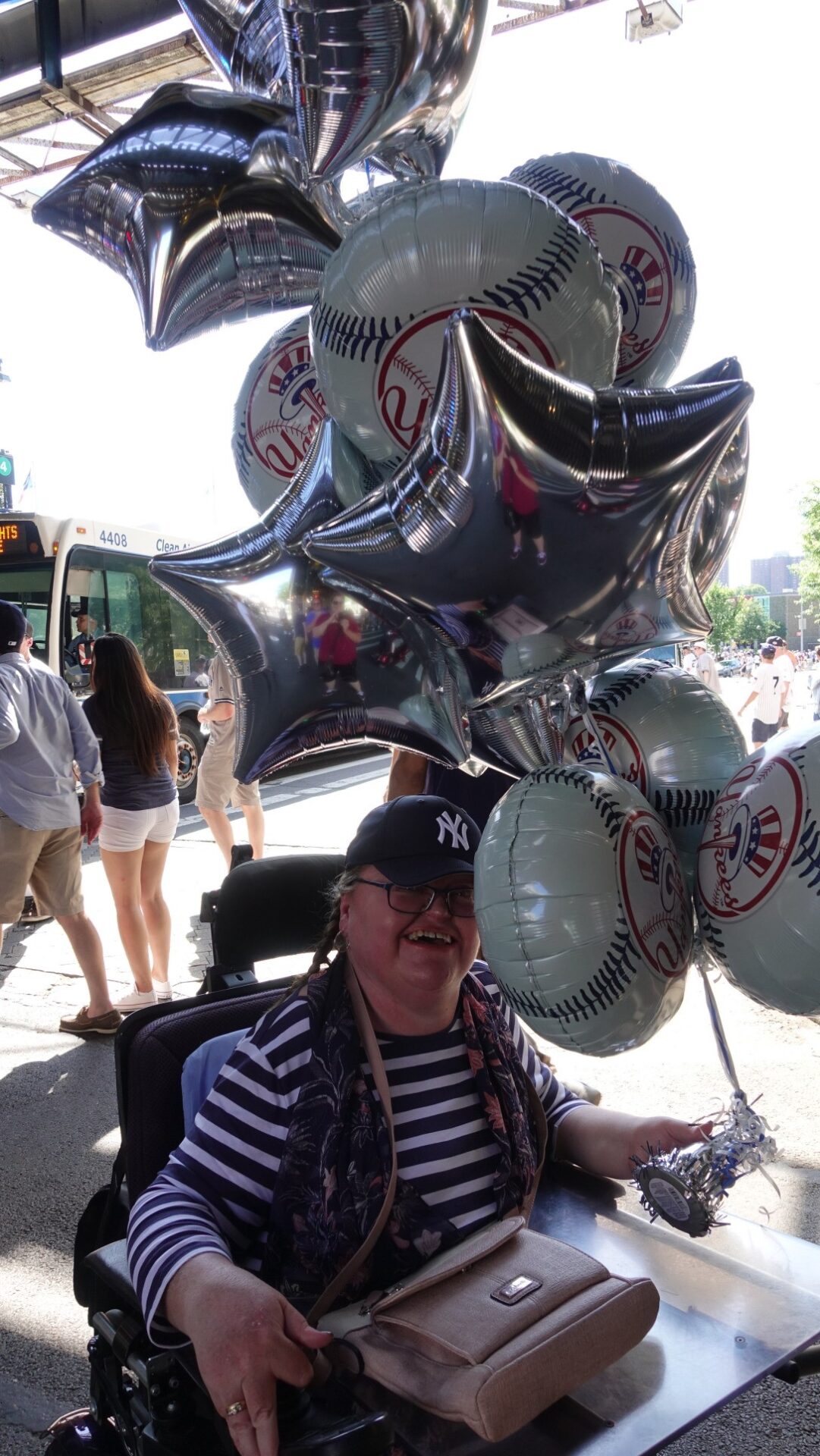 Subway adventures on the way home from Yankee Stadium – The NYC subway has no guards and very few staff to assist but we found the public to be more than helpful and courteous. We hopped out at 81st St to find no elevator access so we waited 40 minutes for the next train. The ballerinas we befriended looked on their phone app and said 59th is listed as accessible but when we got out we found the elevator out of service! Getting on and off trains with no ramps and some small step and gap was a bit of an adrenaline rush (and really quite dangerous). On this ride a friendly group of 3 New Yorkers recommended places for us to visit while a flash-mob entertained us…
….we got out at 42nd St to find the exit of the station was via a series of obstacles – ramps, platform lifts and double doors. We were kindly assisted by a lovely African American woman with a 7 month old baby in a pram. It took her 3 trips and over 15 minutes to get all of us up to street level – and I had to look after the baby on the street while she went back for Steve and the pram! I gave the woman ten dollars for her time (I was feeling tip happy) before we found out they were homeless. I was humbled that she was helping us. The woman said was grateful to have money for dinner that night. It was like an episode of Humans of New York. A genuine and unexpected moment of gratitude in the subway.
---
Read on: Part 2 of our adventures around New York City!
---
The Facts
Transport options
Loads of accessible taxis
The Subway is NOT a good option for reliable accessible transport but was a fun experience – but be careful as there are no guards to assist like in Sydney
Buses are accessible but may not fit large scooters
We found wheeling places was the best way and allowed us to get a real feel of the place by being part of the street crowd
---
Accommodation details
Hotel Beacon NYC
2130 Broadway at 75th Street New York, NY 10023
T: 1 646 277 3203
Dawn Matthews – dmatthews@beaconhotel.com
1 Bedroom suite with 2 Queens and a fold out Queen sofa in lounge. Good roll in shower. Kitchen to cook own meals was a bonus. Space was tight but do-able. Bedroom at Hotel Beacon – had to get bed frame removed to accommodate hoist but that solved the issue.
All accommodation in NYC is pricey so had to make do with smaller than ideal space. Quieter location but still handy to Central Park and museums. Deli and grocery store across the road.  Coin operated laundry and bar/theatre next door. Excellent service.
---
Length of stay
6 nights on the Upper West Side at Hotel Beacon – good amount of time and good base but still so much more to see in NYC!
---
Attractions
Yankees Stadium
Paul Ward, Coordinator, Disabled Services & Guest Relations
pward@yankees.com
27-Time World Champions
New York Yankees
One East 161st Street, Bronx, NY 10451
T: 1 646 977 8822
---
Accessible tips
Take your charger with you each day to top up your batteries.
Try to do a few things in one area each day to save back tracking – NYC is really really big!
Most footpaths and curb cuts are accessible although some are a bit rough. Only once did we find a path that had no curb cut and we needed to turn around. Pedestrian traffic moves fast around NYC but we kept up with the pace.
Most buildings have accessible entrances marked with the wheelchair symbol and double doors that open by pushing a large button.
Ask hotel staff to remove unnecessary furniture to create more space.
Ask hotel staff to add or remove mattresses to adjust height of bed. Portable bed raisers can also be useful.