The Big Apple of My Eye – NYC – Part 2
Day 7
After 6 nights exploring the gorgeous Upper West Side we checked out of the Hotel Beacon to move down to our next location in the Times Square/Midtown area, so we could be closer to the attractions. Our support workers needed two taxis to lug all of our gear, while we meandered through Central Park. So many people enjoying a leisurely Sunday in the park, warm weather and the jazz quartet were enchanting. Crazy busy wheel down 5th Ave – I had no idea that Tiffany's has 4 levels!! Lunch on the go from our favourite chain store Pret a Manger for healthy fresh wraps and sandwiches – such helpful staff opening our drinks, wiping my table – nothing was a problem!!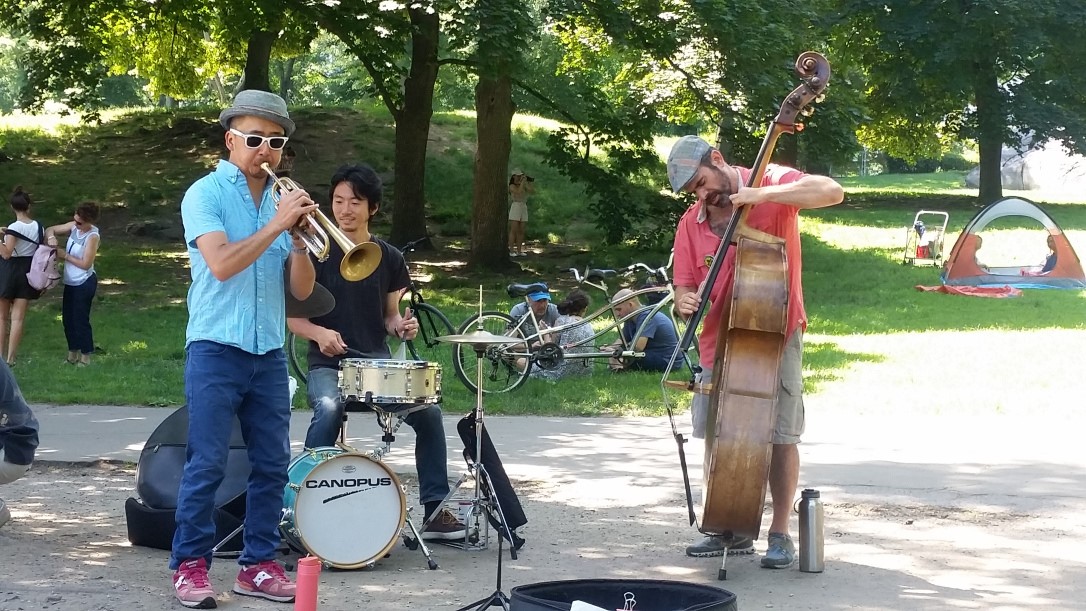 Made it to Times Square for some photo opportunities. The sheer chaos of the advertising, people everywhere, traffic – a real assault on the senses. Saw the famous big ball and a naked lady playing guitar! After entering the wrong hotel, we found The Stewart Hotel, a lovely 89 year old building recently refurbished but still has its old world charm. Situated opposite Madison Square Garden and near to Penn Station the Stewart has a stylish art deco lobby, however wheelchair access was a bit inconvenient via heavy double doors and an extra lift at the side entrance. Our suite was on the 16th floor and had an iconic NYC street view. And it was loud, very loud, so we got amongst the chaos with drinks at an Irish pub called Fiele and dinner next door at the Blarney Rock Irish pub – the salad, bangers and mash were a nice break from American style food!!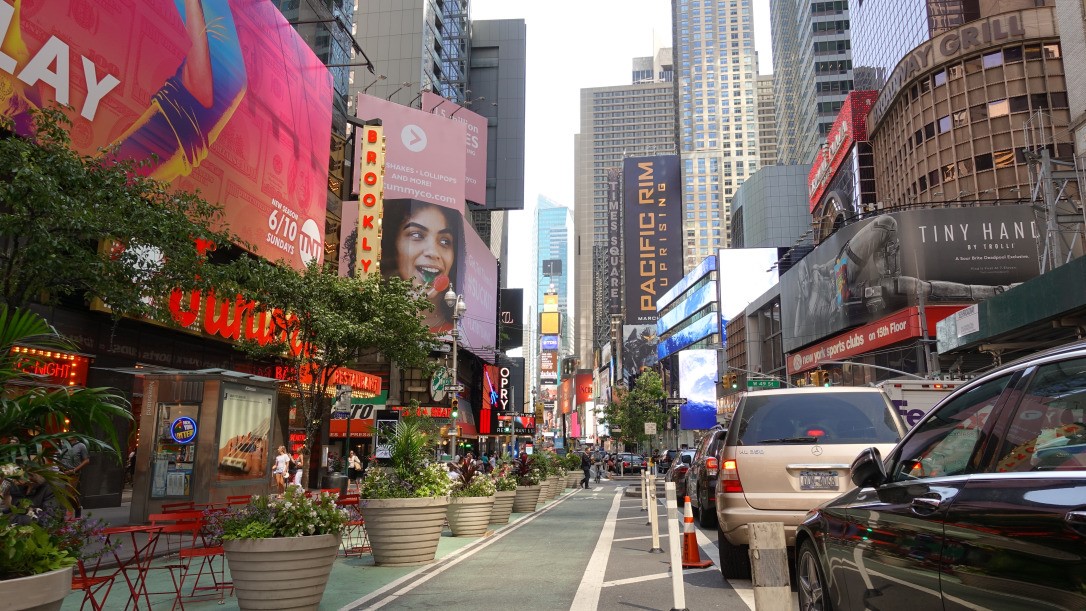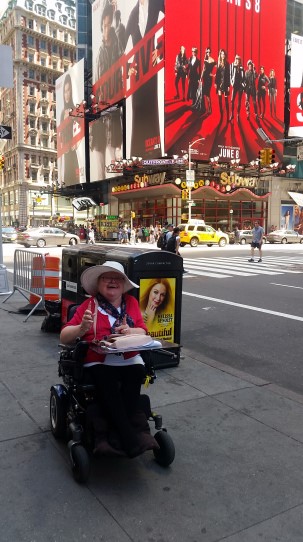 Day 8
Another hot day in New York city and it continued to amaze us. Bryant Park was a moment of tranquility after the harsh reality of Midtown and Times Square. The NYC Library grandeur and history was spectacular, as was the bustling and beautiful Grand Central Station. Both very accessible and well worth a look. We were still pinching ourselves that we were in New York!!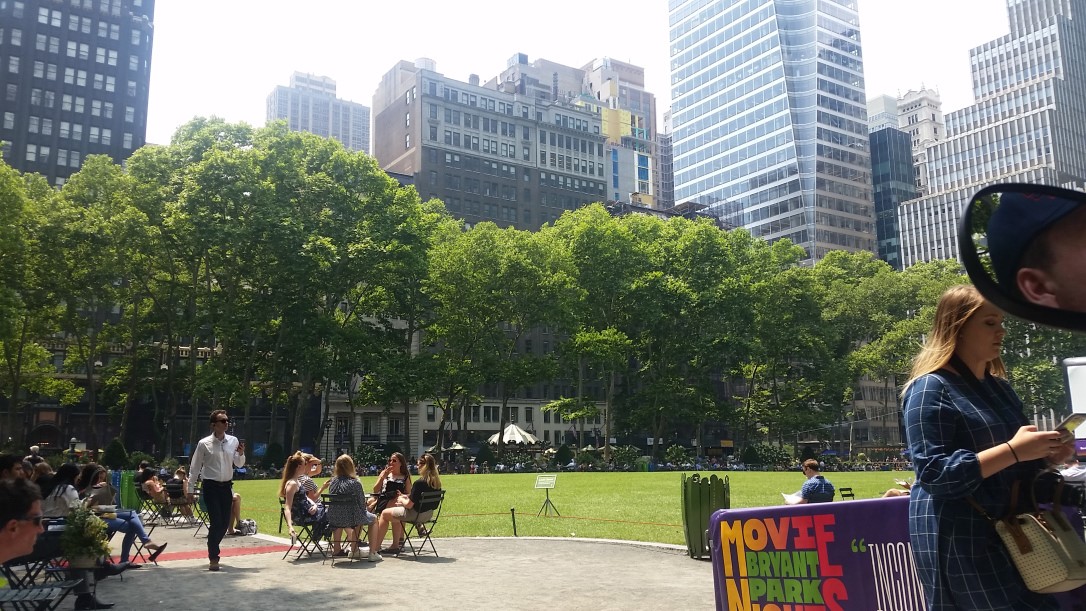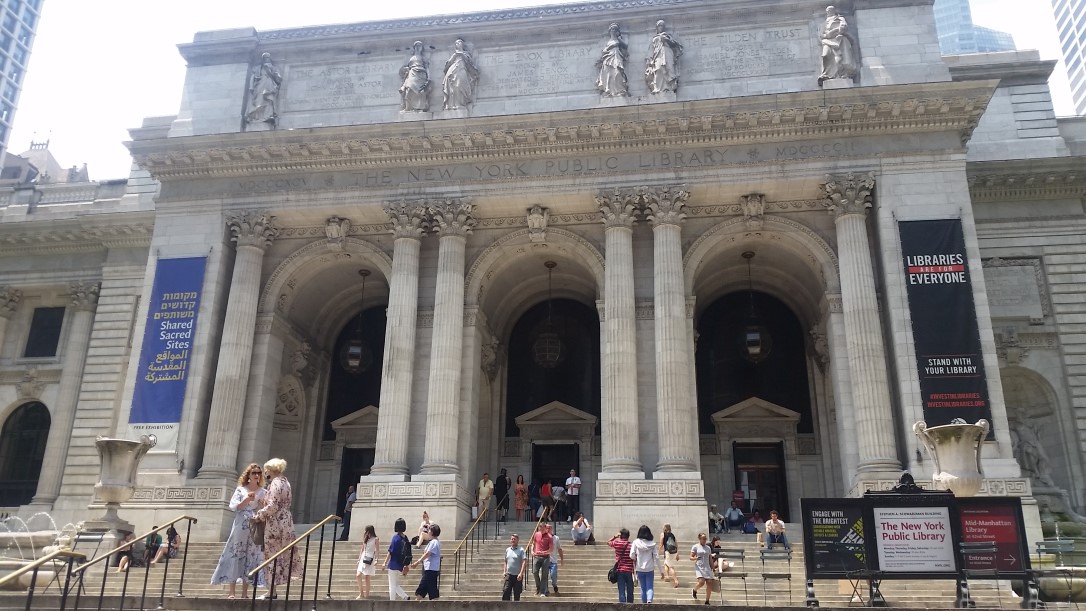 We took advantage of staying right near the bustling Penn Station and booked our train tickets to DC directly at the station a few days before our departure.  I had tried to book online before the trip but the measurements of mobility devices allowed on trains looked tight for Steve's scooter so we were crossing our fingers.
We received help from an eccentric, brash stationmaster called Brandel (although we think he looks like Super Mario!). It was like a Mr Bean episode as he took us from the special assistance queue to a lift which never arrived…..so then we followed him into the loading dock into Penn Station…. into the goods lift which closed on Steve as he went walkabout to return the keys. Brandel then followed us around Penn Station like we were his adopted kids, and made sure the booking officer looked after us. We didn't think he was going to leave us alone but in the end Brandel was quite helpful giving us mobile numbers for the red hats, so they can help with luggage on the day we leave NYC. Memorable experience!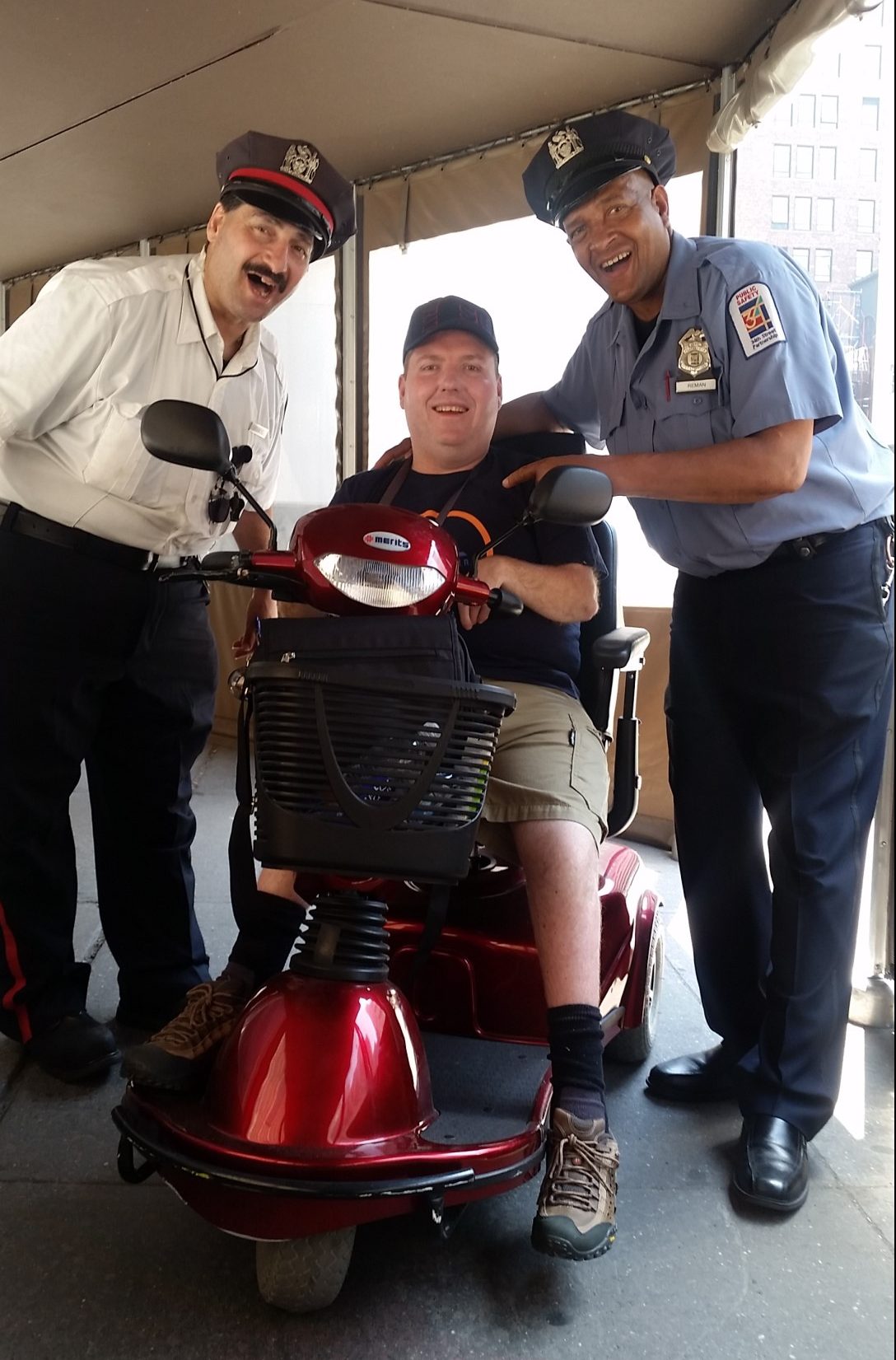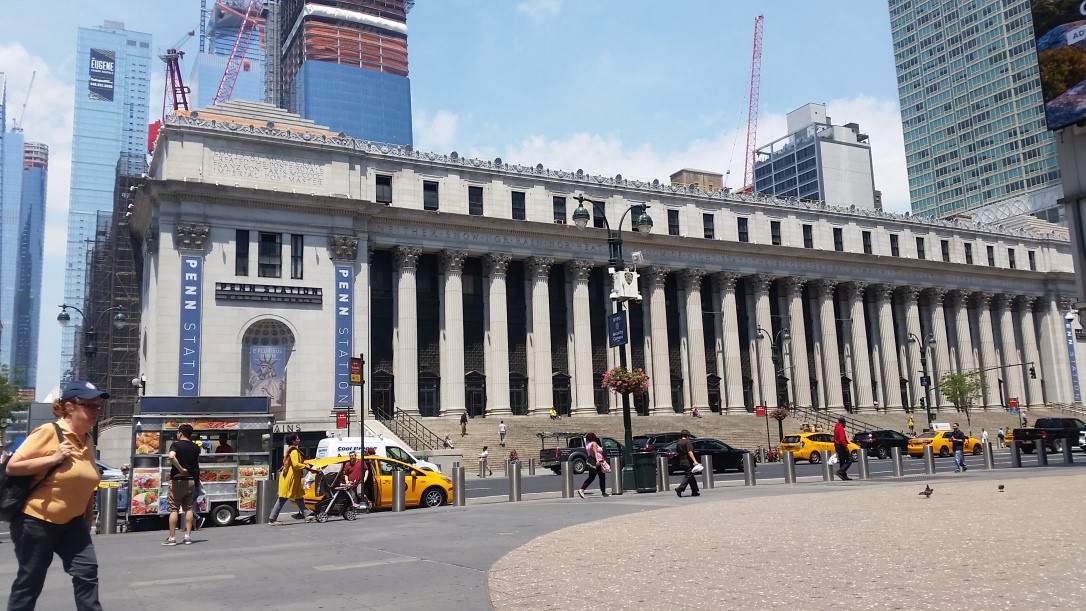 Day 9
You can hop on cruises around Manhattan at both Midtown and the Downtown areas of the city. We were staying in Midtown so it was about a 25 minute wheel to Pier 83 (lots of construction to navigate). The Circle Line were nothing but helpful in getting us booked and onboard our accessible 90 minute Landmarks cruise. Thanks to my amazing friends Anita and Melissa for their generous gift of a Citypass which covered this attraction's ticket. What a thrill to see Lady Liberty up close, travel under the Brooklyn Bridge and see a different perspective of this incredible city from the water, all set to fascinating and witty commentary by our guide David. Definitely a highlight of our time in NYC! (I know this because I was so excited I bought the souvenir photo pack). Great wheelchair accessible cruise, and you can sit inside and outside on the boat.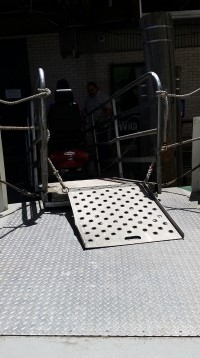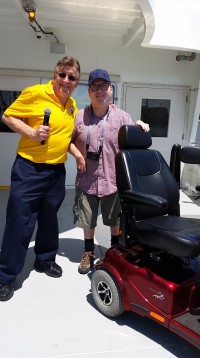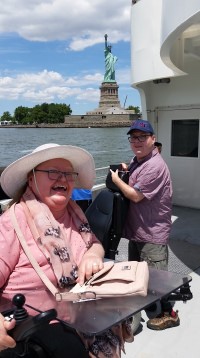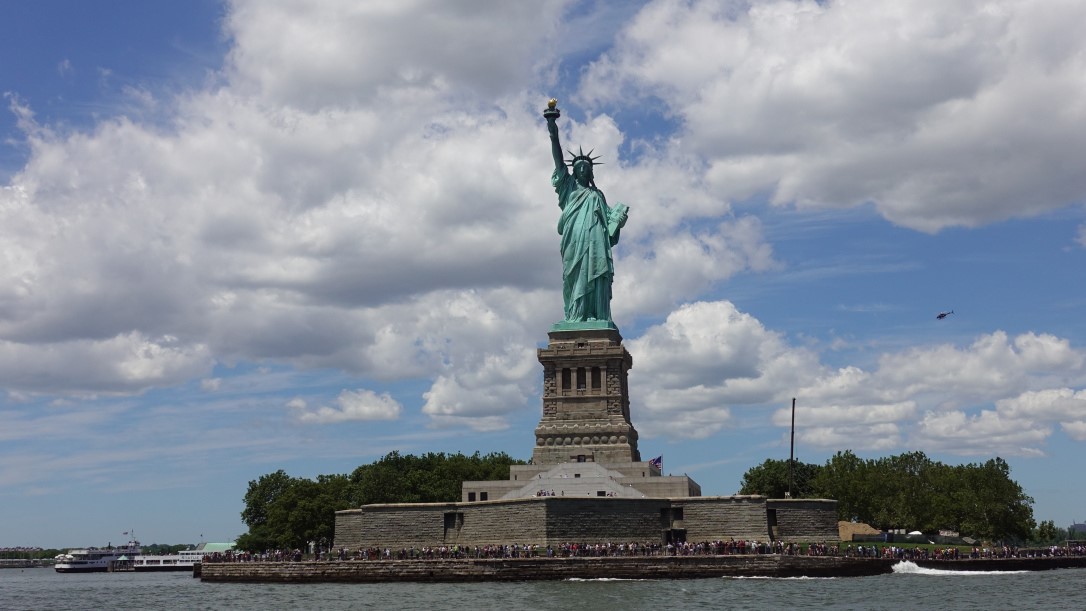 Next we set off along The Highline, which follows the old train tracks and rooftops through NYC. It was a very accessible and groovy way to explore the ever-changing cityscape and take shelter in its much-needed shady nooks! Exiting by 'elevator' (as no one knows what lifts are here) at Chelsea, we set east to the cosmopolitan Flatiron district. Steve was in photography heaven and I mingled with other tourists before queuing for delicious gelato from Eataly🍦 That evening it was "all that jazz" with my friend Leah and I at Chicago on Broadway, while Steve did a night time photo shoot. This city has it all!!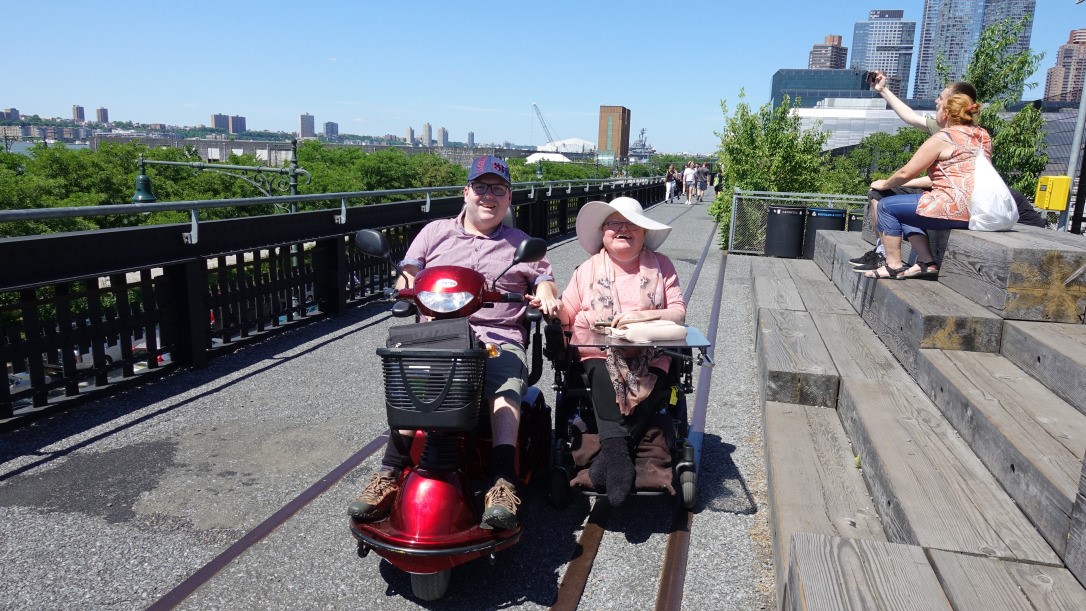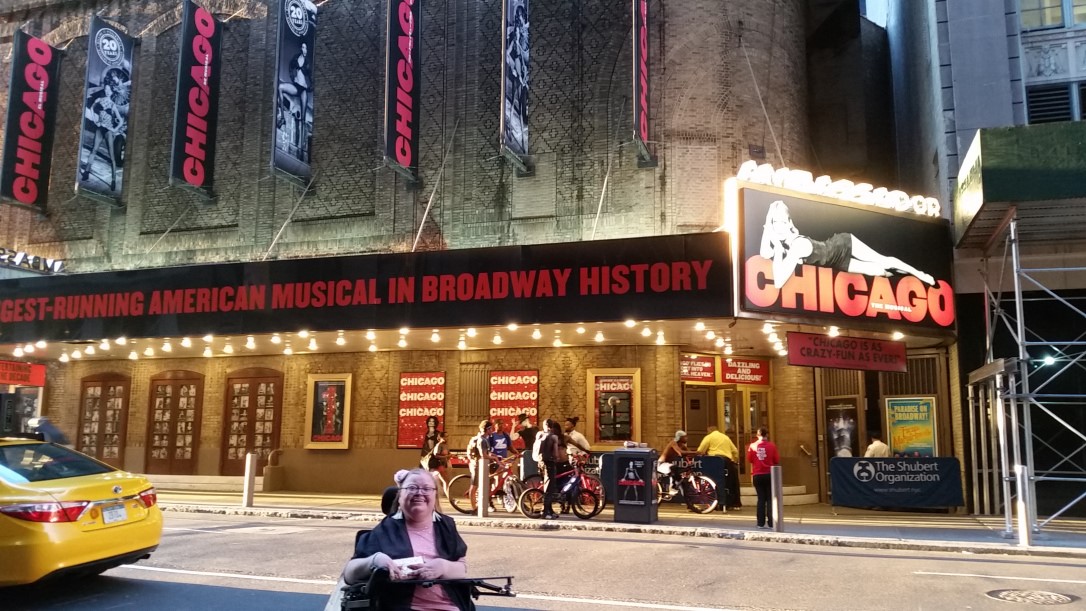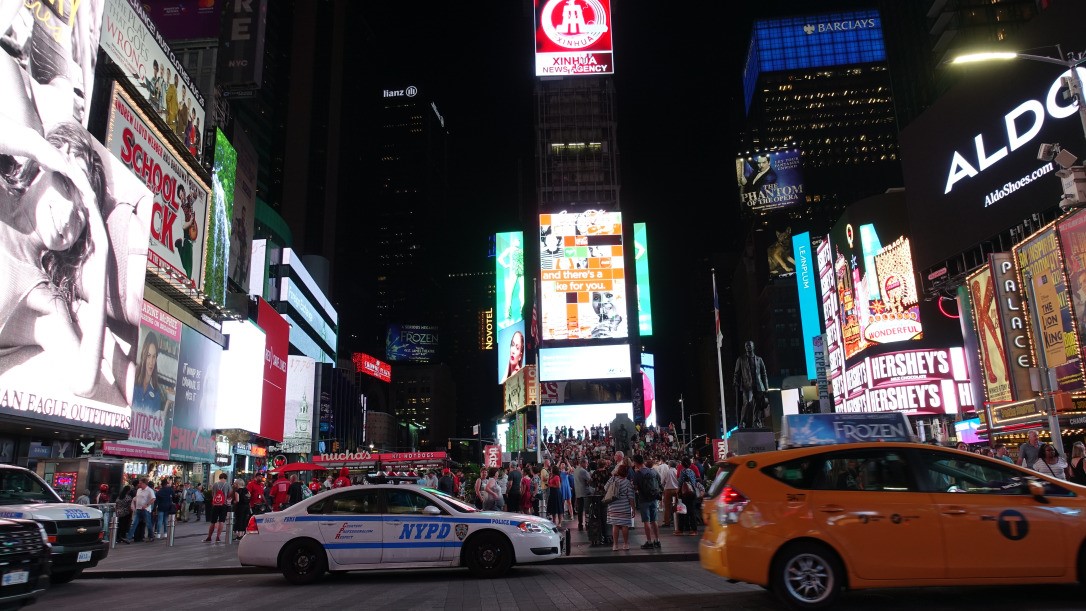 Day 10
After a later start we drove in our chairs back to the Flatiron district and checked out bustling Madison Ave Park. Explored Union Square Farmers Market and Gramercy area. Traffic so bad that an ambulance couldn't get through so pedestrians started directing traffic! I love NYC! Arrived at Washington Square Arch where a woman dressed as a "handmaid" was doing a silent protest campaigning for refugee children not to be removed from their parents. Not listening to the news whilst holidaying we were a bit out of touch from current affairs so it was good to have a chat with the woman who was a teacher, and learn what was going on. Visited the political stall set up in the square and bought an anti-gun badge. Great to see grass roots action in this democratic hotspot!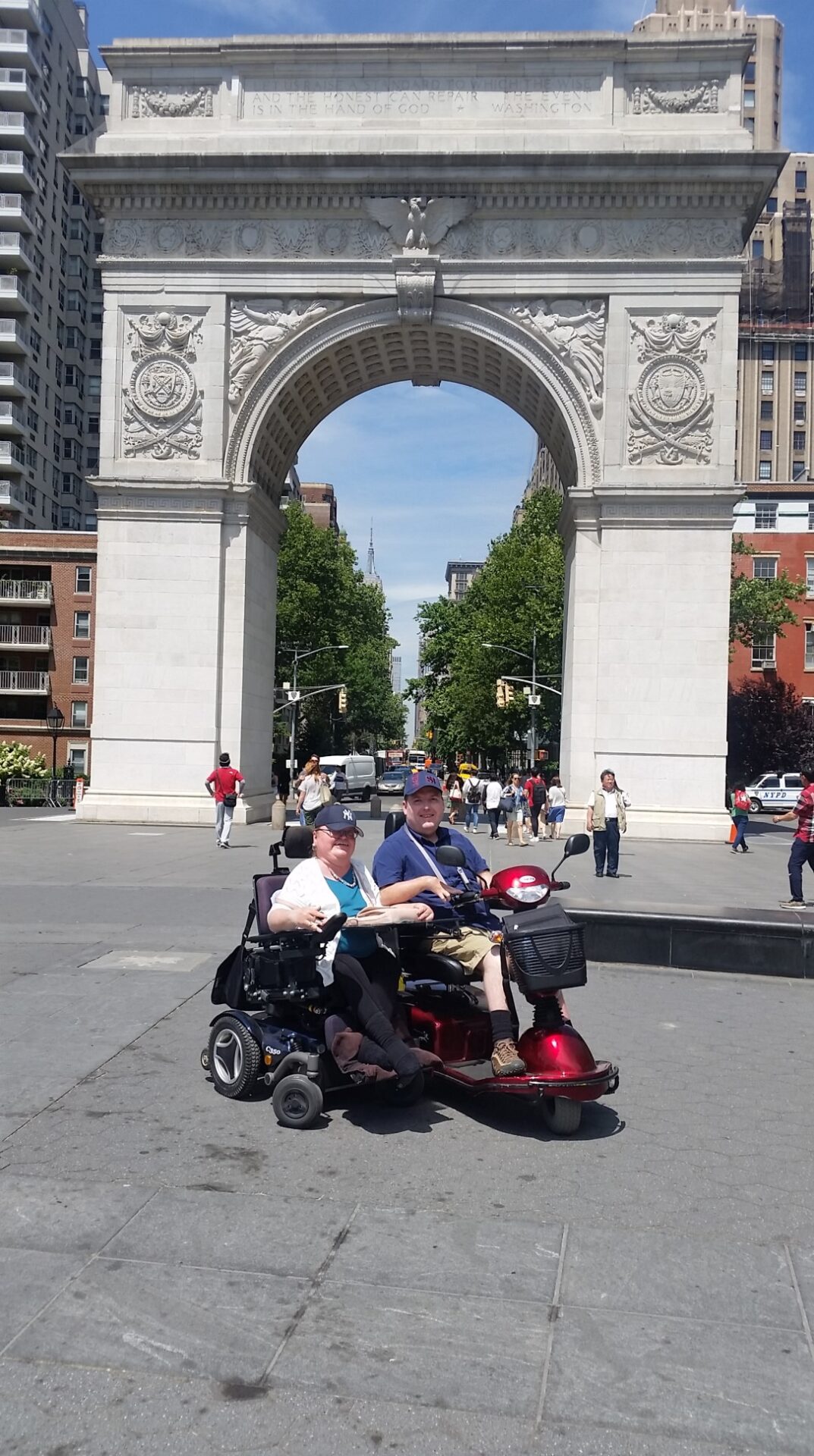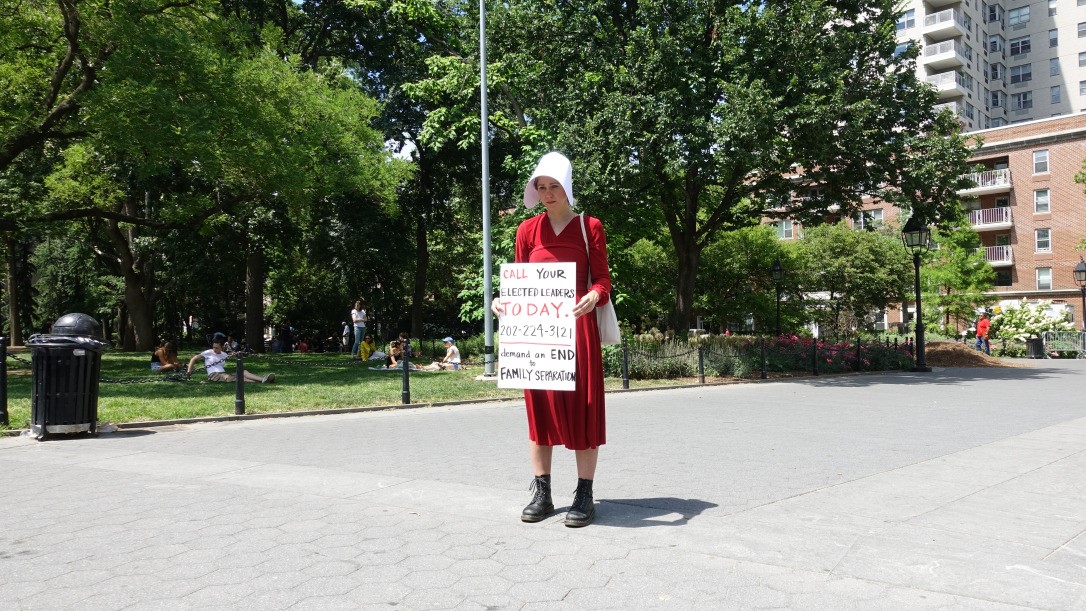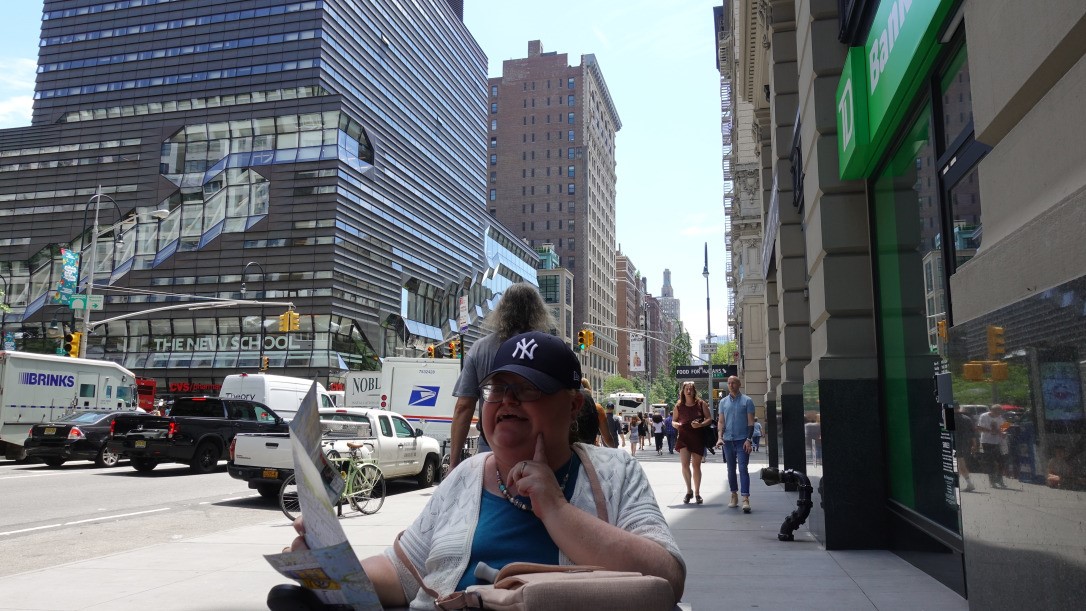 $1 pizza in SoHo as recommended by some friendly NYPD officers. The cast iron district had great architecture with almost every building having the famous fire-stairs. Wheeled back to our hotel along new streets with secret gardens some beautiful churches.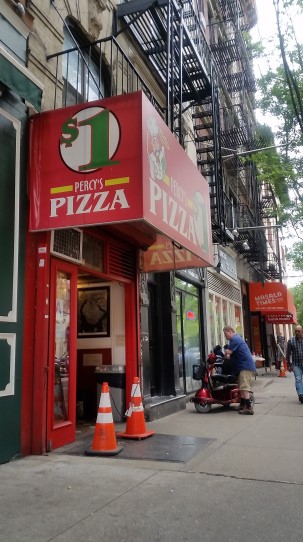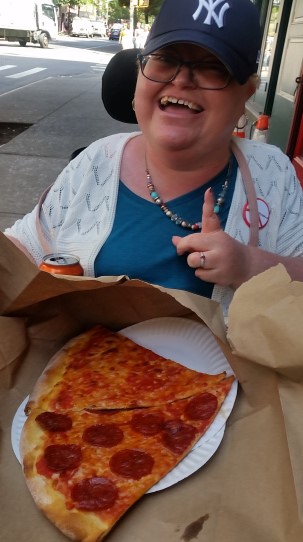 Day 11
We took separate taxis downtown to the very moving 911 Memorial and Museum. Mixed emotions, but mainly sadness. So many stories and so very well curated. The resilience of the people of New York shone through the darkness. We went on to check out the Wall Street Financial District, Girl and Bull statue and Battery Park. Steve drove his scooter all the way back to Times Square while I cabbed it to save power!  Dinner at the Molly Wee Irish pub – a really fun place! A day of absolute contrast.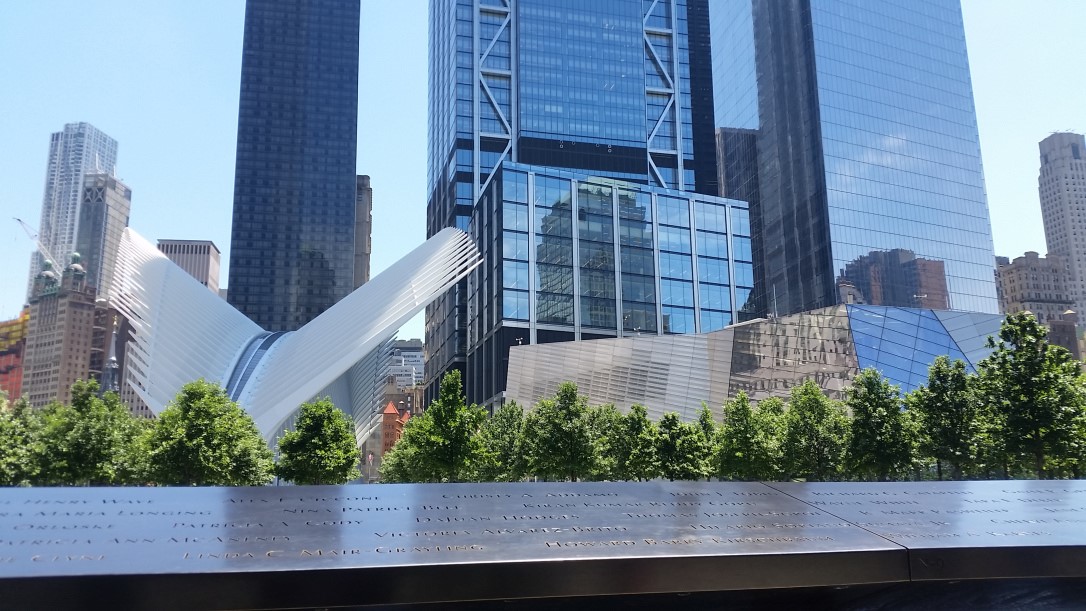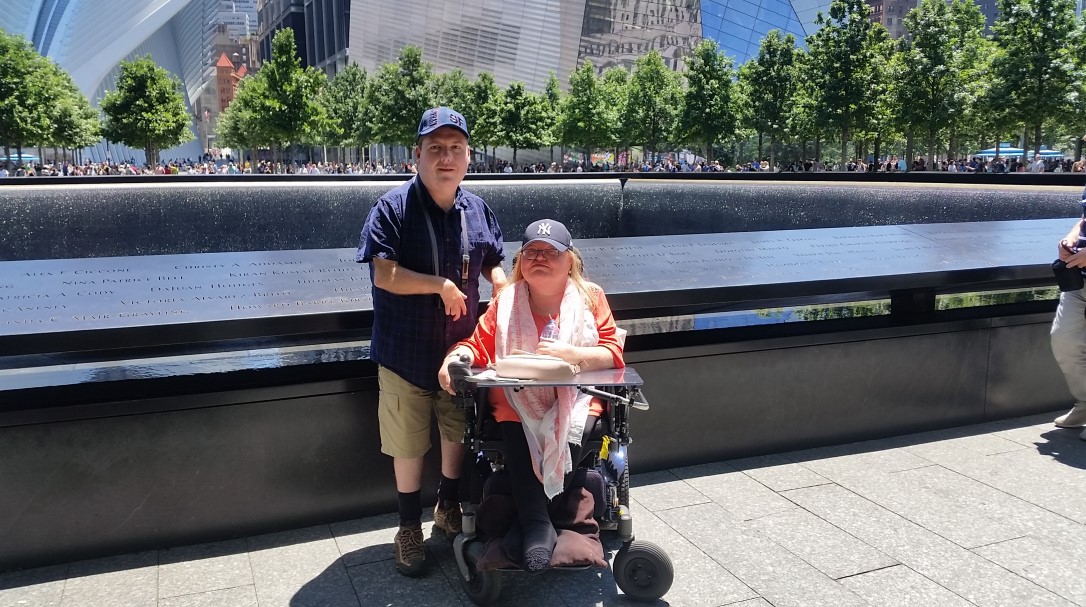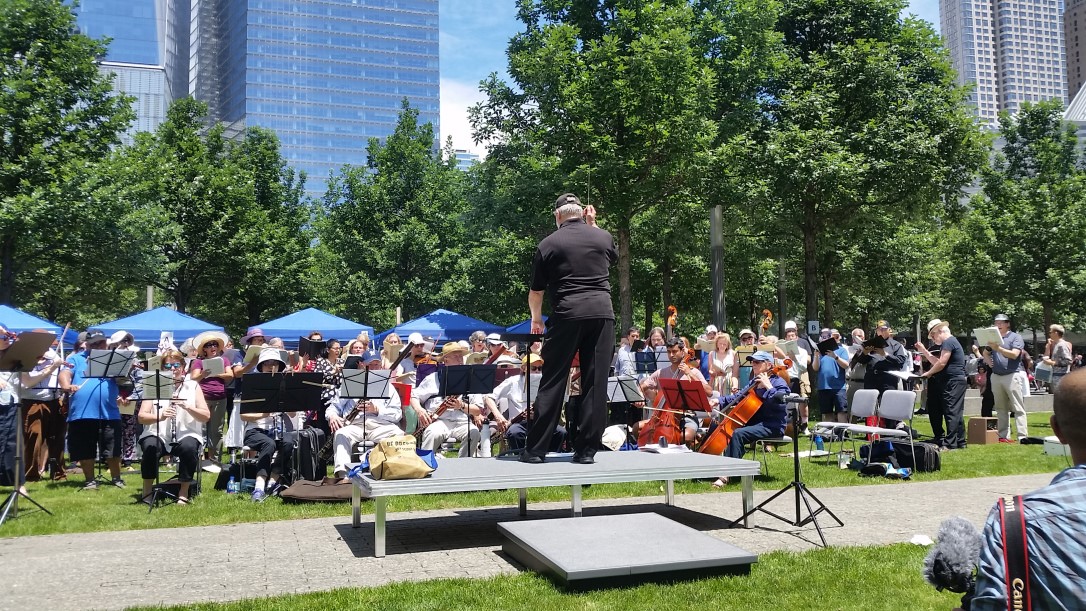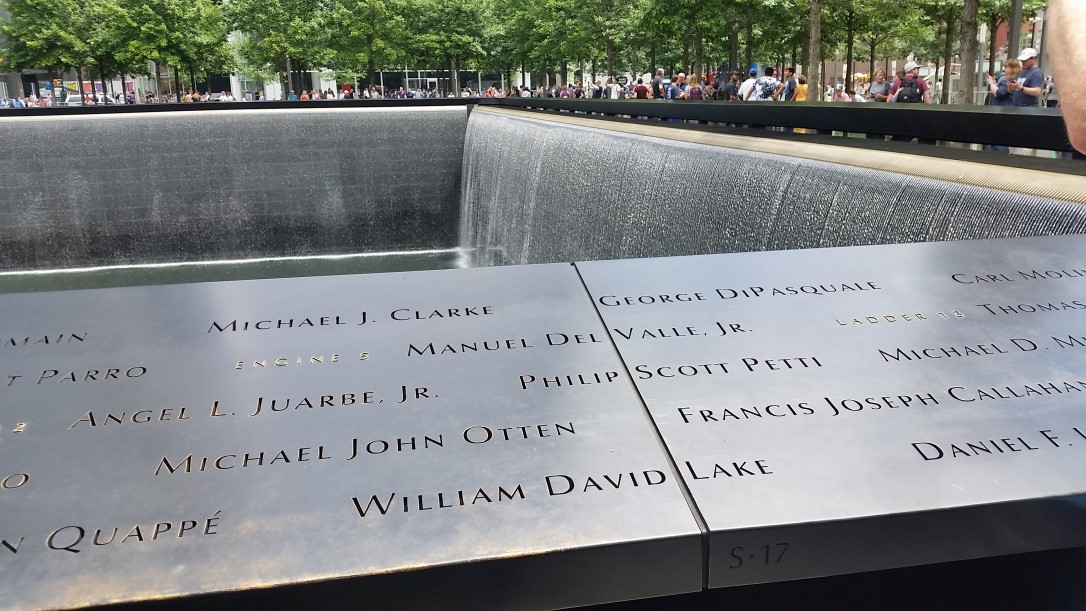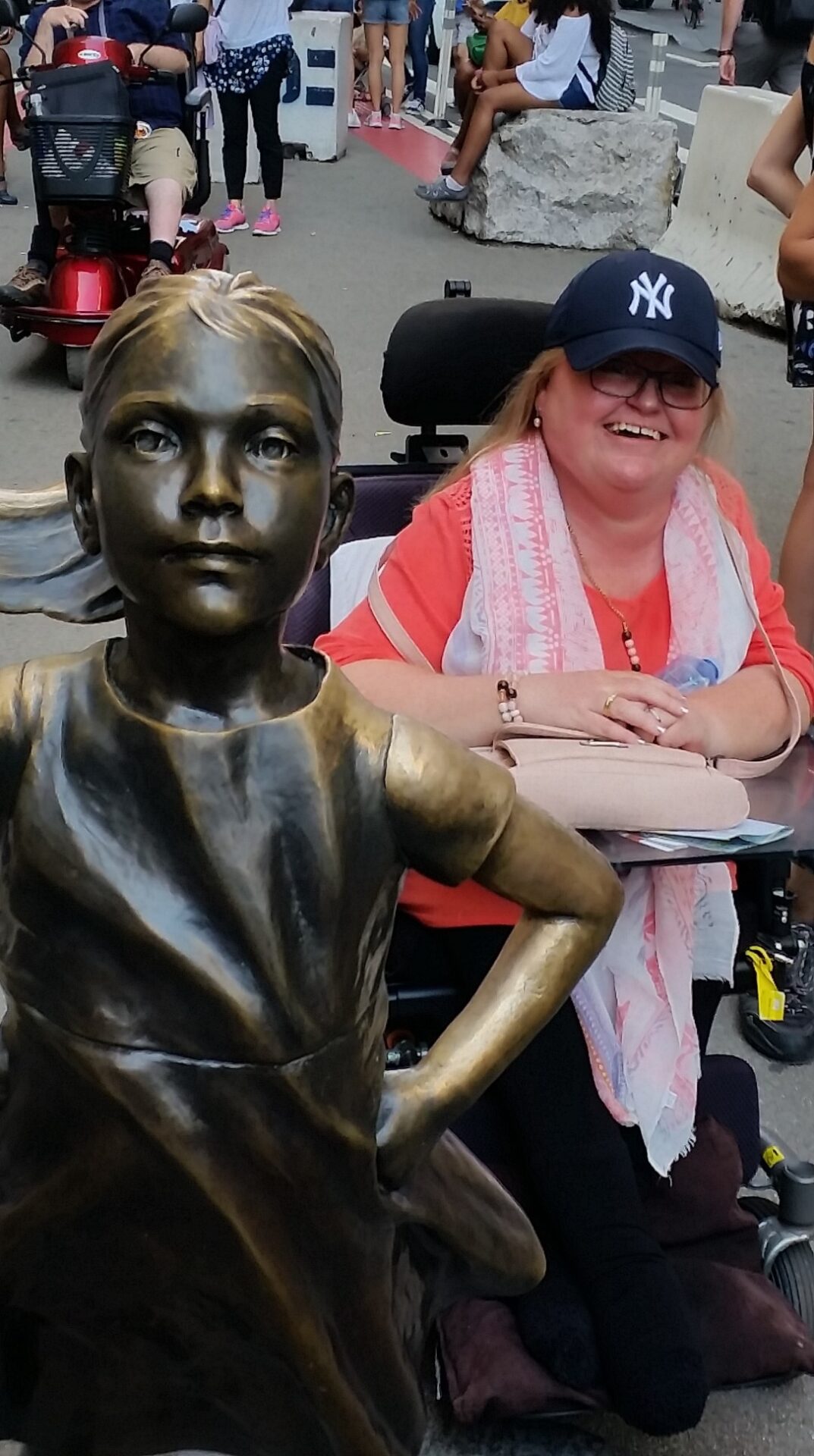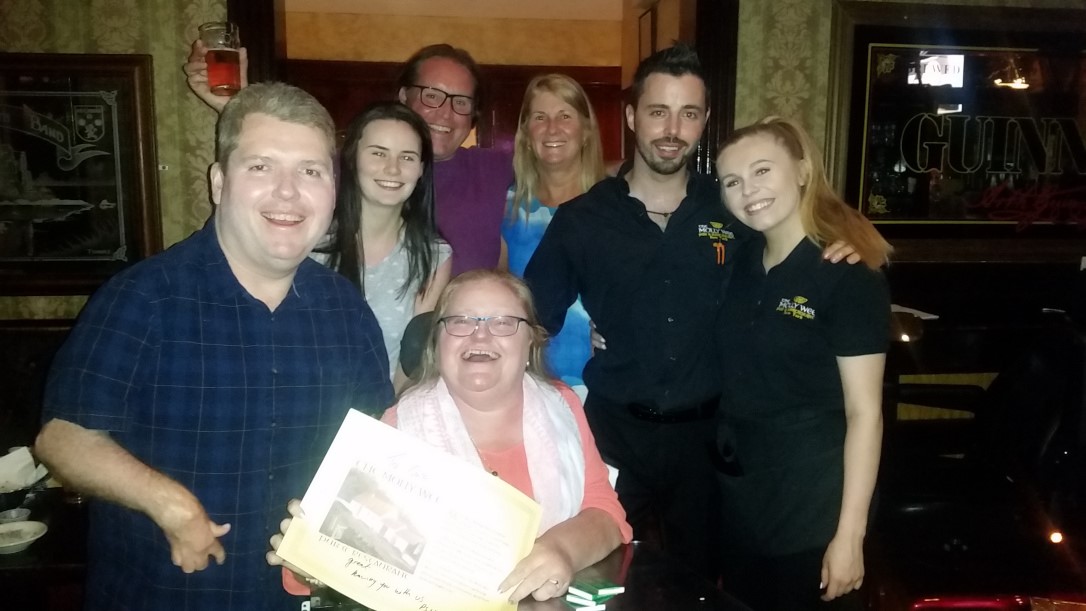 Day 12
One last day exploring as many iconic buildings as we can. Macy's, Chrysler Building, the United Nations Headquarters.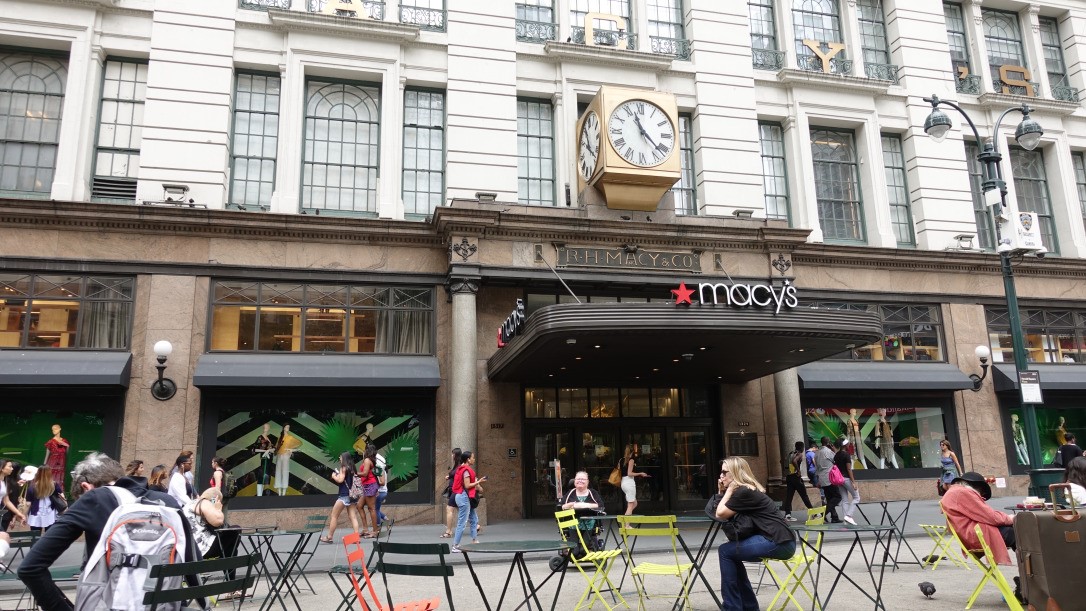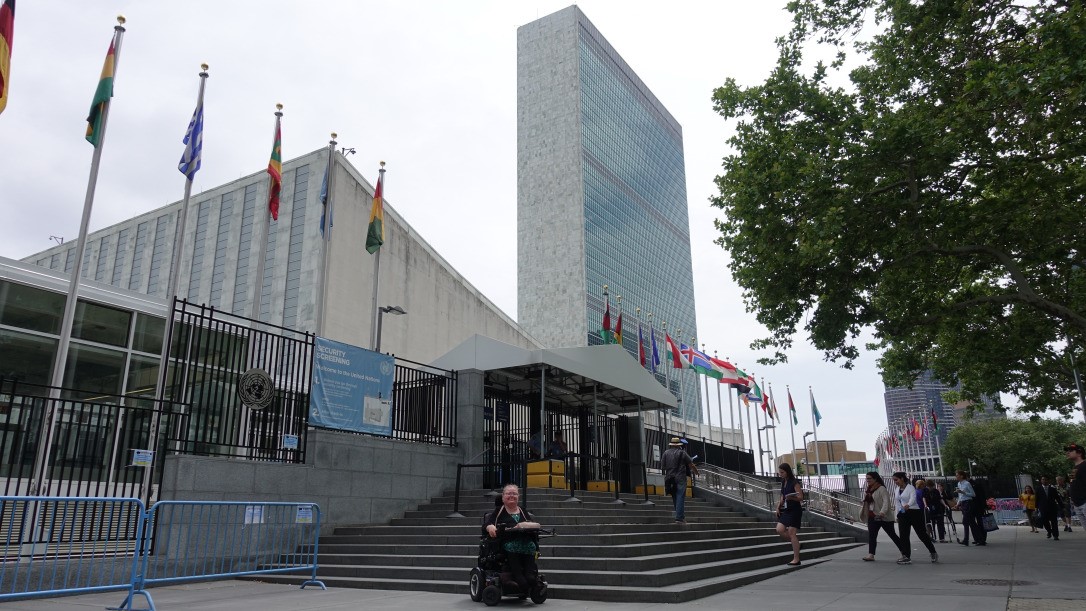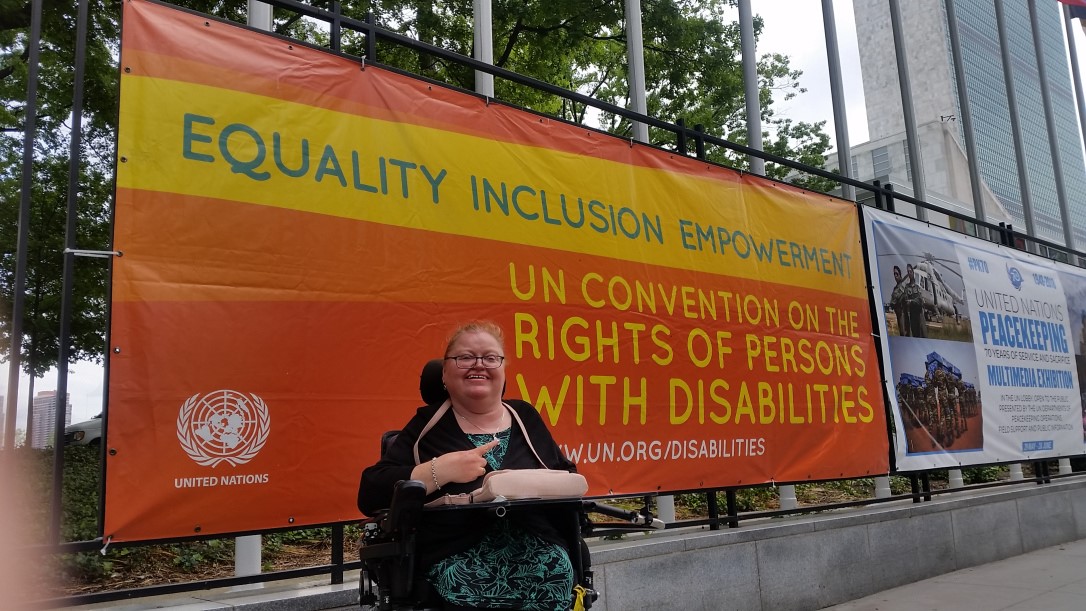 We topped off this epic adventure with the Empire State Experience at sunset. Spectacular. Romantic. Magical. New York you've been an absolute blast….concrete jungle where dreams are made….we've wheeled 120kms around you and seen, smelt and felt so many incredible things. Now we are ready for a relaxing train journey south to the capital.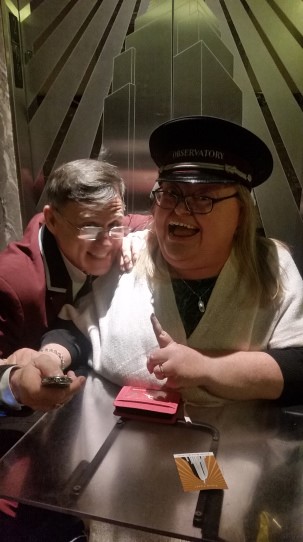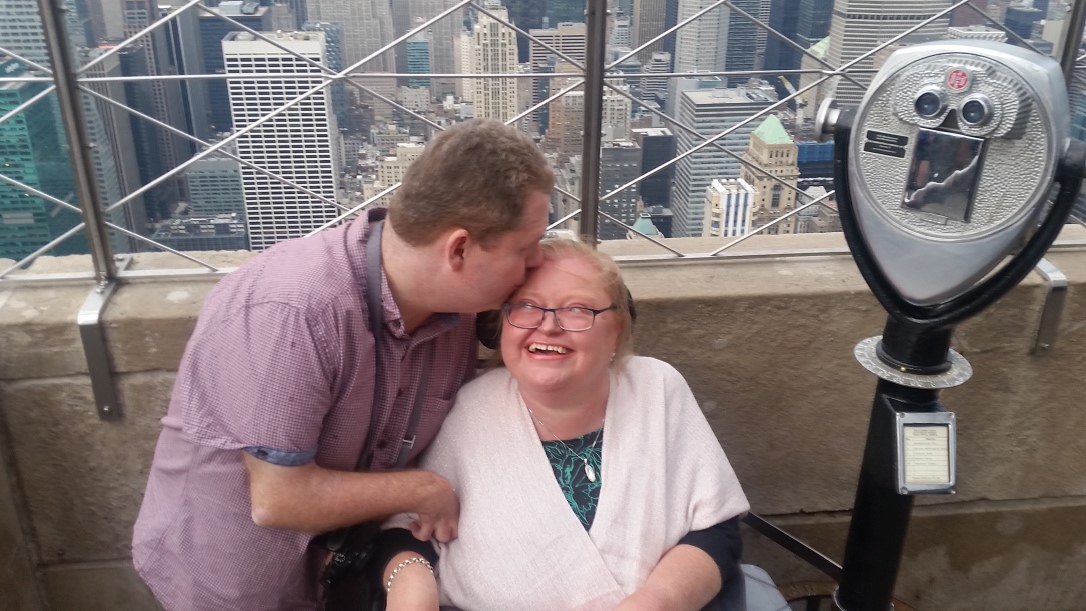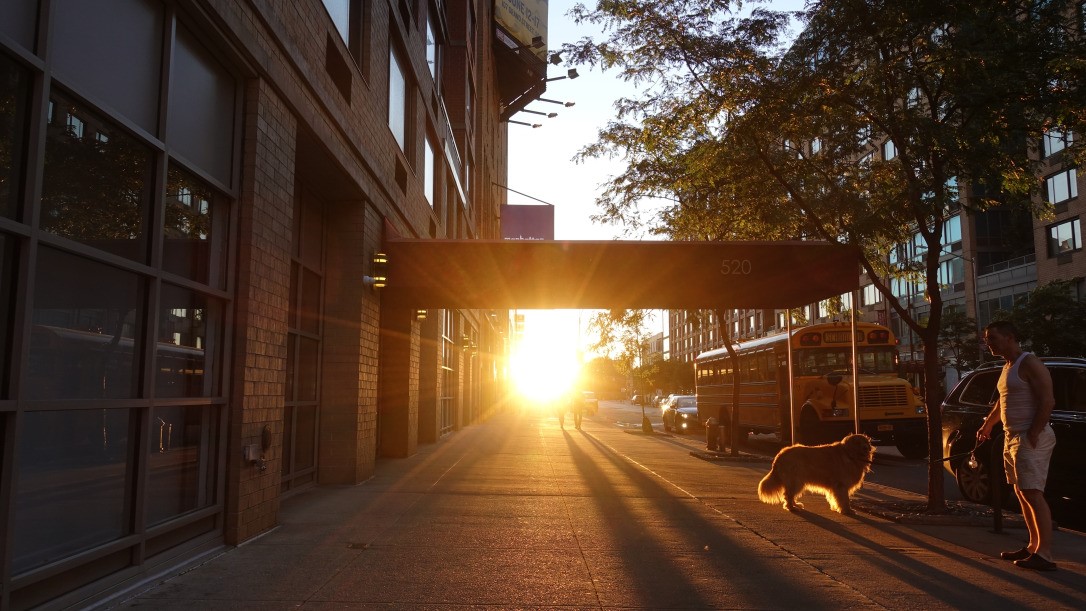 ---
If you missed Part 1 of The Big Apple of my Eye NYC, read it here!
---
The Facts
Accommodation details
Stewart Hotel
371 Seventh Avenue at 31st Street
New York, New York 10001
T: 1-212-563-1800
reservations@stewarthotelnyc.com
Skylar Simonovsky was an excellent email contact and I got to meet him at the hotel. He sent room photos and answered all my questions.
ssiminovsky@stewarthotelnyc.com
One Bedroom Suite – Two Double Beds – Accessible
Although small like most hotels in NYC, space was tight but do-able. We had a small kitchen, 2 bathrooms (one with good roll in shower), a view, a separate bedroom with 2 double beds and a sofa in the lounge. Laundromat in the hotel. Great central location, but it was noisy. Sirens, church bells, horns. Housekeeping service was average.
---
Length of stay
12 nights in NYC – this allowed us to see a lot but we could have stayed for a year!
Hotel Beacon – 6 nights was about right
Stewart Hotel – 6 nights was about right although if we went again we would not stay in Midtown/Times Square as it's too noisy.
---
Transport Options
Loads of accessible taxis
The Subway is NOT a good option for wheelchair users
Buses are accessible
We found wheeling places was the best way and allowed us to get a real feel of the place by being part of the street crowd. And its pretty easy to navigate around NYC as its a numbered grid. But it can take some time so leave extra time for navigating crowds and stopping for photos!
Penn Station is where most trains to other cities leave from ie Washington DC. AMTRAK cater very well for people with disability and give discounts for pwd and companions.
---
Accessible tips
I posted a box of medical supplies to the hotel in the middle of our trip, to save on baggage weight and luggage room – this worked really well.
Arrange your transport from the airport before your trip. There are 3 airports in New York so check which one you fly into.
NYC is huge – so try to cover one area in one day so you are not backtracking as you will be exhausted and your batteries won't last.
Take your charger with you each day to top up your batteries.