Tigerman Dan
Danny Campbell-McLean
6.10.64 – 25.1.05
"It's better to have loved and lost, than never to have loved at all"
Danny was born on October 6 1964.
That same year the Tokyo Olympics were held and the Beatles toured Australia. Perhaps that set the scene for Danny's amazing life. He was born at Royal North Shore Hospital so if anyone ever hassled him about his status as a westie he would say, "Well, although I was born on the North Shore, I'm actually proud to call myself a westie now. Danny was a little brother to David and Stan Jnr, and a delight to all his family as a small boy. His childhood was filled with love from Helen and Stan. He actually never told me of any bad memories from his childhood. I guess that was Dan all over, always positive.
Probable Danny's earliest & most vivid memory of his childhood was his experience living in Drummoyne in 1969 when the Balmain Tigers became Premiers. A lifelong Tiger fan, he's still waiting for that to happen again! (edited to note that the Tigers won the NRL Grand Final the year we lost Danny!!)
It was clear that Dan's parents had a huge impact on him as a person. He certainly inherited a very strong sense of determination and stubbornness from his mum, who he adored, and we sadly lost just 3 years ago. Although I never met his Dad Stan, Danny had many fond memories of their mere 18 years together. He spoke of how he would just pop into the kitchen during ad breaks and whip up some scones for the family. He was a charming and loving man and I can see that Dan's sensitive and charming approach was a legacy that lived on in him.
As a youngster it seems Danny was living a "Boys Own Adventure tale". He loved exploring, climbing trees, backyard cricket, naughty school kid stuff and of course the Boy Scouts.
Although he started having trouble walking at age 6 or 7, and was diagnosed with Muscular Dystrophy these adventures continued, even if in some adapted way. He often used to reminisce and say "the best part about that was the trip I scored to NZ out of it!"
He developed an interest in games, sport and of course all creatures great and small. He was always littler than all the other boys (at least until the fat Danny stage came along). He shared so many happy memories of time spent with his extended family, particularly with his cousins, camping and tripping round the place.
Dan was about 11 when he went into a wheelchair and he was relieved cos he was sick of falling over!
At school I think Danny was a bit of a rascal. He has told me about heaps of great times he had at Northcott, highlights including being school captain and going to Sports class. He took pride in the assignments he was interested in, and argued with the teachers he didn't like. He protected the kids that were picked on and had a huge crush on an OT! He loved his physio sessions and always challenged himself to try harder. This coupled with his fantastic attitude and love of life I think was what helped him be so strong for so long.
Warren will talk more about his hooligan days of sport, drinking and rock n roll shortly…
But I would like to share a few little known snippets with you about the strapping young man he was. He was in love with Olivia Newton John for many years and until I removed it, had a photo of her next to his bed.
His first date was with Agnes, great name, and a student at the Macarthur Girls High School. Why Northcott School ever thought it was a good idea to let the boys go to integration at a girls school. I don't know but Dan thought it was a great idea! Anyway on his 1st date with a girl – Agnes, he lost his new wallet & she had to pay!
After leaving school Danny threw himself into the voluntary activities he had been involved with. Danny worked at the Kids Activity Centre in Mt Druitt and continued with Scouting, assisting his mum with the establishment of the 7th Parramatta Scout group for disabled kids. He was also appointed as a board on Muscular Dystrophy Association for a number of years. He and his Mum were a great team and supported each other during the six months his Dad battle with cancer. They were also great role models and advocates for the many families affected by disability.
But it wasn't all hard work. In fact Dan had one of the most busy and exciting social lives. He packed so much life and adventure into his 40 years
He had many encounters with famous people.  For example he and his cousin Bradley were asked to feign illness and spend the night at the new Mt Druitt hospital because there were no patients – the next day they presented the Queen with flowers at its Official Opening
He sat next to Mark Knopfler from (Dire Straits) on a plane trip, attended Wayne Pearce's testimonial, met the Governor, Kamahl and Mark Taylor and Mark Waugh at SCG and got his bat signed.
And then there were the overseas trips to the USA and England.  Disneyland was incredible for Dan and he also was proud that he had seen the sights of old London town.
Concerts and shows were a highlight for Danny, he just about saw everyone including Madonna, Elton (4 times!), Michael Jackson, Queen, Dire Straits, Billy Joel, Pink, Dido and the list goes on and on. He kept every ticket cause he must've known that his future wife would one day be scrapbooking those memories!
Movie Mania – this phase of Danny's journey certainly never waned. In 1993 he saw 65 movies – because they were free at Hurstville with Glen and the boys. Hurstville had a policy that people in chairs didn't have to pay because they brought their own chairs with them.
Dan's favourite movies include The Wizard of Oz, Dances with Wolves, Toy Story, Pulp Fiction, Indiana Jones, Star Wars, Lord of the Rings and Braveheart.
In fact Dan's last week was a great one, he had gone to the Powerhouse Museum to see the Lord of the Rings exhibit. We saw Phantom of the Opera and spent our last moments together watching Message in a Bottle which was just perfect.
One of his proudest achievements in life was his sporting career both competing and the management work done behind the scenes. When he was in the NSW team competing in the National Games in Victoria, Dan had a few too many drinks and he had the hots for the cook at the camp. He was chasing her around the kitchen, so much they had to take his wheels out of gear so he'd stop chasing that poor chef.
He was so incredibly passionate about competing, and was in his element organising people both on and off the field. I have an old newspaper article from the early 1980s that quotes, "State representative Danny Campbell-McLean is serious about his football. He enjoys playing and he goes out to win." At the end of the interview it said that "his involvement in wheelchair sport made a great difference to his life''. Danny said, "It makes you feel better in yourself."
He really was a leader and to so many young boys he was idolised. He spent so much of his time practicing hockey at the local high school, writing out addresses for mailouts, traveling to country NSW to share the fun and teach local communities that sport was awesome. I am so proud of his moments of glory but I am more proud about what sport did for Danny, and what others families learnt from their involvement with Danny and the Push and Power gang.
It's not just me that thinks he was the antz pantz but he connected with so many other people. Once he was your friend he was always your friend. Now he is playing footy with his best mate Glenn again. He was so proud of his lifelong friendship with Rick which had lasted over 30 years. He was still in touch with his neighbours Mel and Teresa McCarthy, his little sisters from Whalan. There are too many others to mention but all of you were special friends to Danny.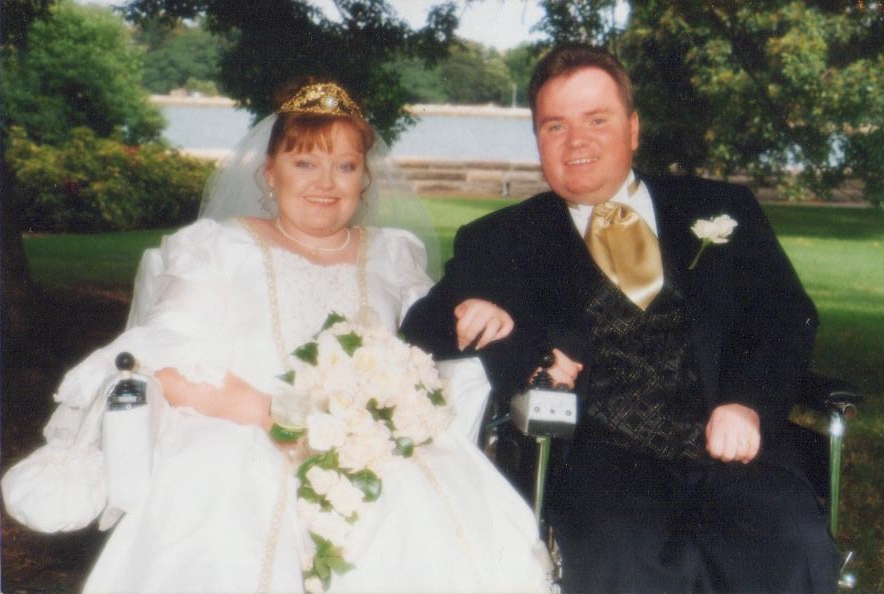 I first met Danny through wheelchair sport. I remember thinking it would be a great place to meet boys. He was very persistent and he won my heart. There was a 10 year age gap between and I still can't believe my mum and dad let me go to QLD with him when I was 16. My parents must have realised Danny would always look after me.
Over the years Danny became a regular visitor to the Murray house, a dearly loved part of the family. His special bond with my sister Joanne was very important to him. She has been there to share the great times and the lows, during our 15 years together. I know that Mum and Dad are already missing the son they never thought they'd have.
Dan always said that our wedding day was the best day of his life. I can count on my hands how many nights we've spent apart since we've lived together and I can only remember 1 day that we didn't talk on the phone – and that's because I had to go to bed early that night and it was before cordless phones and mobiles! Every night, without fail, we declared our love to each other. That's what will see me through these hard times, knowing that we both had absolutely no regrets at all about our relationship and the way we lived our life together.
Dan enjoyed every day of his role as a house husband. More recently he was busy planting a native garden in our backyard and enjoying time outside on our new outdoor area. He adored the wild birds that would visit and he knew all about the local wildlife.
But he wasn't just a stay at home house-husband, he was Explorer Dan! His sense of adventure saw us have some awesome days in the great outdoors. Flying in a helicopter over the red centre, snorkeling in the barrier reef, driving everywhere – around Dundas Valley or  going off the beaten track at Cradle Mountain. There was no stopping him. It was this time last year that we drove our chairs most of the way around Lake Burley Griffin in Canberra.
Danny's favourite place was Lake St Clair in Tasmania while on our honeymoon, he felt a complete state of peace and tranquility. From that moment he accepted his quest to save the planet and so began his recycling obsession.
Danny had an amazing thirst for knowledge. He loved visiting museums and collecting books. He was on a quest for ultimate trivia questions. He could count back every Olympic Games location back to 1896, and he could tell you who played who in every rugby league grand final back to 1969.
He almost made it through 3 rounds of auditions to be a contestant on wheel of fortune. Unfortunately though the microphone broke that day and during the final round of public speaking he couldn't project his voice enough. He's still waiting for his invitation for wheel of fortune.
He was proud of his collections – fridge magnets, keyrings, pins and badges, tickets. Everything that brought back the memories of his wonderful journey through life.
Danny was a thrillseeker! He Loved going on rides, I recall one time at wonderland's  space probe with Trevor, Mark & Warren – they got off freaking out and left Dan on for another 5 times – he thought it was awesome!
One thing that those who knew Danny well would say, was that Danny was a very good listener. He had a way of enabling people to comfortably share things with him. He was a really good judge of character and could see people for who they really were as a person. Excellent communication skills were developed over his life, during his voluntary work, on the sport field and in the many interpersonal relationships he formed with friends, carers, peers, physios, neighbours and so on. The caliber of the people here today is testament to the strength of character Danny upheld throughout his whole life. Thank you all for coming along today. It's a fitting tribute to Danny who obviously had an impact on your lives. I hope that you all continue Danny's fine example of how life can be lived.
Last year we celebrated our 40th and 30th birthdays. It was such an achievement for Danny, and our party was a perfect way to mark such a milestone. In a way I feel this was the way Dan would have wanted to leave this planet, bowled out at 40, taken by mother nature, quickly without suffering a drawn out sickness. But of course he hung on long enough for his loved ones to say goodbye – that was Danny always caring about what others would want.  It was in my very last moments with Danny in hospital I told him that we would celebrate Australia Day, as Danny Day. He was such a proud Aussie and he had always said that that was the day he fell in love with me.
This past week I've seen Danny all around me, as the butterfly in our garden, Michael Clarke's century last week, the crow outside my bedroom window, the magnificent rainbow over our house and the seagulls circling over the SCG. He will always be here, forever. I am who I am because of what Danny has taught me and he is half of me. I'll be carrying his love in my heart always.
So now I have learned that some old clichés really are true.
"It's better to have loved and lost, than never to have loved at all"
I can just hear Danny saying some of these sentiments to help us know he is ok.
"Follow the yellow brick road"
"May the force be with you"
"To infinity and beyond"
Thank you.
Carolyn Campbell-McLean