Young Adults' Retreat – May 2017
This article first appeared in the Winter 2017 Talking Point.
The retreat was held at the Parkroyal in Parramatta for seven people aged between 18 and 30 on the last weekend in May.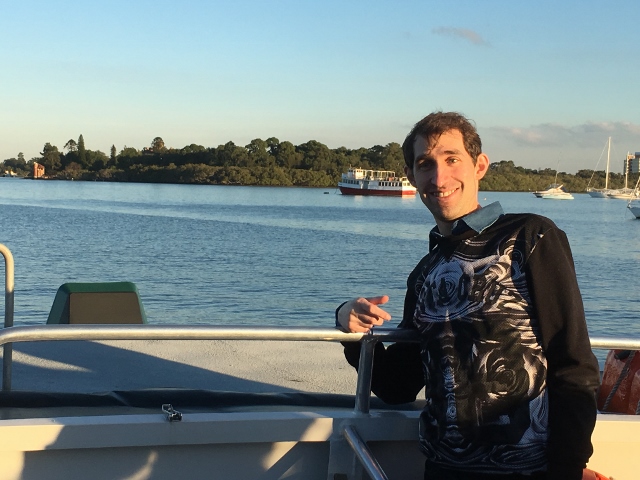 Everyone arrived on Friday afternoon and were keen to settle into their rooms and then gather with the group to meet and chat.
Dinner on Friday night was in the hotel restaurant Table 30, where we all enjoyed a three-course meal. Everyone chatted and caught up with old friends, while some made new ones. They all agreed the rooms were beautiful and accessible. During dinner, we all decided that it would be a great idea to go to the city the following evening to see Vivid Sydney.
On Saturday morning, we enjoyed a buffet breakfast, despite a few bleary eyes, before spending a couple of hours discussing the Duke of Edinburgh's Award. We had a few extra Dukies join us for this session and it was good to hear stories of everyone's skills, volunteering opportunities, areas of physical activities and adventurous journeys.This session was followed by a yummy buffet lunch.
After lunch everyone had some free time, with some indulging in retail therapy, some hanging out together and some taking the opportunity to fit in a short nap.
We caught the 3.30 ferry to the city, deciding to take in the view and fresh air being such a beautiful day. It was a really pleasant way to travel to the city. Closer to the city, we passed a large boat and a massive wave crashed over the bow. Most of our group got a tad splashed! Scotty, Phil and Michelle got more than their fair share. After laughing it off we continued on our way, getting colder by the minute. After our final stop in Darling Harbour we were headed towards Circular Quay when it happened again – a huge wave crashed over the bow. Again, everyone was soaked. Scotty let out his trademark laugh, which was quite infectious. Everyone saw the funny side and had a good laugh.
We finally arrived at Circular Quay and made the decision to seek dry clothes. Everyone found a warm café to have dinner while Mel and Kejanna went shopping. Eventually they returned with some very smart tracksuit pants and jumpers. Thank you to Mel and Kejanna for the amazing effort they went to. Seeking clothing shops at 5.30pm on a Saturday in the city was a huge achievement!
After the drenched four were changed, this being quite eventful in itself, we wandered around Circular Quay, taking in the spectacular light shows. A weary group caught the train home to Parramatta and took the short walk back to the hotel and went to bed. The staff on the stations were a great help in having ramps ready, making it very easy for our travellers to board and alight the trains.
We all reconvened in the morning for another enjoyable buffet breakfast and chatted about the weekend. It was lovely to see the group lingering over this time to chat and connect.
Everyone seemed to agree that although it was short, it was a really enjoyable weekend. We hope that this is the start of an annual event for our young adults.
Thank you so much to our wonderful care volunteers who gave up their weekend to support our young adults to have a fabulous time. You are truly amazing!
If you are in this age group and interested in future retreats or holidays, please email Mitch.Taylor@mdnsw.org.au or call Mitch on 9888 5711 ext.3 to register your interest. They could be anywhere!