Gatecrashing MD – Living with an undiagnosed, adult-onset neuromuscular condition
When I walked out of the office of an Ad Agency in Pyrmont one Friday afternoon, I thought I'd be taking a month or two off work, maximum.
I planned to use the time to – fit in more medical appointments, try a medication and perhaps some physio – then I assumed, I'd be back to the job I loved. I had a 2 year old and a 4 year old at home and was the higher income earner, so it was vital that I got back to full health and full speed. I didn't have time for a serious interruption.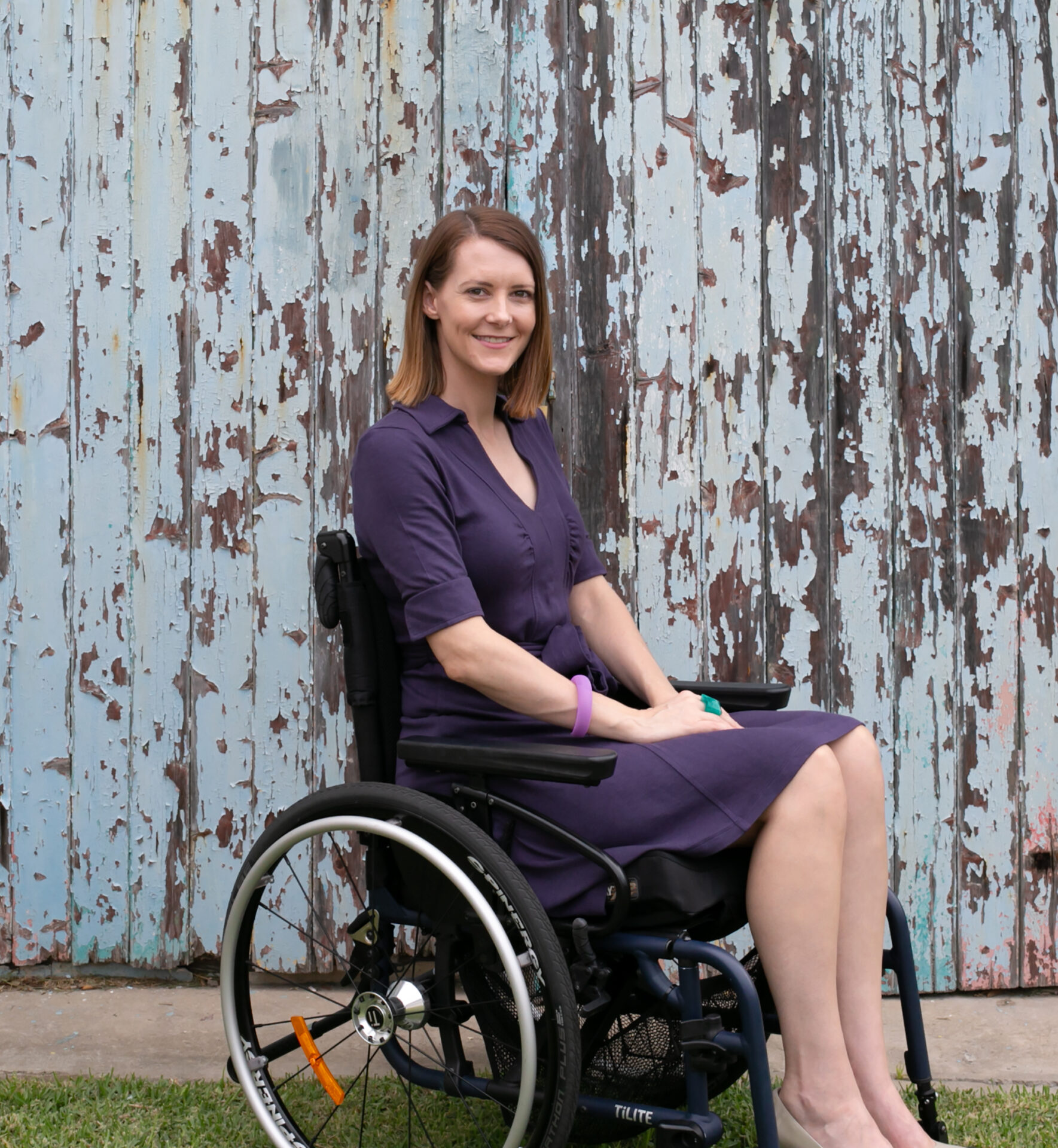 There is probably never a good time for illness but being in the thick of the archetypal 'busy working mum with kids under 5' has got to be one of the least convenient. That was in January 2015, and I haven't been back since. Just the idea of walking into an office seems foreign now. I had no reference point for just how much of an impact my 'difficulty walking' would end up having on my life.
In the time since leaving my job as an Art Director, I've seen around 25-30 specialists –including a group review which saw me at the centre of a lecture theatre of neurologists. I've been pricked, shocked, scanned and sliced for an array of uncomfortable tests – my least favourite being a nerve evoked potential was where I was given electric shocks to the head, to test how the message relayed down to my toes. I have also spent a lot of time attempting to describe weakness and fatigue with metaphors and interpretive arm movements.
My journey to diagnosis has been winding, and I still feel like a bit of an imposter amongst the MD community. Everyone at MDNSW has been lovely, but I secretly feel like I've stumbled into a party, without an invitation.
While there is no shortage of words to describe my condition – Neuromuscular, A disease of the Neurotransmitters, Progressive, Degenerative, Autoimmune, Muscle Disease, Myasthenia, Myalgia, Rapid Fatigability of Muscles, Proximal Muscle Weakness, Chronic Pain, and Extremely Rare – the diagnosis still has a question mark next to it. My specialists use that to keep the options open. Maybe a treatment might be available in the future? Perhaps a new symptom may steer a different line of thinking? And so it remains a question.
I've come to terms with this knowing / not knowing as it doesn't change my situation. Any 'treatment' is only supportive, and there is no cure. Despite everything I've tried so far nothing has slowed the progression. I feel confident that I've done everything I possibly could and there are no 'if only' thoughts over what could have spared or reduced the disability I experience. I now use a wheelchair full-time out of the house and have other inventive ways of staying on my feet inside the house, for now. I try to enjoy and make the most of the mobility I have, while I still have it.
I count myself lucky that I can transfer and walk a few meters. That ability has gotten me out of a few sticky situations while I adjust to life on wheels and try to master a wheelie that'll get me up or down a single step. It has been a huge and continuous learning curve from limited walking, to using crutches, to a mobility scooter and currently a power-assist wheelchair.
I've had to get to know my city, my local area, and the shopping centres all over again from an access perspective. I had a little advantage given we'd just grown out of the 'kids in prams' stage, so ramps and lifts were on my radar, but such limited mobility is a whole new level. I run a checklist through my head constantly; are there paths, what are the curb cuts like, is there a lift, is there accessible parking, what is the circulation space like, will it be crowded, will the carpet be too thick to push myself on and can I balance everything I need on my lap? A current scenario is a party my daughter is invited to at an inflatable play centre. I'll have to call and inquire about parking, if there is wheelchair access to the building and if I'll be able to supervise from my seated position.
While planning may be tedious, the biggest challenge can be other peoples' discomfort with not having a definitive box to put me in. I've observed how people are unnerved by the unknown. They feel the need to put their doctor hat on and have a go at diagnosing me (as if they can solve the almost five-year mystery without any medical training!), 'Are you sure it's not MS?' they say. They then get stuck on the 'Why' and the 'How could this happen?'
Mostly, I think, they want to ensure it won't happen to them. Something must have caused it, and they want to avoid that something. A mystery illness that can come out-of-the-blue and turn your life upside-down is a scary thought! The conversation generally gets uncomfortable at this point, and that's when people will often say in an upbeat way, 'At least you look well'. I try to take it as a compliment of sorts since I have showered, dressed and gotten out of the house. That takes tremendous effort, and I am doing it in constant pain.
Another challenge is that support services are built around a diagnosis too. I had difficulty getting accepted into the National Disability Insurance Scheme because without a diagnosis how could we be sure and how could we prove my disability was lifelong? We had a good case – I was using a mobility scooter by then, and the nerve damage was considered irreversible – yet it was a sticking point for the scheme. While this appeal was going on, I sought help from the aged care sector. Loaning bath boards and wheelchairs from the local nursing home as a '30 something' is a solemn experience.
I now have an excellent medical duo in the form of a Rheumatologist and a Neurologist who understand me. I'm doing a lot less interpretive descriptions and less falling down in hospital corridors to demonstrate my walking. From my old life, I miss the creativity and my workmates. Advertising is a collaborative job, with such long hours that your friends tend to be ad-y folk too. So unfortunately, leaving work has meant losing touch with a lot of friends and missing the incidental catch-ups and socialising with like-minded people.
Although for now, taking care of my condition and being mum to my two young children is more than enough to manage. I have to pace everything I do to stay within my shrinking physical limits. There are constant trade-offs as overdoing it can take me a week to recover. As Selma Blair said at the Oscars party 'it took a lot to be here'. I understood completely.
I have shared this story and joined the Peer Advisory Group for MDNSW to be a voice for others, like me, who are trying to navigate their way through an adult-onset NMC, perhaps with a question mark after it.
Christie Peolwane was an advertising creative and mum to two kids under 5 when her life was rudely interrupted by a rare, adult-onset neuromuscular condition. A confirmed diagnosis still evades her, and if she's in a hurry she'll just say 'it's a type of Muscular Dystrophy'. She has a degree in Graphic Design from RMIT and at 27 became an Associate Creative Director, making her one of the youngest females to do so. She spent over a decade working in agencies on big brands such as Procter & Gamble, Nestle, Coca-Cola Amatil, Reckitt Benckiser, MasterCard, Volvo, Nikon and Accor Hotels.  Christie gets around in her manual wheelchair with SmartDrive and wishes that mobility equipment came in colours, other than black. She lives in Sydney and is a volunteer on the Muscular Dystrophy Australia Board and the Muscular Dystrophy NSW Peer Advisory Group.
---