Still Skiing After All These Years
My name is Michael and I'm 57 years old. I have Myotonic Dystrophy type 1 and one of the hardest things to contemplate as I began losing my independence was that I may never ski again.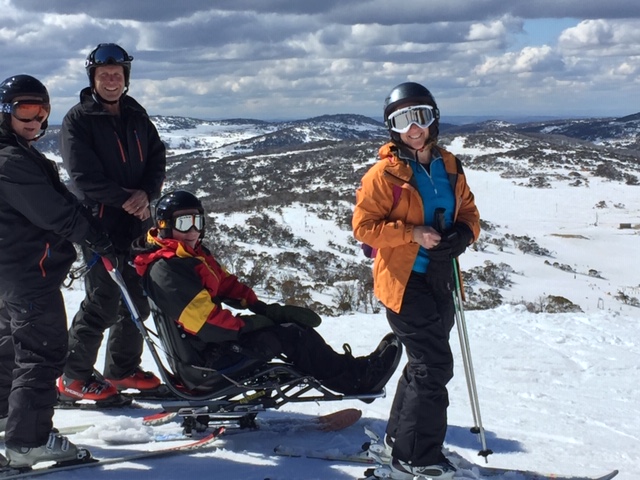 I spent quite a few years travelling and skiing whole winters in Europe when I was younger so it was something I took a lot of pleasure in. A few years ago I joined Disabled Wintersports Australia (DWA) and now enjoy a trip to the snow every winter. DWA are a fantastic organisation who advocate for and assist their members to enjoy the winter activities. They provide equipment, train and provide guides and train instructors.
In past years I have tried a Snow Slider which is like a walking frame on skis, but now have settled into a sit-ski. With this equipment, I can lean into a turn with the guide holding the frame of the ski behind me to help control speed and direction but it gives me the feeling of control and independence that I used to enjoy. My guides also get me onto the lifts and t-bars (sounds and looks impossible, but it's actually a smooth process!).  The guides are volunteers, and I am very fortunate that mine is my brother-in -law Mark and a friend Josh. For me, skiing was something I enjoyed doing most with friends and family and I still get to do that, plus enjoy the beautiful mountains. I highly recommend having a go.
There are lots of equipment options for different abilities available, plus discounts on passes and accessible accommodation when you are a DWA member. I take my companion card so my carer also receives a discounted ski pass. DWA members range from recreational skiers to Paralympians.  The DWA staff and volunteers are amazing and so committed to making sure you get the most out of your winter snow experience. It's usually recommended that first timers have some lessons with an instructor to learn about the equipment.
We have stayed for the last two years on the snow at Smiggins Holes in Snowy Gums Lodge. It is not fully accessible but owner Leah and the staff there assist myself and my family to make it work with my wheelchair and they are keen to work towards accessibility. It is more expensive to stay on snow but it means I'm close by if I am tired, and breakfast and dinner is all included so for my wife and family that is a break for them from chores, and more time to relax after a big day of skiing! There are communal lounges with an open fire and board games, television and a bar are available.
Previously, we have stayed in the fully accessible units at the Jindabyne Sport and Rec Centre.  We stayed in Finskos Lodge in a 3 bedroom unit and there are also motel type units available. All the information on accommodation at the Sport and Rec is available through the DWA site. It also details the brand new Howmans Gap Alpine Centre which is a fully accessible facility in Falls Creek, Victoria which we have yet to try, but hope to in the next few seasons.
---
ABC TV aired this story on Disabled Winter Sport in September 2019