Taking a Chance on Love
An Interview with Natalie Macaulay

Natalie generously shares her story about how she met and eventually married her partner, Cameron.
Can you tell me a little about yourself Natalie?
I am 28 years old with Spinal Muscular Atrophy type 3. I like to think of myself as a pretty typical woman with a husband, a job, 2 dogs and an electric wheelchair that gets me from A to B. I absolutely love traveling and have been overseas quite a few times. I also enjoy sight seeing and traveling around Australia with my husband and our camping/4WD friends. My favourite things to do in my spare time is going to the cinemas to watch a good chick-flick, going to a concert with my friends and reading a good love story out in the sun.
When you were younger what did you see as your future?
I honestly never saw my self as "disabled" when I was younger. I grew up being treated like any other child and I did whatever I could physically do that everyone around me was doing. I thought I would grow up with lots of friends, an amazing social life, and a computer based job because I loved being on the computer as a kid. I pretty much grew up with everything I mentioned!
Did you try the dating scene, and how was that for you as a woman with a physical disability?
The dating scene as a teenager/young adult was extremely hard. I feel like most of society has a picture in their brains of "the perfect partner" and someone in a wheelchair or someone disabled in general isn't in that picture – more so in the "too hard picture". I cannot tell you how many times in my life I have heard "you are too pretty to be in a wheelchair". Before I met Cameron, I dated one other person when I was 19. I knew though that the relationship wasn't going to be long term or anything serious. I ended the relationship after 10 months because I felt I deserved more than I was getting. For quite a few months after the relationship ended I was seeing another person but it didn't escalate into anything further.
How did you meet Cameron? Tell us a little about your relationship.
Cameron and I met at my friend's house on a September night seven years ago. I was due to have dinner, a few drinks, watch a movie with the girls and stay the night. So me being me, I arrived in my pyjamas. Little did I know our friends at the time had other ideas and decided to play a game of Cupid! Cameron had been told I was going to be there, told I was in a wheelchair and he had already been sent a photo of me. From the minute we met we just instantly clicked. We saw each other every week for about a month until he officially asked me out.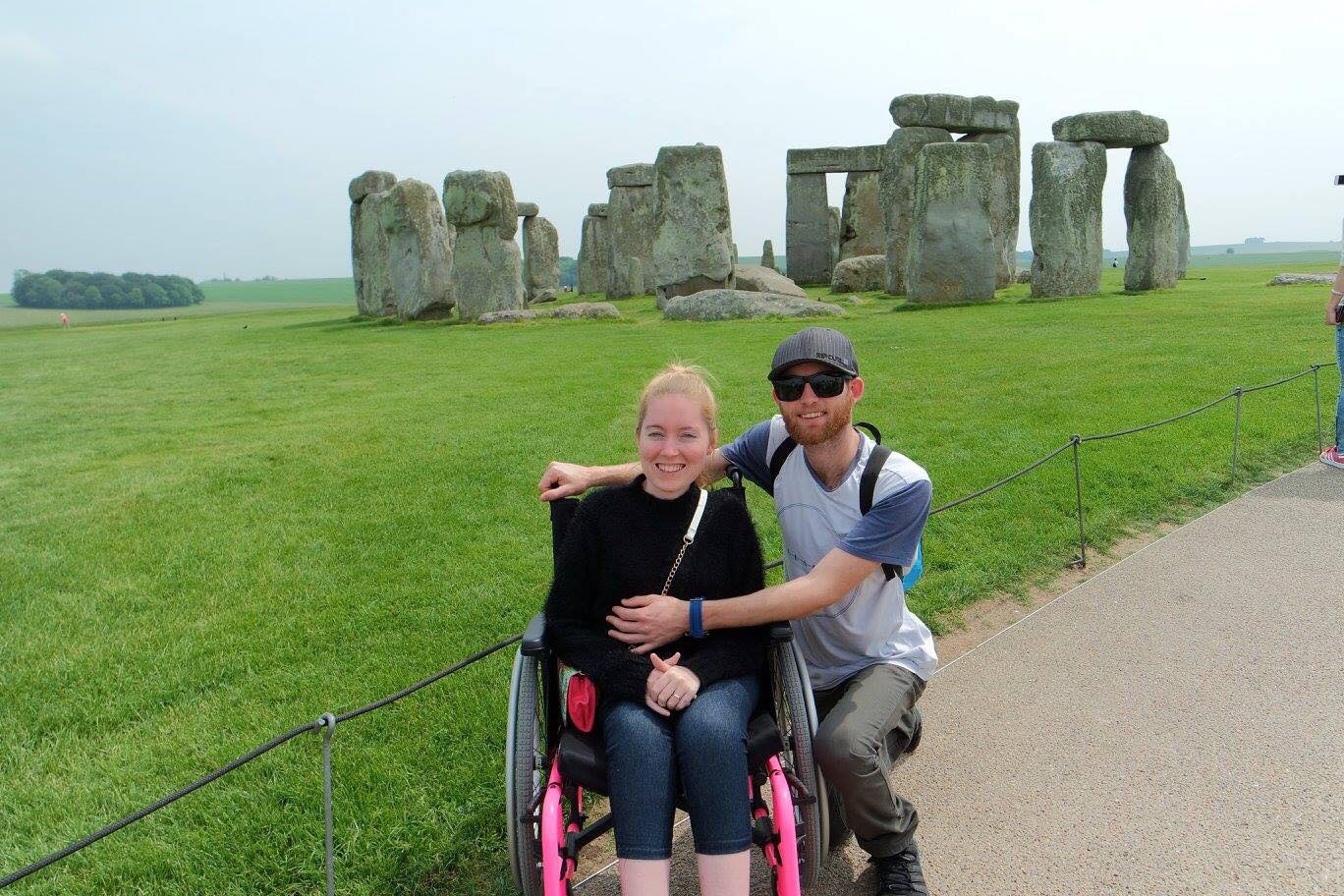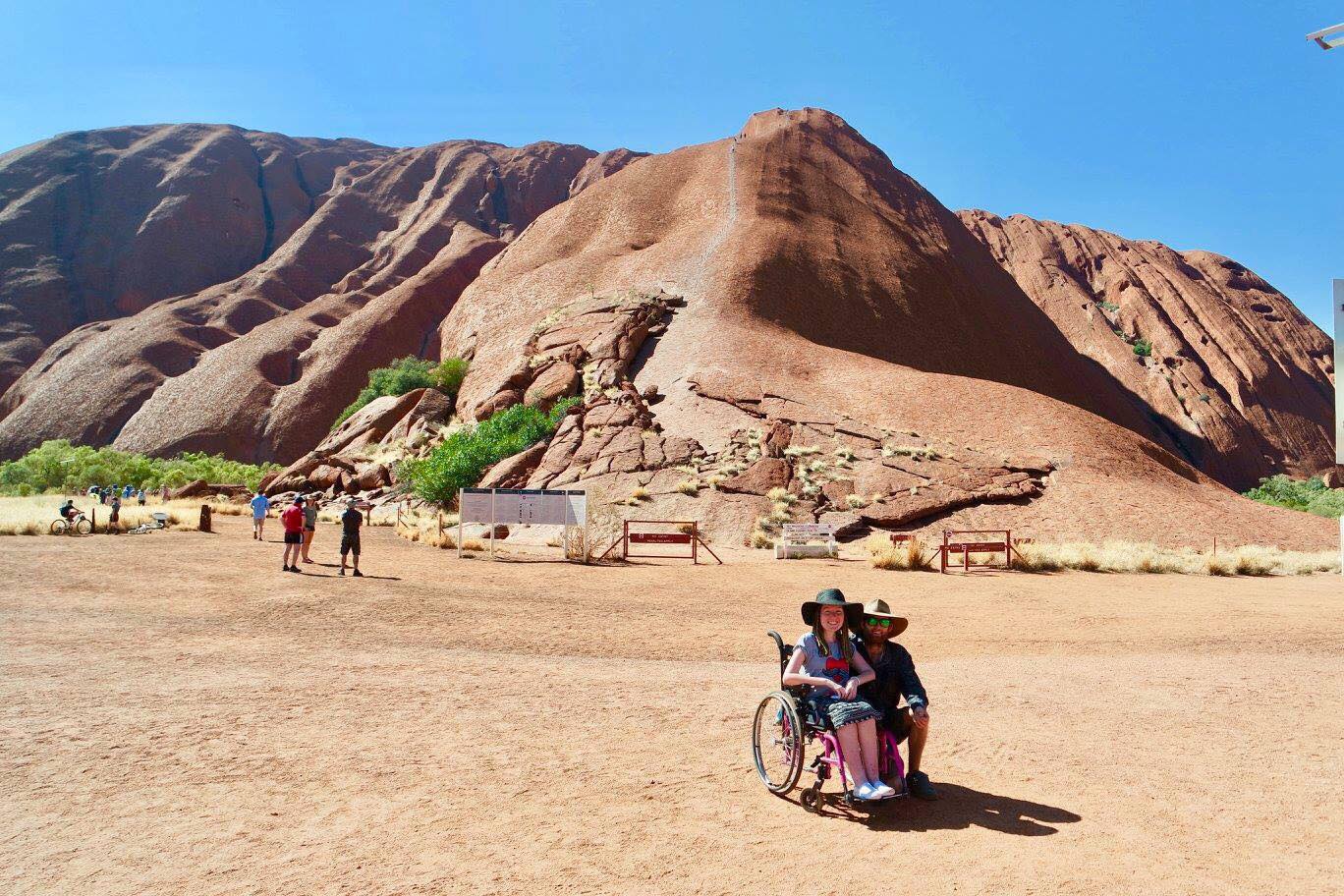 What did he think of you using a wheelchair? Were there any awkward (or funny) moments in the early part of your relationship?
Cameron wasn't fazed at all by my disability or my wheelchair and was happy to learn what I could and couldn't do. The fact that he knew I was in a wheelchair before he actually met me, I think put an ease on the whole situation. The first time we ever met he asked me over dinner "why are you in a wheelchair?" and I responded with "I had a skydiving accident and my parachute didn't deploy". I can honestly say I have never seen someone so embarrassed that they had asked such a question. He was genuinely shocked and upset that he had asked! I left him hanging for a few minutes and then laughed and told him I was joking. He didn't really ask many other questions along the way, we kind of just went day by day, step-by-step.
The awkward thing for me at the beginning of our relationship was being OK with Cameron wanting to help me and the fact that he had no idea on how to help me do my hair! It's been a learning curve for him but we are now at the stage where he can do a pretty good ponytail for me!
A funny memory early into our relationship was when we were laying on Cameron's bed, watching a movie and I asked him to get me a drink. He said "yeah go get it, it's in the fridge." He had literally forgot I was physically disabled and couldn't walk to the fridge myself. My funniest memory though was how quickly he told me he loved me, and the fact that I made him feel really uncomfortable because I didn't say it back until weeks after. I look back now and think I genuinely loved him from the moment he said it and I honestly feel like I hit the jackpot because I found an absolutely amazing human being who loves me for me.
What do your family think about you having a relationship?
My whole family absolutely love and adore Cameron. They think he's wonderful in the fact that my physical disability didn't faze him or push him away from loving me when in general it's a massive thing to take on. Cameron and I live in my family home with my mum. Our house is quite large and we only share the kitchen with her so we have our own space and privacy, which is what every married couple needs.
My mum loves to garden with Cameron and gets his help around the house and yard. I think my mum is extremely happy for me that I have found Cameron and that I can love and be loved like every one else in this world deserves. My older brother and Cameron are great mates. They get a long so well that my brother was his Best Man at our wedding. It's such a beautiful feeling for me knowing how close they both are because I'm very close to my brother as well.
You were recently married, tell us about your special day.
My wedding day was truly magical and I never imagined myself getting married! We got married at The Crown Plaza in Windsor inside their small intimate chapel. We were engaged for 3 years prior to the wedding, so everything was well organised and paid for in advance which left our special day stress free. We stayed at our venue the night before on separate ends of the hotel with our bridal party, which made it a fun night for all.
My mum was in our room in the morning, helping me get dressed as well as getting her hair and makeup done with my girlfriends. I was pretty excited with the lead up to the big moment, enjoying my last bit of time as a Miss and enjoying my photo shoot with my bridesmaids as we all sat around eating maltesers and drinking pink wine.
I only got really nervous when I left my room and headed down the path to greet Cameron. I think I was more nervous at the fact that 80 people would have all eyes on me. I have never been a person who feels comfortable talking or being in big crowds so my wedding day was a massive moment for me. I was also feeling extremely self-conscious in my dress because I have Scoliosis and my body isn't perfectly straight. I just kept thinking to myself "do I look bent?" The moment I entered the chapel my nerves disappeared because I could see Cameron standing at the end of the aisle and I could see how much love he had in his eyes in front of all of his friends and family members. The rest of our wedding day was amazing and we spent the night surrounded by our best friends and family members, dancing the night away and eating until we could nearly explode. A day I will never forget!

How do you manage the dynamics between husband, family carers and paid support at home?
My personal care is done by paid support. I have an amazing group of female carers who come in to my home daily and help me shower, help with domestic assistance in my bathroom and my bedroom and they even help me once a week prepare and cook a few meals which I can then contribute to the household. I feel more like a "wife" when I have assistance in doing these tasks.
Having paid support not only helps me feel independent it also gives my mum a break. I love the fact that she doesn't need to clean my bathroom, change our bed sheets, or even vacuum and mop our bedroom. I feel having these supports in place also gives my mum and me a better relationship. As a young woman in my early 20s I felt horrible having my mum still shower me. I felt on a daily basis we would be fighting over the smallest of things, which would then put a strain on our relationship.
Organising paid support was honestly the best thing I ever did for myself. Cameron only helps me with my personal care if we are having a weekend away together or off on a holiday together. I never want Cameron to feel as though he is my carer and is only here to help me so, we try to keep our relationship as Husband and Wife as separate as we can.
What are your goals and dreams for the future, say in 5 or 10 years' time?
Our goal for the next 5 years is to buy an investment property, rent it out for a few years and then renovate it and move into it together. Cameron and I have both discussed and agreed that whilst living in my family home we can save for a house for our future. We really hope to be living in Coffs Harbour where we can relax by the beach and eat breakfast every Saturday morning at our favourite café, which we go to every time we are there for holidays! My personal goal is to be happy and healthy in the future with a secure job surrounded by my beautiful friends and family.
If there were one thing you would say to young people with neuromuscular conditions about having a relationship what would you say?
First off, just make new friends. Friends never go astray. If your local community or club has an event; go! Put yourself out there and meet people. When you meet people, you make friendships and when you make friendships they can easily turn into relationships. The more people you know the better chance you have in finding the perfect person who's going to love and accept you just the way you are.
Any other things you'd like to say that might inspire support or motivate other people with NMCs to take a chance on love?
Before you take a chance with love, learn to love yourself. Once you love yourself and you are comfortable in your own skin you will feel meeting people will be so much easier. When you meet someone you build feelings for, have patience and trust in that person. Try not to push that person away because you're scared, insecure or embarrassed about your disability or appearance. If someone wants to be with you, they won't care about those things so neither should you. BE CONFIDENT but most importantly be comfortable.
Natalie and Cameron have kindly offered to share their beautiful wedding video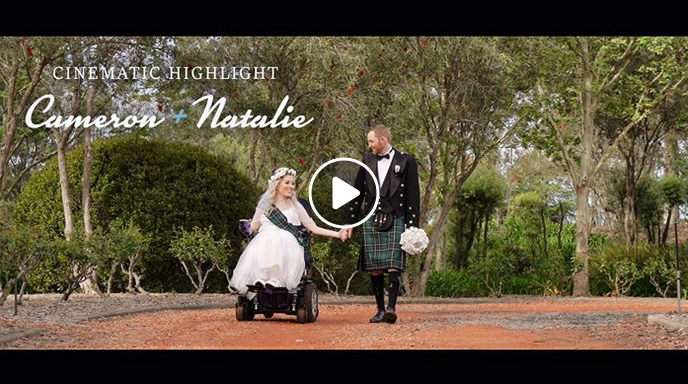 Photo/Video credit: EverlastStudios