地上ヘ (To the ground) – Accessible Japan
Just a quick bio – I'm 43, I have Duchenne Muscular Dystrophy, I  use NIV (non-invasive ventilation) 24 hours a day.
I travel with my partner Alison, and on our last trip we took a carer along, who helped us with our luggage mostly, but was on standby for anything else. Alison and I, are a very independent self-contained unit, so my guide might be a bit misleading? I don't know, but you'll definitely need a carer who can keep a level head, because the culture difference, if you're not expecting it, can be overwhelming.
Why Tokyo?
Well my partner and I had travelled to Europe twice before, and for me, the thought of another 24 hour flight was a bit much. I guess also, now that I'm in my 40's I don't have as much energy as I used to. So I started researching closer destinations with shorter flight times. Tokyo was at the top of my list. I've been an anime fan from as far back as the 80's, so I wanted to experience the culture first hand. We also like cities rather than beaches. No jetlag and the fact that it's warm there when it's' cold here, perfect!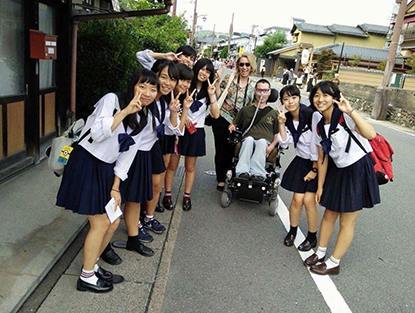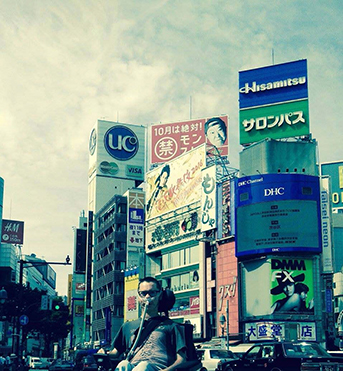 How many times have you been?
Once so far, we went in September and most of October. If you have an issue with humidity, maybe avoid the hotter months… it's extreme! We are going back to Tokyo in August for 4 weeks, and we're going to do heaps more day trips to different cities this time.
Do you travel with a particular airline? How do you find the airline/airlines cater for specific needs?
Qantas. They're ok with specific needs up to a point. Yes, they are supportive if for example you need a bi-pap machine for the flight, if you've submitted all of the required medical forms and you have the dangerous goods approval letter. The airline will also insist that you and your ventilator be near a power outlet in case the battery fails. That's a good policy, but here's the rub, I've only ever flown economy so I don't know what goes on up the front, but every power outlet seems to be at the back of the plane, right near the inaccessible toilets. So a good 20 minutes will pass before you'll even arrive at your seat.
What's Japan's accessibility like? How do you get around when you're there? Public Transport?
The streets are really accessible, and because it's a bike friendly city you'll always find a way. Malls, parks, tourist sights, and temples, for the most part, are all accessible. I say for the most part, because some temples have specific access points for wheelchairs.
Not every temple or castle is 100% accessible, but you can get pretty close, or at least close enough for a photo. You obviously can't get into the temples, but the access is limited for able-bodied people as well. Restaurants can be tricky, a lot of them are quite tight and built for efficiency. Nearly every mall has a food court somewhere, usually the basement, so if you can't find an accessible restaurant on the street, you won't starve.
Also, most of the larger hotels will have western style restaurants with fairly good access. Some of the alley restaurants will flat out refuse to serve you…! Public restrooms for the most part are large, clean and accessible.
The Shinkansen is completely accessible, including the bathroom. We booked a ticket by going into the branch at Tokyo Station. It took 4 hours, because we later found out that you don't really need to book the wheelchair section. If you have a JTB Rail Pass or something similar, or if you want to purchase a ticket on the day, you can just turn up and wait for the next available train (every 10 – 30 minutes depending on the service/train), as long as another person with a disability isn't already occupying the section.
So the Tokyo Metro is by far one of the most accessible ways to get around.
Here's what I know…
You'll need a train pass
https://www.pasmo.co.jp/en/
You should also familiarize yourself with the Tokyo Metro subway map.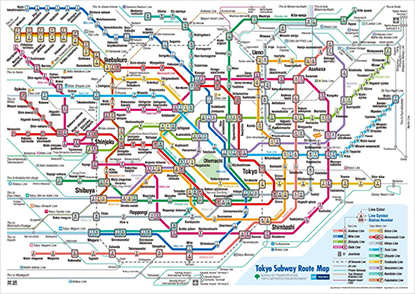 https://www.tokyometro.jp/en/subwaymap/
It looks really scary, but it will make sense in no time. Sooner or later 2 or more lines intersect, and that's where you change lines. Everything is colour coded, numbered and labeled on the platform, along the route in the tunnels and inside the train. There's a scrolling LED with next stop info and an overhead announcement in English on most trains.
On a side note maybe do a quick check of peak hours before you arrive… We did the Qantas 9 hour flight and arrived at around 6am. After we got off the plane and bought our Pasmo rail cards and got on the Kiekyu line, it was about 8am. We got on the train without any trouble, the train was spacious, clean and empty, peak hour didn't even feature in any of our thoughts. So easy! We kind of had a plan as to when we had to change lines, but when you add a bit of sleep deprivation, you start second guessing yourself.
So, we politely asked a fellow commuter if we had the right idea. Turns out we were slightly wrong… no big deal… right? haha! We got off the train one stop early and spoke to the station staff and organised a ramp, or the preferred word to use is 'slope' (you only need this at certain stations, regardless every station has a designated access point). So within 6 minutes the train arrived and it appeared to be quite full, but before we could protest, we were ushered onto the train. Well, I'm always up for a new experience… it was squishy and it was hot, but bearable. Then the next stop came… bearable quickly became brutal…! In a matter of seconds, every flat surface of my chair had a body part pressed against it. We finally got to our destination, and fell out of the doors with a real sense of relief…we made it!
You're probably wondering about the access of individual stations… below is a screenshot of a website that has a map and accessibility level of every metro station. This is invaluable for most outings. The maps aren't in English, but there's a little red line that shows the access route. Apart from that, the only Japanese you'll need to know when deciphering the map is 地上ヘ (To the ground)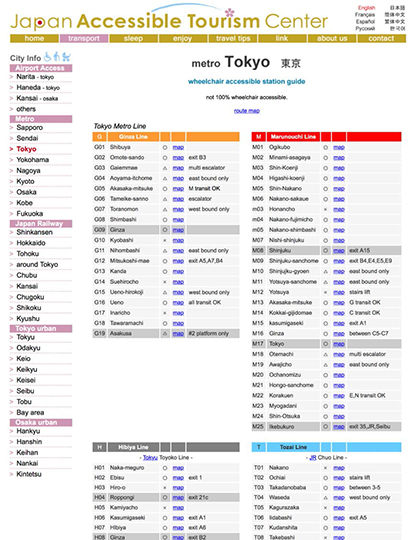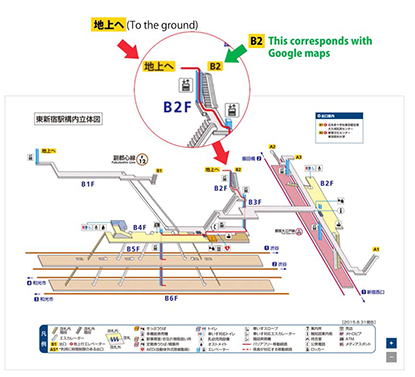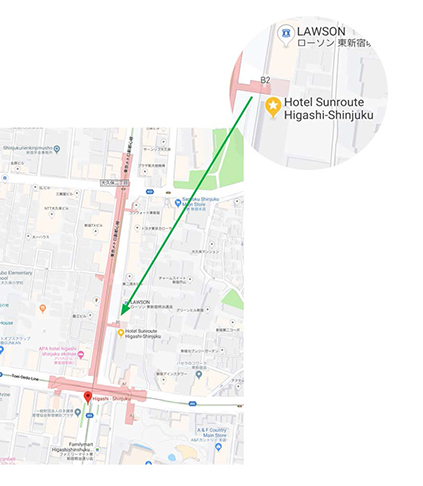 Above is what the maps will look like. This station is only 6 stories deep, but houses 2 different metro lines. On the map above, you'll see the green arrow. I like to double-check everything with Google maps and street view to familiarize myself with my surrounds. So the numbers for the exits on the map above correspond with Google maps when you zoom in. This doesn't work every time, but it really helps to get your bearings. Also above is a zoomed in Google maps image of the same station. See B2.
The journey to find the lifts and access can be a bit full-on… sometimes you can be wandering around for a good 20 minutes before you find a lift, because some of these subways are immense with 4-5 different metro lines all converging at the one place. Just be confident, especially when you're lost…!
Where did you stay?
We stayed in Ginza, for 3 nights at the Millennium Mitsui Garden Hotel first. The bathroom was perfect, it was basically a wet room. The room was a little tight but manageable.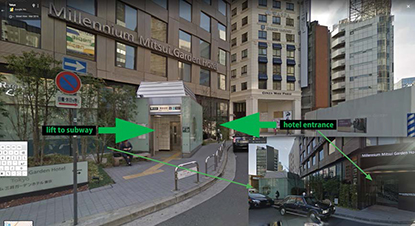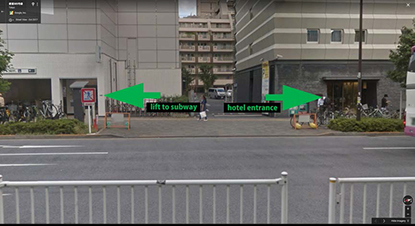 This shows you how a bit of research and cross referencing pays off. The next hotel was in Shinjuku, Hotel Sunroute Higashi Shinjuku. The room was large but the bathroom was super tight.
I'm still fortunate enough to be transferred without a hoist when I travel (I say fortunate within the context of 'one less thing to worry about'), so unfortunately my knowledge of hoist hire is very limited, but this site might be a good start?
https://www.accessible-japan.com/renting-wheelchairs-hoists-japan/
We like to travel as light as possible, so we have managed to fit almost everything we need for a 3-4 week stay in 2 large suitcases. I have a collapsible commode that fits into a hard Samsonite suitcase. We fit most of my peripherals and bedding in this suitcase also, efficiency and containment will pay dividends, as the easiest way to travel around Tokyo is on the Tokyo Metro (see above).
When you're booking a hotel, you want to look at barrier-free or a universal room, I say this because instinctively you find yourself clicking on access or accessibility-this will only show you how to get there.
The differences between each hotel and their universal/ barrier-free rooms and bathrooms are substantial, while the bathroom might be perfect, the room might not be, and vice versa… and in my experience this is sometimes dependent on budget, but also on the level of your care needs and on being adaptable in some instances.
If you are looking online to find a universal room/ barrier-free place, and you like the look of a hotel ie. It fits all of your criteria… even if you use a popular site like TripAdvisor and specifically limit your search to wheelchair access, contact the hotel directly via email and ask for photos and measurements. The staff are always helpful and respectful with their replies.
The link below is helpful, but again I would still strongly suggest contacting the hotel directly: http://www.japan-accessible.com/sleeping/tokyo.htm
Highlights and Tourist Destinations?
Here's a summarised list of places we visited in Tokyo. We also had a day trip to Kyoto on the Shinkansen, and we were lucky enough to see Mt.Fuji from the train.
Koishikawa Kōrakuen Garden

Shinjuku Gyoen National Garden

Tokyo Metropolitan Government Building

Tokyo Tower

Asakusa Sensō- ji Temple and Hōzōmon Gate

Edo-Tokyo Museum

Ueno Park

The Imperial Palace

Marunouchi Building

Nippon Budokan

Meiji Jingu

Ultraman World M78

Tsukiji Fish Market

Godzilla Statue
Get out of your comfort zone!
Putting aside the difficulties involved with flying, which unfortunately can be problematic… Tokyo is a super fun, weird and intense experience, with extremes of high density city life and complete serenity. The Metro is so easy and convenient to use that there is no limit for things to see or do (within reason-everything is not always accessible). If there's one thing I've learned from having a disability is, to try and experience as much as you can, while you can… it doesn't get any easier than right now! Get out of your comfort zone, be adaptable and find out who you are! I would wholeheartedly recommend a visit.